It's hard to believe that Owen is already 2 months old!  I know everyone says this, but time really does fly.  It's funny because on the one hand, there's still so much we feel like we're adjusting to (helloooo lack of sleep!) yet we can also hardly remember what life was like before he joined us at home.
I often get requests via DM on Instagram asking me what products I like or have found to be helpful.  In general I would say Owen prefers the simpler things (which Chad and I are both thrilled about).  We got and/or were gifted many different things (like seats that have 1800 different settings, play music, bounce, bobble and swing) so we've really been able to narrow down what he prefers.  Obviously every baby is different, but when we were preparing for Owen's arrival (and even after he came!) I found it super helpful to rely on other's recommendations and suggestions on what was and wasn't working for their little ones.  It not only saved me a lot of money but it put the money I DID spend to good use!
So without further ado, here are the things we've found most useful over the past couple months (in no particular order):
Ergobaby 360 Baby Carrier & Easy Snug Infant Insert


The Ergobaby 360
is a LIFESAVER (and an arm & back saver!).  Owen was in this thing most of the day during the first few weeks home.  He still does his best sleeping in it to this day and I think would happily be in it 24/7 if I allowed him to (we ran into an issue where I was clearly toting him around in it too much because he would scream if we put him down for even a minute – luckily a day of putting him in the bouncer – below – broke him of that).  I love it because it's a way for me to get things done around the house without having to tote a monitor around or have him out of my sight.  It has been, by far, one of our most valuable purchases.  It feels super secure and is easy to get yourself into – plus, your partner can use it too!  I got a lot of different wraps and wanted to love them but honestly found them to be a little too complicated/cumbersome to get on.  The Ergobaby 360
 is a couple clicks of belt buckles and a velcro waist and you're good to go!  We HIGHLY recommend it.  There are different models (we got the 360
) and some, like ours, require you to purchase the Easy Snug Infant Insert
 separately so make sure you do that so you can use it from day one!
Baby Bjorn Bouncer & Activity Bar


Like I mentioned above, we had TONS of different seats either gifted to us or that we bought.  The two we tried out the most were the 4Moms MamaRoo
and the Graco EveryWay Soother.  He liked the 4Moms MamaRoo for a little while but it didn't last very long.  The seat that has been our biggest saving grace as been this BABYBJORN Bouncer
 – which is funny because it's the simplest of all the different seats we tried!  He'll happily hang out in it, looking at his high contrast boards (or a mirror, his favorite) or listening to me read to him, but he'll also take little naps in here as well.  It's nice because I can put him at my feet and easily be able to bounce him while getting some computer work done.  He's actually sleeping in it right now as I type this!

We also just got this BABYBJORN Wooden Toy for Bouncer
 and Owen loves it.  It's perfect especially now that he's starting to grab more at things.
Nuna Travel System & Car Seat Adapter


We thought a lot about strollers and what would make the most sense and in the end we went with the Nuna MIXX Travel System and Pipa Car Seat and I'm so glad we did.  Not only does Owen LOVE it (he literally falls asleep as soon as we put him in the Pipa Car Seat) but the car seat and base were so simple to install.  We got the car seat adapter (highly recommend) for the stroller which makes going places in the car really easy because we can just easily lift the car seat out and pop it right into the stroller.  That way we're not having to transfer him in and out of a million different seats (a major plus because he falls asleep easily in the car so not having to wake him makes errands much easier).  The stroller also easily folds and pops right back up so even when I'm by myself I can accomplish it one handed.  We're super happy with this purchase.
Baby Bjorn Cradle


We actually put a LOT of time and effort into researching and considering different bassinet options.  We looked at the SNOO Smart Sleeper by Happiest Baby
, the HALO Swivel Sleeper
and the Stokke Sleepi Mini 
before we finally found the BABYBJORN Cradle
.  We knew we wanted something breathable so we really only looked at bassinets with mesh sides or rungs.  I was nervous about the rungs on the Stokke Sleepi Mini and honestly the price on that and the SNOO were pretty hard to justify for something that Owen would grow out of in a matter of months.  We felt like the BABYBJORN Cradle
 was the perfect happy medium and luckily, Owen does really well in it.  It's simple, breathable, safe and easy to take apart and bring with us when we go on overnights.  I put it right up next to my side of the bed and can easily keep an eye on him or rock him when he needs it.  We're glad we got this and would recommend it to anyone!
Halo Sleepsack Swaddle


The HALO SleepSack Swaddle
is literally the only way we can get Owen to sleep a good stretch in the bassinet.  The kid loves a good swaddle but I felt too nervous utilizing blankets in case they came loose (and truth be told, we were not great swaddlers, so I don't think it really did the trick for him).  But with this, it's so easy.  You literally just velcro the two flaps together over his arms and he's instantly swaddled.  You can also leave his arms out when he gets older (just velcro below his arms) and it becomes a wearable blanket.  The bottom also zippers up making middle of the night changing fast and easy (key when you're an exhausted parent!).  Overall we're big fans – he uses it every single night (speaking of which, I recommend getting a few so that you always have a clean one in the rotation).
Boppy Nursing Pillow & Positioner


I've found the Boppy Nursing Pillow and Positioner
 makes feeding (and frankly, just holding & rocking) MUCH easier.  It's super simple to get him into the right position for feeding using this and it gives my arms a major break in terms of supporting all his weight.  I think it also makes it much more comfortable for him when I'm just rocking or holding him.  It can also be used as your baby grows to help with propping, tummy time and sitting (my husband and I were big fans of anything that could be utilized for longer than the first couple months).
Boppy Lounger


Owen loves the Boppy Lounger
 – he'll happily hang out in it and even fall asleep for short amounts of time in it.  When we're all hanging out on the couch it's a nice thing to have to put him in – it fits really well on the couch cushion without taking up a ton of space (unlike some of the more oblong shaped Snuggle Nest
and DockATot
).  This is something he'll outgrow quickly but we use it so much that it's worth it.
Avent Freeflow Pacifiers


I know pacifiers can be controversial but from pretty much day one, we knew Owen was soothed by sucking and that we were going to have to get something for him.  We went through a few different types before we found these AVENT Freeflow Pacifiers
 which he really loves.  He used the WubbaNub
for a while before these but I think the nipple shape on the AVENT Freeflow Pacifiers  was easier for him because he's taken to them much better.  I would recommend a minimum of 4 (we have 6) – especially if you have a crazy puppy like we do that likes to steal and chew them!  Even if you don't though, they will inevitably drop on the floor, get lost, etc. so we've found it's best to have extras!
Milkful Lactation Bars


I was lucky enough not to have issues with my supply (so far!) but I was curious to try these Milkful bars anyway just to see how they tasted and if I noticed any difference.  I swear that after one of them, I noticed an increase in my milk.  They also taste pretty good.  I use them as my middle of the night feeding snack.  It's nice because now I feel like I have more than enough to feed Owen and pump a bottle or two so my husband can do a feeding each night.
Boon Grass Countertop Drying Mat


I was on the fence as to whether or not I should get this Boon Grass Countertop Drying Rack
but I'm really glad I did.  It's so much easier to be able to just wash the bottles and put them in here versus having to worry about if the counter or dish drainer is clean.  I use it every single day.
Tummy Time Playboard + Art Cards


Owen absolutely loves this Tummy Time Playboard + Art Cards
 set.  It's great not only for tummy time but really any time.  We prop them up when he's in the Boppy Lounger
 or BABYBJORN Bouncer
. It comes with a mirror as well as high contrast cards and it has a little magnet in the back so it can easily hold a nice triangle shape.  He'll stare at this for long periods of time cooing and talking to it.  Honestly anything that has a mirror or is high contrast is gold – he loves both those things.
Bestever Play Mat


Speaking of tummy time, we use this Bestever Baby Play Mat
when we put Owen down for it.  It's super soft (and adorable!) and comes in a lot of different animals.
Warming Waterfall Bath


Owen LOVES bath time which we always do in this Warming Waterfall Bath Tub
– the little waterfall feature keeps warm water flowing against his back throughout the bath so he doesn't get cold and can splash around as much as he wants.  It's a little cumbersome (it doesn't fold down for easy storage like some other tubs) so I wouldn't recommend it if you're tight on space.  But otherwise, it feels super sturdy and safe – we've used it from the beginning with him and other than the first few sponge baths where he couldn't be submerged in the water, he happily goes in it and splashes around (and actually cries now when bath time is over).
Medela Freestyle Breast Pump & Accoutrements


I have this Medela Freestyle Breast Pump
 and really like it.  Having an automatic double breast pump definitely makes pumping feel more manageable.  This set has multiple speeds so you can find the one that's most comfortable for you.  It also doesn't have a million different pieces.  There are just 4 that you need plus the bottle.  This set also comes with a couple bottles, a freezer pack and storage bag which is nice.  I recommend using this with this Hands-Free Pumping Bra
 for ultimate efficiency.  If you're trying to store milk, you'll also want to purchase these Medela Pump and Save Breast Milk Bags
which you can easily label with the date and amount. I use this The First Years Breastflow Milk Storage Organizer
to store my milk in the freezer (FYI: it works perfectly with the Medela bags which was something I was worried about!).  You should also plan on purchasing additional bottles and nipples – I got the Medela Breastmilk Bottle Set
.  Owen has done well with the medium flow nipples since week 2 or 3, but every baby is different so experiment with different flow speeds depending on how your baby does with the bottle.
H&M Nursing Bras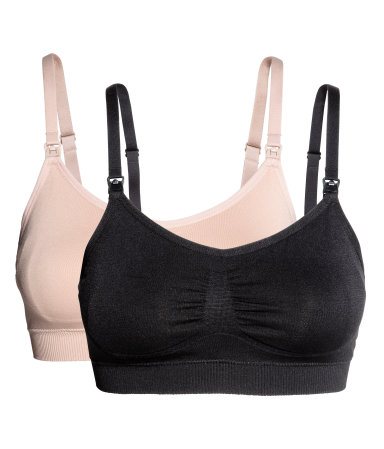 I'm obsessed with these H&M nursing bras.  They may not be for ladies who are super big busted (I can't speak to that!) but for me, they're perfect.  They're comfortable enough to sleep in but provide enough support that you can wear them throughout the day.
I also love these bras for sleeping – and truth be told, I even went for a run in them the other day (albeit I was wearing I pretty tight shirt and had just fed Owen) so I definitely find them to be plenty support enough for daytime use as well.
High Contrast Baby Animals Book


Last, but not least, this Baby Animals Black and White
 book is another thing Owen really loves.  Similar to the Tummy Time Playboard + Art Cards
, he'll talk at the images in this book like crazy.  It makes me feel good feeling like he's actually learning and growing and developing!
A couple of other random mom tips from me to you:
Invest in a lot of burp cloths – we find we use those more than we do bibs.  We bought more bibs and definitely should've gone with more burp cloths…at least in the early stages
Have multiple pacifiers if you're using one (like mentioned above) – they will inevitably fall on the floor, get snatched up by pets or have lint on them from clothing/blankets when you're out and just need a clean one to pop in
If you're a Costco member, their diapers and wipes are much cheaper than anywhere else and do the job just fine!  Highly recommend buying them (you can also shop online even if you're not a member)
Make sure you have a little first aid kit on hand that contains a thermometer.  It'll save you many unnecessary trips to urgent care when you're SURE they have a fever but they actually don't.
Have infant Tylenol on hand for the first time they get their shots
Have multiple changing mats.  We have one downstairs in addition to the changing table in the nursery, one for our room and one in the diaper bag.  It's so much easier being able to change him in whatever room we're at rather than having to go upstairs to the nursery every time
Have a few hats and jackets on hand (especially if you have a baby during cooler months) so that you're not stuck inside all day
And that's it!
Just to clarify, these are our "most used" products that you might otherwise not think of, or maybe have a hard time narrowing down which one to get.  Obviously we also have many other toys, burb cloths, bibs, etc.  If you want recommendations for those, I'm also happy to provide – just leave a comment below (and any questions you might have on the above)!
I think it's easy to go product crazy when you're getting ready to have or have just welcomed a new baby into the house so hopefully this post helps keep you a little more sane and allows you to narrow down all the things you're told you "NEED." I know I appreciated similar posts so I hope it helps you guys out too!
disclaimer: this post contains affiliate links.  all products are those that i personally use and recommend.
12