my top tips & favorite cold weather gear to keep you running all winter long.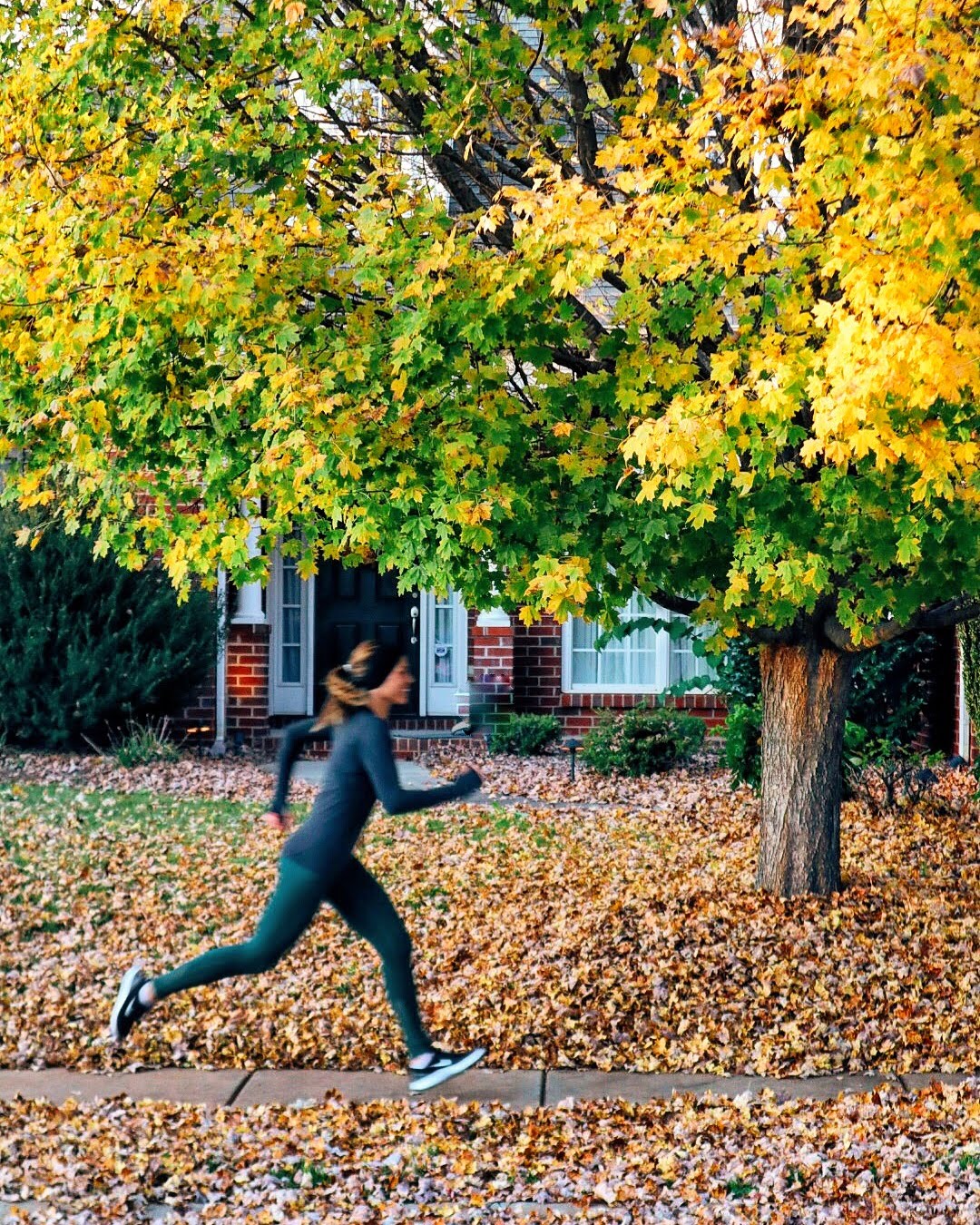 Growing up in the Northeast (and living there most of my life), if you didn't learn to run in the cold, you were pretty much treadmill-bound all winter!  As someone who much prefers running outdoors, I quickly learned that the key to surviving winter running is all about dressing appropriately.
Here are my top tips for running outdoors during winter:
Layer, layer, layer! For me, layering is key when it comes to winter running.  I'll start off the first mile freezing cold, barely able to feel my toes only to be sweating at 1.5 miles.  I like to wear at least 2-3 layers on top so that I can peel off as needed if I start to overheat.
 Invest in a few quality things. You don't need to go broke just to be able to survive running in the winter – you can honestly get by just by layering whatever you have on hand.  That said, investing in a few higher quality items can help make winter running a lot easier (and they'll last for years to come).  My suggestions?  At least one good pair of warm leggings, a good running jacket and a pair of running gloves (see product recs below).
Reflect yourself.  Tis the season for short days, which means if you work full-time, it can be hard to get an outdoor run in during the daylight hours.  If you're doing most of your runs at dawn or dusk, make sure you get some reflective gear (think things like a vest, a headlamp, etc.) so you can stay safe.  You may feel weird wearing a headlamp to go for a run, but if it saves your life in the dark, it's worth it!.  
Stick with it! As mentioned above, the first half mile or mile is the worst part as you warm up.  Don't give up before you get to that point!  I find a good book on audible or a song I love is enough to get me through it and the rest is just about the run!  And let me tell you, when you're a done, a warm shower never feels so good (sometimes the thought of a warm shower actually makes me run faster 🙂 )
In terms of actual gear, I've accumulated a lot over the past 16 or so years that I've been running – which is great – but most of it has been updated with newer versions.  As such, I've combed through the latest offerings out there and found the current versions of the things I have to guide you in your purchases!
Tights/Leggings: A good pair of warm leggings can go a long way when it comes to cold weather running.  Investing in my first pair made my winter runs so much more pleasant.  Not only does it help take the edge off the bite of the cold when you first step outside, but it helps keep your legs (and muscles!) warm throughout.   
Long-sleeve shirts: I like to have a few heavier and few lighter weight shirts (which make for good layering) on hand.  I almost exclusively buy long sleeve running shirts with thumb holes (in my opinion, they come in handy when it's too warm for gloves but too cold to start the run out without coverage).  
Jackets: If you get anything for yourself for your winter running this year, I highly recommend a good running jacket.  Over the years I've built up a good stock of light, medium and heavyweight jackets so that I can pick and choose depending on the weather.  If you're just looking to get one this year, go with a medium weight and use layers to make up the rest (unless you live somewhere where it gets really cold in the winter, then go for a heavier one)
Gloves: A good pair of running gloves are worth their weight in gold when it comes to winter running.  There's nothing worse than not being able to feel your hands on a run.  Plus, they're light weight enough that if you get hot, you can easily slip them into the pockets of your running jacket without feeling weighed down.  They've also saved me from many a scraped hand during icy running falls!  
Hats & Headbands: Similar to a good pair of leggings, a warm hat or headband can take winter running from miserable to not just tolerable, but actually enjoyable.  I tend to like headbands better (I can overheat in hats if the weather is on the cusp) but it's good to have at least one of both!
In terms of running hats, Brooks makes one that looks pretty warm.  Honestly, with hats & headbands, it's best to go in-store and try a couple to see what's most comfortable for you.
When it comes to socks, a lot of that is preference in terms of what fits best with your shoes.  SmartWool makes great warm running socks!
I hope this helps to keep you running all winter long!  If you have questions on things, feel free to leave a comment!  And if you're a runner and have tips to share, leave those too!
1