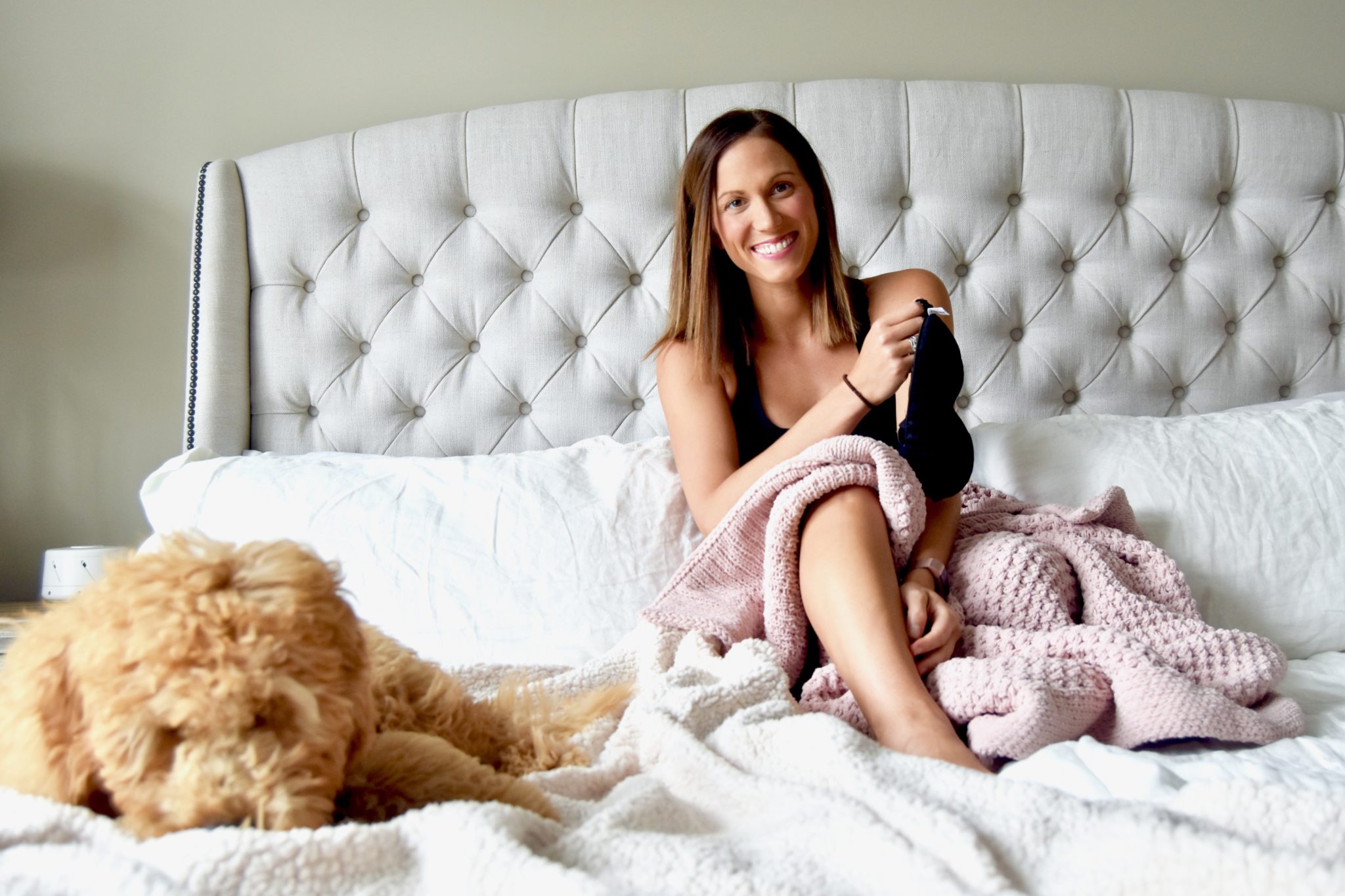 black nightgown: gilligan & o'malley // sleep mask: slip // fitness tracker: fitbit // bed: halston // similar blanket here
Something I've heard and read a lot about throughout my pregnancy was sleep.  Most of what I've heard and read were horror stories of not being able to sleep comfortably.   I've been lucky for the most part during my pregnancy as far as sleeping goes (though I heard come the third trimester that definitely changes!) – but regardless, there are a few things that I absolutely rely on to ensure I get a good night's rest, so I've compiled my favorite must-haves to share.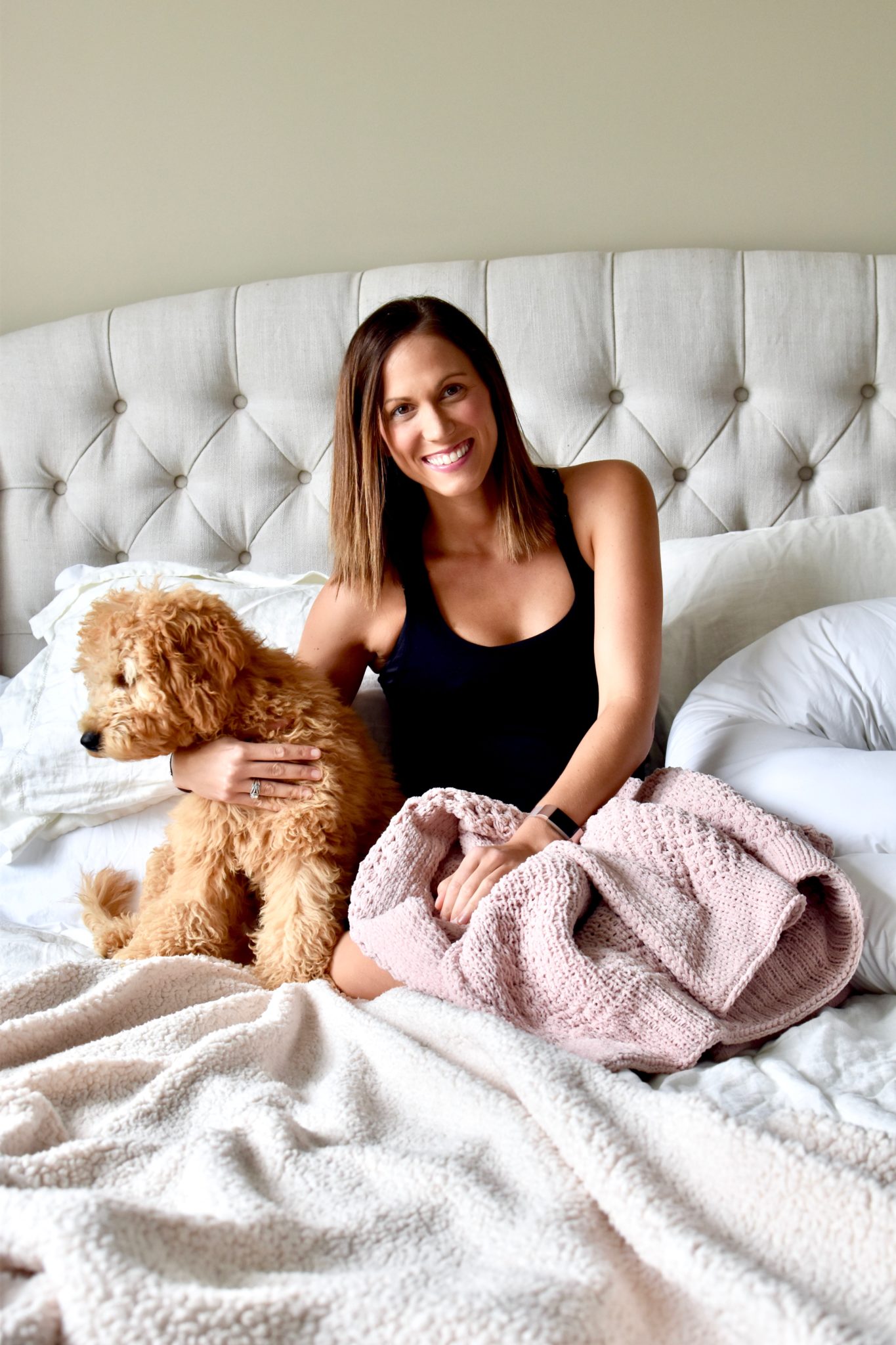 Here's the roundup of my top 5 must haves in order to get a good night sleep: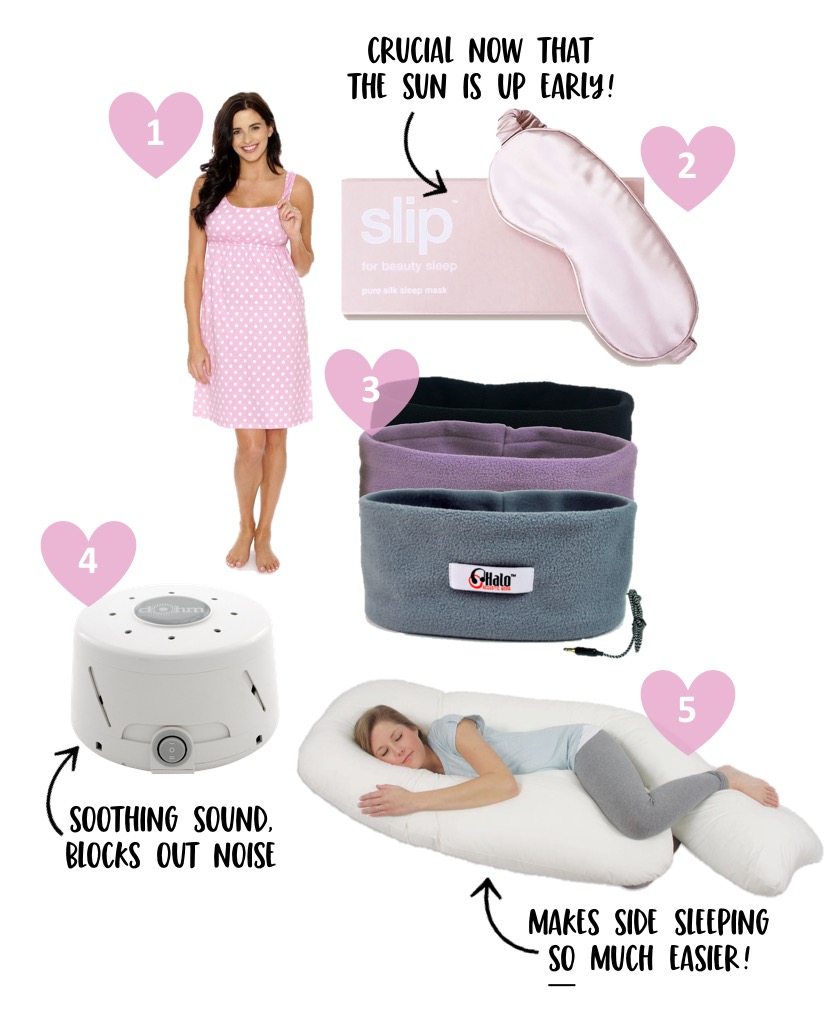 one  //  two  //  three  //  four  //  five
one – light nightgowns: I've been obsessed with nightgowns since becoming pregnant.  In the first trimester my core body temperature definitely increased a good amount and I found I was hot every night (despite it still being the winter months!).  While that's regulated a bit in this second trimester, the summer heat is now here and in full effect and It's funny because my mom always wore nightgowns while we were growing up and I remember thinking how beautiful I thought she looked and how I couldn't wait to grow up and wear pretty nightgowns myself.  I guess that slipped my mind because it took pregnancy for me to get into wearing them!  But now that I have, I don't know if I can ever go back!
two – sleep mask: I happen to be particularly sensitive to morning light.  As soon as it shines through the window my body is up and ready to tackle the day.  The only problem is, sometimes I've had a not-so-great night's sleep and my body actually needs more sleep (despite that first peek of sunshine coming through the drapes).  That's where a sleep mask comes in super handy for me.  I find I can sleep at least an hour later than the sunrise when wearing it and as a new mama to be, I want to make sure I can get all the sleep possible now, because I know it will be few and far between soon enough!
three – cozy headphones: Have you guys heard of these things?  They are incredible.  My husband and I got them for our nieces for Christmas and were so impressed with them that we had to buy our own adult pairs!  On nights that I'm having more difficulty falling asleep and want to listen to a book or a show (without waking my husband!), these are perfect.  In-ear headphones never used to bother me but now that I have being trying to sleep on my side, I found the bud digging into my ear canal incredibly uncomfortable.  These have been the perfect solution – it honestly just feels like you're wearing a soft headband!
four – white noise sound machine: We grew up using these and I find it really hard to sleep (pregnant or not!) without one.  I luckily converted my husband when we moved in together because otherwise we might have had to sleep in different rooms!  Living in a city I find it's particularly helpful to have some white noise that can drown out anything going on outside (especially because if I get woken up, I'll realize I have to pee, and once I get up, it's a process to get myself wound back down enough to sleep).  It's a soothing sound, not distracting like some that play sounds from nature (I love nature, but listening to a frog's ribbit while I'm trying to fall asleep doesn't quite do it for me).  Even Ollie now uses one in the room he sleeps in!
five – maternity body pillow: I know I mentioned this in my maternity essentials post, but it's so helpful that I think it deserves a second shoutout!  Holy moly guys was this thing a lifesaver when it came to transitioning to side sleeping.  I've been a back sleeper my entire life so trying to move to my side was not an easy process.  In fact, it's probably created the most difficulty I've had with sleeping while pregnant thus far!  This pillow definitely helped.  Poor Chad though gets pushed out of the bed because it's so big and cumbersome!  Luckily I think he feels it's worth it so long as I'm getting some sleep 🙂
SHOP THE POST:
1