requiring just 5 simple ingredients, this easy chocolate yogurt mousse is a rich, creamy & decadent chocolate dessert everyone will love.
This post is sponsored by siggi's. All opinions contained within are my own. As always, thank you for allowing me to partner with brands I love to bring you wholesome, balanced recipes!
Valentine's Day is right around the corner which means you need something deliciously creamy, smooth and most importantly, CHOCOLATEY to celebrate with!
Enter: this easy chocolate yogurt mousse 🙌🏼 It's creamy with a slight tang from the yogurt and bursting with chocolate flavor all while being made up of just 5 simple ingredients (that you most likely already have on hand)!
It tastes deliciously decadent so whoever you make it for will be SURE you slaved in the kitchen for hours just because you love them THAT much (only you and I will know it took you a mere 5 minutes to pull together 😉)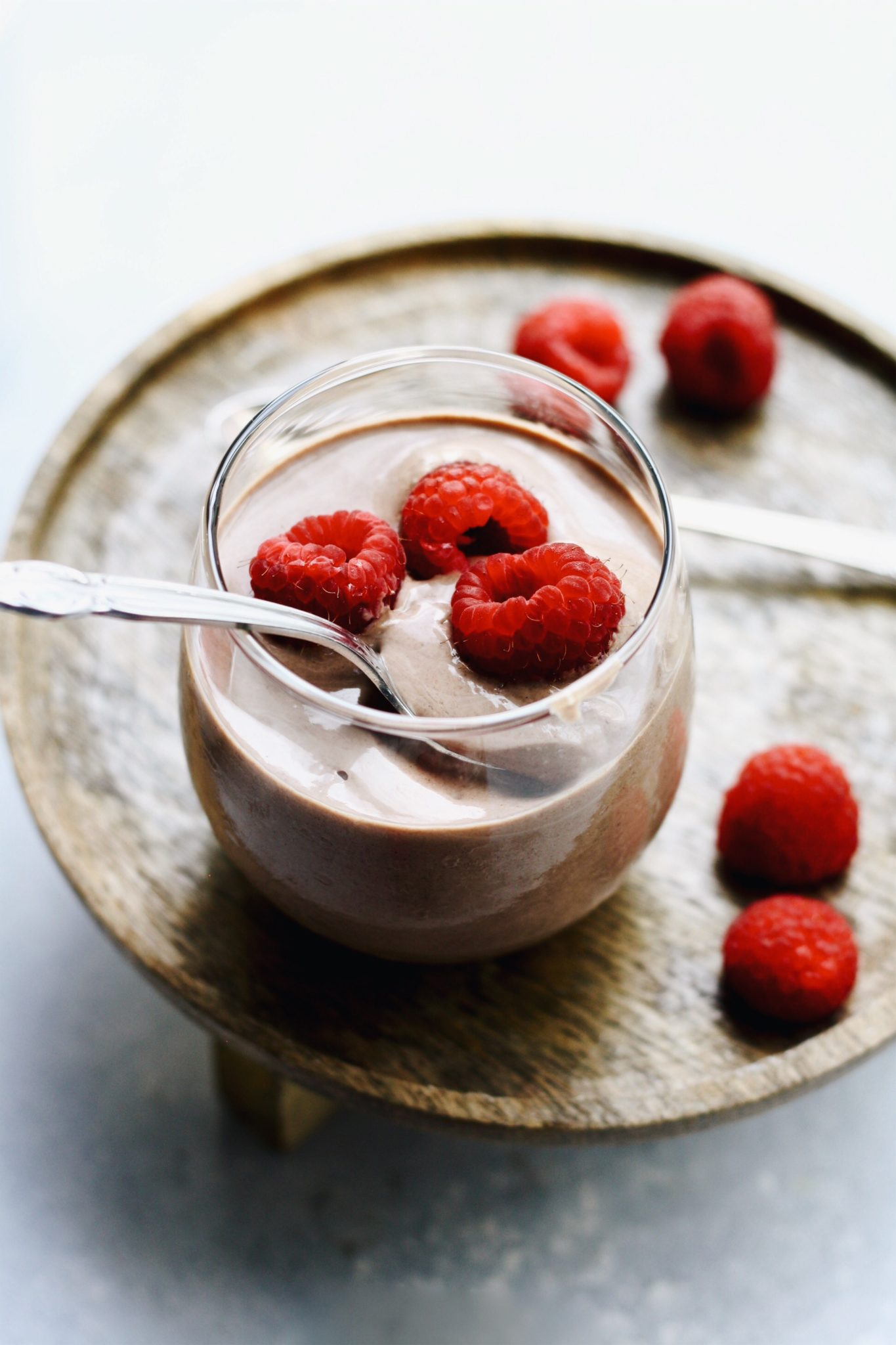 Not that that means you love them any less, just that you now have even MORE time to spoil them since this dessert was so easy to pull together.
To give this mousse a little nutritional boost, I swapped out the traditional heavy cream for siggi's 4% whole milk yogurt. siggi's simple ingredients are perfect for this easy dish and its high protein makes this dessert as satiating as it is delicious. And because siggi's 4% whole milk contains only naturally occurring sugars, you're not increasing the added sugar content of the dessert overall by using it.
Let's be honest, Valentine's Day or not, you're going to want to make this recipe over and over again. It's the perfect slightly sweet, slightly tangy treat you need in your life!
Top it with fresh raspberries, throw in a few walnuts or even a few more chocolate chips (for the serious chocolate lovers out there) then dig right on in!
easy chocolate yogurt mousse
Ingredients
3/4

cup

whole milk

½

cup

+ 2 tablespoons dark chocolate chips

1 1/4

cup

plain 4% siggi's whole milk yogurt

1

tablespoon

maple syrup

½

teaspoon

vanilla extract

Optional toppings: fresh raspberries, walnuts, shredded coconut, additional chocolate chips
Instructions
Add chocolate chips to a small mixing bowl and set aside.

Pour milk into a saucepan and place over medium high heat until it just begins to boil (watch it closely as you don't want it to burn). Once bubbles start to form around the sides, remove from heat and pour over the chocolate chips, allowing to sit 2-3 minutes to melt the chocolate.

While the milk sits over the chocolate chips, place yogurt in a separate mixing bowl and using an electric beater, beat yogurt for about 30 seconds (just to ensure its smooth and uniform in texture)

Whisk chocolate chip and milk mixture vigorously to fully melt combine then add maple syrup and vanilla, whisking once more to blend.

Add chocolate mixture to yogurt and gently fold until full combined.

Cover the mixture with plastic wrap and refrigerate for at least 1 hour to allow it to set.

Remove from refrigerator, top with desired toppings and serve immediately.
Notes
This will keep for up to 1 day in the fridge in an airtight container.
20