With the school year back in full swing, I've decided to recommit myself to keeping my grocery bill in check (as those of you who follow me on Instagram already know).
As time permits, I think it will be not only helpful to me, but hopefully some of you looking to eat well on a budget.  I'll try to share my shopped items, total spent, the meals I created with the food I bought and whatever takeaways I may have after the week!
Hopefully I can manage to do the above once a week (you never know with a grad school schedule – but that will be the goal!) and the rest of the time I can fill in with recipe posts of the main dish(es) that got me through each week.
If all goes as planned, it will keep me motivated to stay on a budget while maintaining a healthy diet, waste less and get creative with the dishes I pull together each week.
This week is a little wonky since Labor Day fell on Monday and I am traveling this weekend, so it's only 3.5 days of meals, but it gives you a good idea of what I'm going for.
Healthy Eating on a Budget Week 1:
Money Spent: $100
Groceries Bought:
Produce: Mixed greens, 1 green zucchini, 3 peppers (orange, red and yellow), 1 peach, 2 apples, 2 oranges, pint of strawberries, 1 medium sweet potato, bag of carrots, 1 nectarine, 1 onion
Frozen: Bag of corn, bag of broccoli
Protein: Package of 4 chicken sausage, container of hummus, carton of 4 eggs, jar of natural, unsalted peanut butter, jar of sunflower seed butter
Pantry Items: Box of who penne pasta, jar of arrabbiata pasta sauce, small jar of pizza sauce, whole grain naan, loaf of whole wheat bread, bag of dark chocolate chips, box of whole grain cereal, chia seeds, canola cooking spray, bag of coffee, large canister of old fashioned oats, 2 Clif bars and 1 luna bar and a box of popcorn
Dairy Items: 16 oz. tub plain greek yogurt, 2 6 oz. containers of coffee greek yogurt, package of part-skim mozzarella cheese, container of soymilk
Condiments: Spicy brown mustard, salad dressing, salt
Misc.: Package of cranberry lime seltzer water
Pre-Week Tips I Kept in Mind:
Always go into the grocery with a meal plan!  If you don't, you will inevitably end up buying more than you need (I speak from experience!).

On the same note: plan meals that will pack a good nutritional punch as well as volume (this week I went with pasta and cooked veggies.  that dish can easily be made meatless and can create a good 3-4 meals).

Unless you're absolutely tied to a brand name, go generic.
When it comes to things like french fries – opt for the natural version of the product and make your own (i.e. buy whole potatoes rather than the frozen fries)
Where vegetables are concerned, buy frozen whenever possible, they'll last so even if you don't end up using them, you can have them for the following weeks.
The aim for most meals to include whole grain, a protein source (I'm including dairy in this section), fruits and/or vegetables and healthy fats
Meals:
Day One:
Breakfast #1: Plain Greek yogurt mixed with 1 tbsp. chia seeds topped with sunflower seed butter, whole grain cereal and strawberries.  Coffee with soymilk on the side.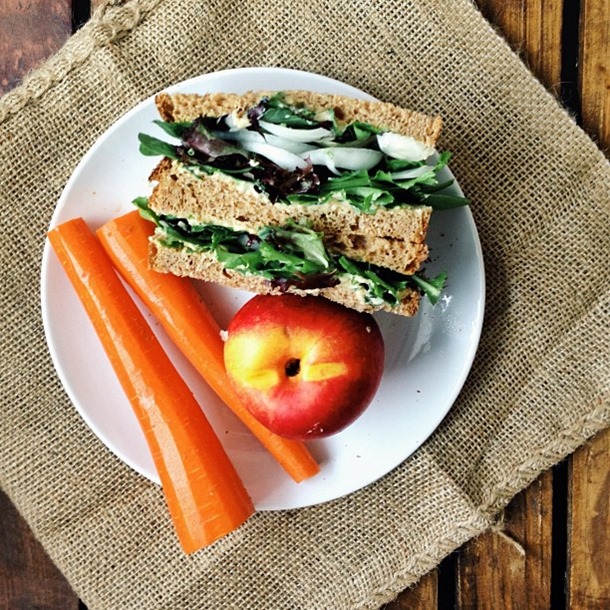 Lunch #1: Hummus, mixed greens and onions on 2 slices of whole wheat bread with 2 large carrots and a nectarine
Dinner #1: Whole wheat penne pasta topped with chicken sausage and sautéed tri-color peppers, zucchini and arrabbiata sauce.
Day Two:
Breakfast #2: 1/2 cup old fashioned oats mixed with 1 tbsp. chia seeds and 1 medium diced apple then topped with peanut butter and served with coffee + soymilk on the side.
Lunch #2: Dinner #1's whole wheat pasta, sautéed veggies and arrabbiata sauce with 1/3 cup shredded mozzarella and an orange.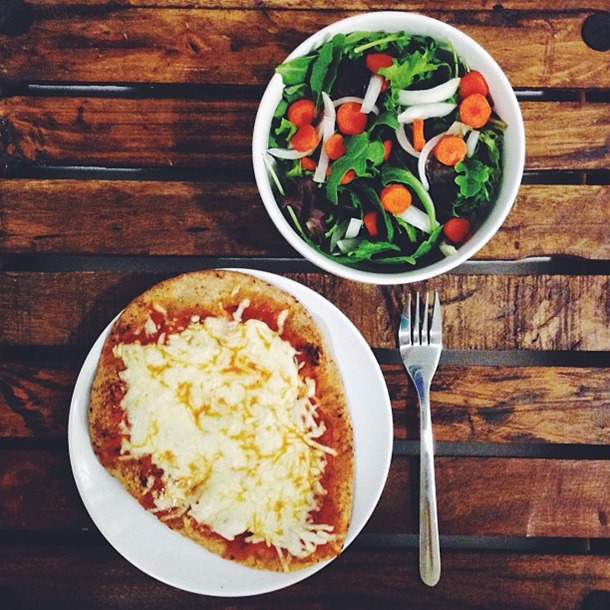 Dinner #2: Whole grain naan topped with pizza sauce and part-skim shredded mozzarella with a side salad (mixed greens, carrots and onions plus dressing)
Day Three: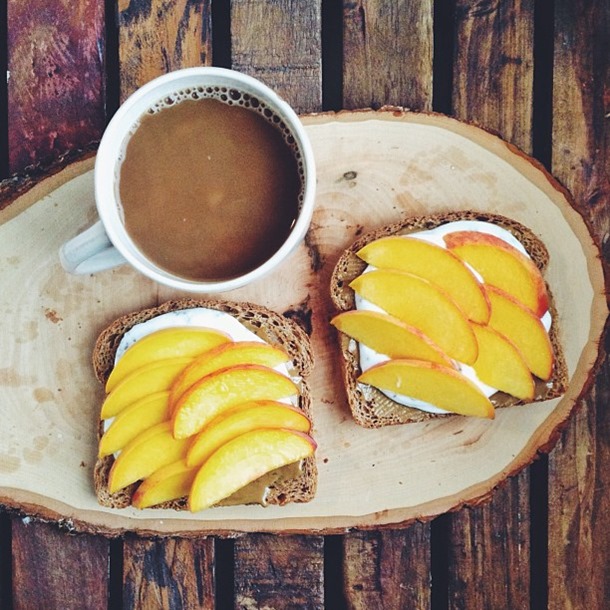 Breakfast #3: 2 slices of whole grain bread toasted and topped with sunflower seed butter, 1/2 cup greek yogurt mixed with 1 tbsp. chia seeds and fresh peach slices.  Coffee with soymilk (as always) on the side.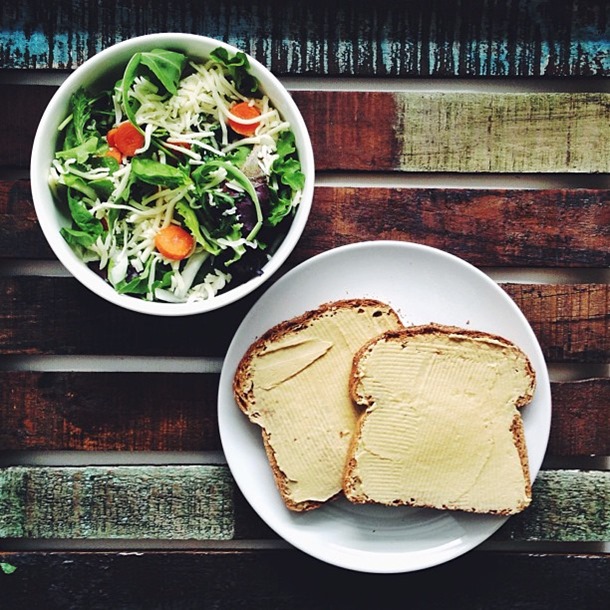 Lunch #3: Two slices of whole wheat bread toasted and topped with hummus plus a large mixed green salad on the side with carrots, onions and shredded part-skim mozzarella.  I also ate an apple – just forgot to include it in the photo!
(Not pictured was a Chocolate Chip Peanut Clif bar during my 3:30 – 5pm class.)
Dinner #3: Chicken sausage, corn, roasted sweet potato rounds and a seltzer
Dessert: Coffee greek yogurt topped with peanuts (which I already had) and dark chocolate chips
Day Four:
Breakfast #4: honey almond & flax 9 whole grain cereal with strawberries, soymilk and…surprise, surprise, coffee with soymilk.
Lunch #4: Dinner #1's whole wheat pasta, sautéed veggies and arrabbiata sauce with 1/3 cup shredded mozzarella and an orange. Not so bad considering this was my one and only repeat meal of the week!
Dinner will most likely be on the road so I suppose I should add another $10 to the budget!
Post-Week Takeaways:
I definitely spent more than I would ideally like to week to week.  I'd love to get to around $60.  The good news is that the coffee, the oatmeal, the frozen veggies, the remaining chicken sausage (just packed and thrown in the freezer), box of cereal etc. can all be used in later weeks so hopefully that will make up for the difference.
I think being able to find loose leaf lettuce in the produce section would be great because a good amount of mine went to waste this week.
Don't make the whole box of pasta (especially not for 3.5 days)!  I had WAY too much leftover.
Overall I felt pretty happy with the variety I managed with a minimal shop!  I only truly repeated a meal once and never felt bored or tired of with repurposing the same foods in different ways.
Feel free to leave any budget-saving tips you might have!
disclaimer: i share these meals for inspiration and because i'm often asked for the recipes on instagram.  please note that i do not share these meals with the intention of them being prescriptive or because you should eat exactly what i eat.  everyone is different and requires different calories and nutrition.  if you're seeking an individualized plan for you, consult a dietitian in your area.
5