I wish I could take credit for this delicious looking thing – but it was actually done by my amazing sister.  She's ridiculously gifted in the baking department and this latest goodie of hers was no exception!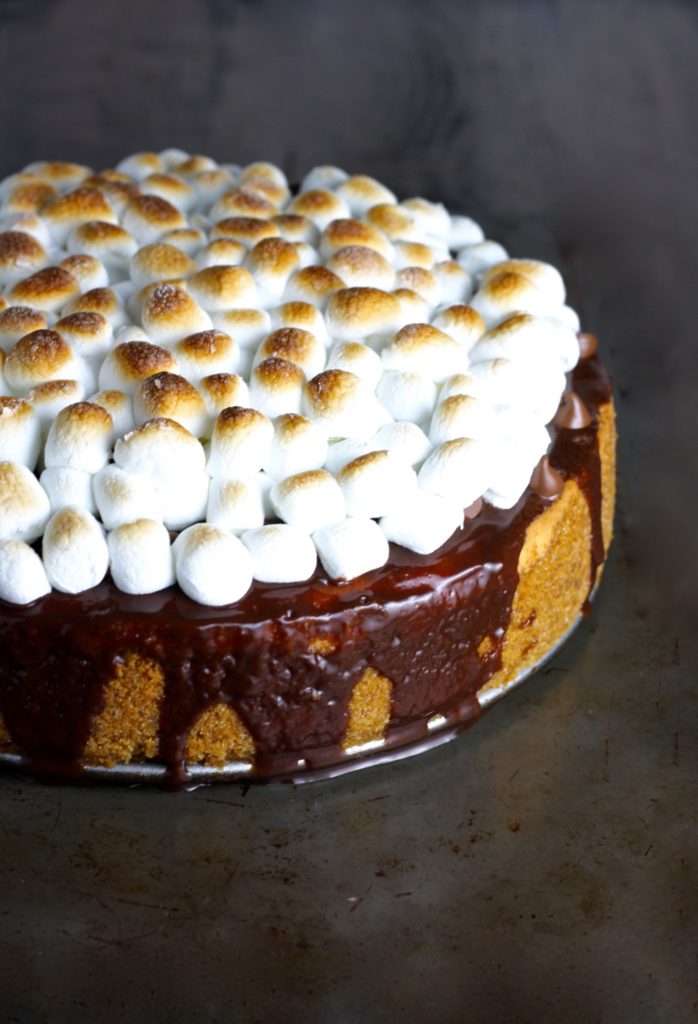 She bakes for her co-workers all the time (this one was for a 21st birthday!) so I decided it might be fun to start showcasing some of her stuff under an "Indulgence" section on the blog.  I'm all about satisfying your indulgent cravings when they strike and I absolutely LOVE to do so when my sister's stuff!
The stuff she makes is not only delicious but it looks beautiful as well so I can't help but want to photograph it and share it!
Recipe for the cheesecake came from The Kitchn's How to Make the Perfect Cheesecake post
MILK CHOCOLATE GANACHE FOR HOT COCOA CHEESECAKE
Ingredients
3/4 cup milk chocolate chips
1/2 cup heavy cream
OPTIONAL: 1-2 teaspoons of peppermint extract (if you want to do a peppermint hot cocoa cheesecake!)
1/3 cup chocolate chips
1/2 - 1 cup mini marshmallows (enough to just cover the top of the cheesecake)
Instructions
Heat heavy cream and chocolate over a double boiler. Whisk until chocolate is melted and smooth. Add peppermint extract here if choosing to do so. Let sit for 5 minutes, then pour over cheesecake
Top with 1/3 cup chocolate chips
Refrigerate until firm
Remove cheesecake from refrigerator.
Top cheesecake with mini marshmallows. Put under the broiler for about 30 seconds or until marshmallows are browned. Keep an eye on them the whole time so they don't burn!
Notes
For actual cheesecake recipe, see recipe on The Kitchn
https://caitsplate.com/hot-cocoa-cheesecake/
11