I get a lot of questions via DM on Instagram about the different products and tools that I use in my kitchen, so I thought this could be a helpful post to do.  I'm a firm believer that having a well-equipped kitchen is a really important part of feeling motivated to cook at home.  If you ask my husband, he would say our kitchen is OVER-equipped 
 but I think it's just right!
That said, there are a few items that I use regularly that I think are key to have in your kitchen to help you cook up delicious, balanced meals, so I wanted to round them up here and share them with you all!  My little co-pilot even helps me out in showing you the items because he was so fussy after the very first photo, that he wouldn't let me put him down the rest of the time while shooting this!
Breville Smart Oven 1800-Watt Convection Toaster Oven with Element IQ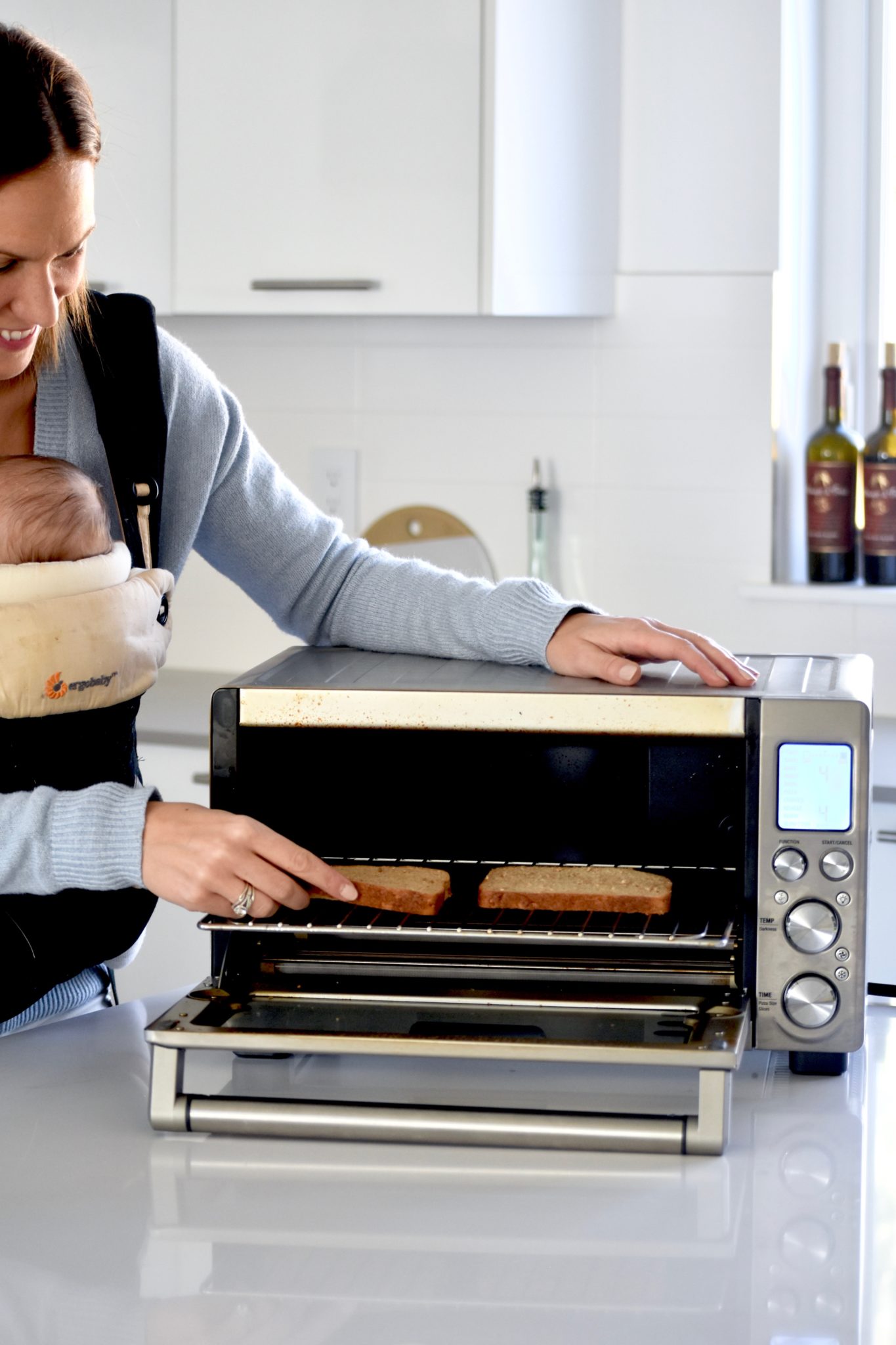 As I mentioned in this post, this is one of my most beloved kitchen appliances.  I literally use it 1-2 times a day MINIMUM.  I make toast in it, my tuna melts, baked pizzas, roast veggies, cook turkey burgers, chicken, bake cookies, warm things up, re-crisp things, melt things…the list goes on and on.   I've had it for 2+ years and have probably used it every day since the day I got it and it's still going strong.  I highly, highly recommend it.  It's easy to clean and also takes less time and energy to preheat than your large oven meaning you can get a good meal on the table much faster!  The only thing I would say is that it does take up counter space, so make sure you look at the dimensions to be sure you have the room before you get it!
GreenPan 12pc Ceramic Non-Stick Cookware Set
I am absolutely obsessed with these pans.  I bought them because I wanted a healthier alternative (read more about that here) to the old teflon pans we had sitting way in the back of our cabinet (which we gave up when the teflon literally started peeling off the bottom and getting into our food 

) and a set of stainless steel pans that I was gifted years back and absolutely HATED (I don't know if it's just me but no matter what I did, everything I cooked in those pans stuck like super glue to the bottom – they were such a pain in the butt).  I don't know if my non-stick bar was just set really low from the awful choices that I had before or what, but these pans are an absolute dream comparatively.  I can fry an egg in them without putting anything down first and it flips beautifully.  Same with pancakes!   They're also super easy to clean!  This is a great starter set and has all the basic pans you would need for cooking everything from pasta to stir-frys and pancakes.
Cuisinart 6.5-quart Programmable Slow Cooker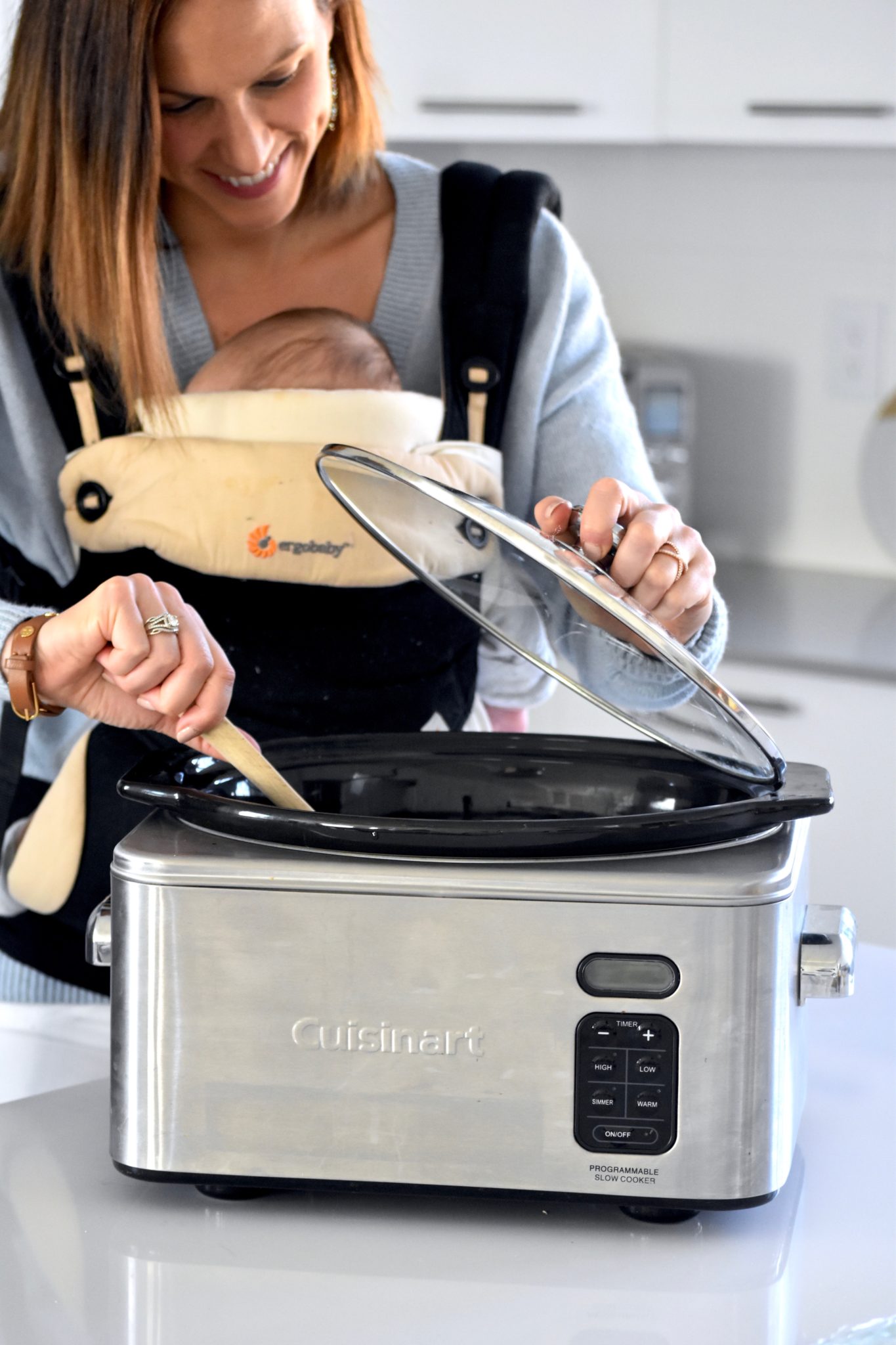 My slow cooker is seriously my lifesaver on days when I'm just too tired to cook.  Mine is a bit of an older model (my husband got it for me 5 or so years ago) but it still works great.  I cook everything in it from soups, stews and chilis to chicken breasts.  There's something to be said about the "set it and forget it" approach to cooking every once in a while!  It takes a good amount of space in the kitchen but I promise you it's worth it!  If you want something smaller, I have my eye on the Instant Pot DUO Plus
 – I can't speak to it personally but I've heard really good things.  It's smaller AND cooks faster – I'm personally hoping to add it to my collection soon!
Cuisinart 14-Cup Food Processor
If you don't have one, I highly recommend you invest in a food processor.  I do pretty much everything in this – I make homemade nut butter, pesto, blend smoothies, chop veggies, mince garlic…it honestly saves you a TON of time with regards to prep and is so incredibly versatile in terms of what you can make in it.  I use this at least 1-2 times every week.  Mine's a little older so I've linked the newer version above.
KitchenAid Pro 500 Series 10-Speed 5-Quart Stand Mixer
This is one of the very first kitchen items that I got and I'm still as obsessed with it as I was way back when I first got it.  I literally do all my baking in this thing.  You can also use it to knead dough and, if you buy all the available attachments you can do things like make pasta or spiralize veggies!
I love these "spoonulas" – they're heat-proof (up to about 500 degrees F) and they don't scratch the surface of my beloved cookware. I use them to for scrambling eggs, scraping down the sides of the food processor/blender/standmixer bowl, making stir-frys, stirring pasta sauce and even scooping brownies out of the pan 🙂
Cuisinart 4-Slice Belgian Waffle Maker
So I might just be super lazy compared to most (it's entirely possible) but sometimes the effort of making pancakes just feels like waaaay too much work to me.  That said, I don't want to have to miss out when a pancake/waffle craving strikes which is why I love my waffle iron so much.  Unlike with pancakes, this produces perfect waffles each and every time.  You literally just set it to the doneness you like, close the lid and the next time you open it, out comes delicious, perfectly cooked waffles.  We use this at least twice a month.  I like to make a double batch and freeze some so I can pull them out for easy breakfasts.  I've had this particular waffle iron for about 4 years now and it still works great!
Nordic Ware Natural Aluminum Commercial Baker's Half Sheet
Investing in a few good sheet pans is a really good idea.  I have (and love) these Nordic Ware Natural Aluminum Commercial Baker's Half Sheet and I can do everything in them from roasting veggies to making cookies.  They wear very well and are large enough to fit an entire meals worth on just one of them (for things like this one-pan fully roasted dinner!).
Wüsthof Gourmet 14-Piece Deluxe Knife Block Set
And last but not least, I think it's really imperative to have a good knife set on hand.  We have this Wüsthof Gourmet 14-Piece Deluxe Knife Block Set
 and love it.  It even comes with a knife sharpener!  A good set of knives makes all the difference in terms of cooking (especially with regards to prep work).  It's also worth taking a knife skills class if you have the time – I'm telling you it makes all the difference!
And that's it!  Hopefully this helps you stock your kitchen with a few fun goodies – or guide you if you're looking to add to / upgrade your current kitchen.
disclaimer: this post contains affiliate links.  all products are those that i personally use and recommend.
6