I did a nice 20 minutes of yoga after breakfast this morning and boy did it feel good.  I even managed to do it without Clara climbing all over me which is a huge feat!
Then, right as I got up to make lunch, she decided it was time to play.
As I stood behind the island fixing my salad, she did everything she could to try to telepathically let me know that it was play time, not food time.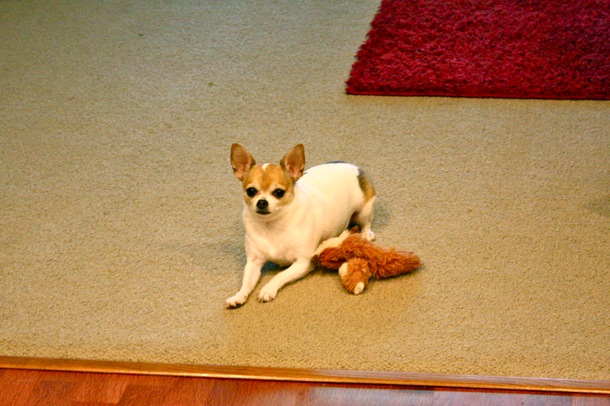 After all her attempts she finally gave up and just decided that pouting was the way to go:
What a nut.
In honor of Angela's June Salad-a-Day Challenge, I made up another big bowl of the stuff!
In today's bowl I combined:
50/50 lettuce mix
Shredded carrots
1/4 of an avocado (perfectly ripe!)
Edamame (the very last of it )
Dried cranberries
Sliced almonds
Topped with olive oil and red wine vinegar.
So, SO good.
There's just something about the combo of dried fruit and nuts in a salad.  It's so delicious.
On the side I had a juicy white flesh nectarine –
Even Clara thought it looked like a pretty good lunch:
I've been knocking out things on my to-do list all morning.  Just a trip to the gym left on the agenda and then it's pizza night!
0