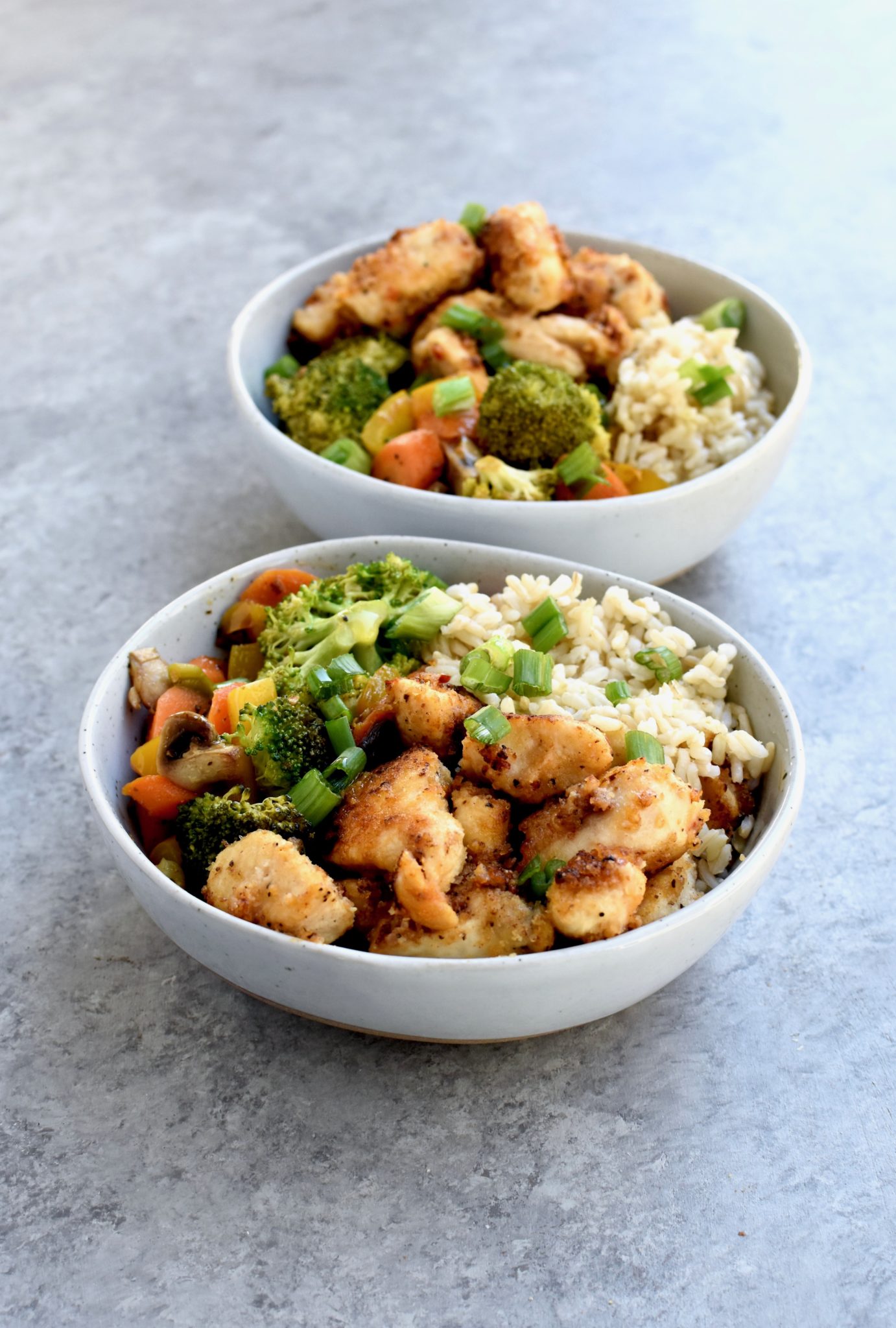 I've been craving a chicken stir-fry dish for a while now.  Is that a weird craving to have?  I'm not sure.
Every one in a while though I just want a nice, veggie-packed bowl with some crispy chicken and hearty brown rice.  And so this past weekend I finally got around to making it!
And let me tell you, it was exactly what I was craving.
You guys know my love for one-stop bowl meals – any time I can get lean protein, whole grains and veggies all into one dish, I'm a happy camper.
The leftovers make for really easy packed lunches – throw this and a piece of fruit into your bag and you've got a complete meal.  It's a perfect heat and eat option for lunch or dinner!
In fact, it's almost better as leftovers because it allows the flavors to really sit and marinate.
It's got a little kick to it which keeps it interesting flavor-wise but not so much that it completely overwhelms the dish.
It's also completely customizable – you can pick and choose the grain (try farro, bulgur, couscous, quinoa, etc.), the veggies you want and even the protein (try tofu, seitan, pork, beef…).  I love a recipe that you can make your own – it's the best kind of recipe if you ask me 🙂
spicy chicken & veggie stir-fry
Ingredients
1 boneless, skinless chicken breast, cubed
1 cup brown rice, cooked
2 scallions, sliced, bottom roots discarded
2 large carrots, peeled & sliced diagonally
1/2 cup mushrooms, roughly chopped
1 yellow bell pepper, diced
1 cup broccoli florets, stems removed
1 inch piece of fresh ginger, peeled and finely chopped
1 tablespoon sesame oil
1 tablespoon rice vinegar
2 tablespoons sushi sauce (I used Kikkoman)
¼ cup brown rice flour
1 tablespoon sambal oelek (less if you prefer less spice)
1½ tablespoons soy marinade (I used Soy Vay)
Salt & pepper to taste
Olive oil
Instructions
Cook brown rice according to package instructions
Meanwhile, combine soy marinade, 1/2 tablespoon of the sesame oil and the sambal oelek in a small bowl
While the rice continues to cook, heat 2 teaspoons of olive oil on medium-high until hot.
Add the ginger, carrots, sliced white bottoms of the scallions to the pan and season with salt and pepper. Cook, stirring occasionally (about 2-3 minutes), or until slightly softened and fragrant.
Add the broccoli, pepper and mushrooms continuing to cook, stirring occasionally (about 3-4 minutes), or until slightly browned and softened.
Add the sushi sauce and remaining 1/2 tablespoon sesame oil. Cook 30 seconds - 1 minute, stirring frequently or until the vegetables are fully coated.
Turn off the heat and stir in the vinegar. Season with salt and pepper to taste. Set aside. Wipe out the pan.
Place chicken in a bowl, season with salt and pepper, then add flour and toss to coat.
In the same pan, heat 1 teaspoon olive oil over medium-high heat.
Add the coated chicken in an even layer (tapping off excess flour before adding) and cook without stirring, 2-3 minutes, or until lightly browned. Continue to cook, stirring occasionally, 1-2 minutes, or until browned.
Add the sauce you mixed earlier to the pan and cook another 1-2 minutes or until chicken is fully glazed.
In a bowl layer cooked brown rice, veggies and chicken then top with sliced green onion.
https://caitsplate.com/spicy-chicken-veggie-stir-fry/
recipe inspired by blue apron
3