5 quick and easy, balanced dinner ideas to get you (or your whole family!) through the work week!
Back with 5 more easy weeknight meal ideas to help make the week ahead a little less stressful!
If you want even more dinner inspiration – find all my Work Week Dinner Game Plans here!
MONDAY: Roasted harvest vegetable barley bowl
anything goes with this easy roasted harvest vegetable barley bowl. roast up any veggies you have on, toss with some nuts & goat cheese and serve with a heaping square of cornbread.
Serves: 2
Done in: 30 minutes
Tips: Feel free to mix this up in whatever way you want. Use whatever grain and produce you have on hand and don't be afraid to use a boxed corn bread to save some time!
TUESDAY: Pumpkin turkey meatballs
these super tender turkey meatballs bring fall flavor to an italian classic. made with pumpkin, sage and nutmeg, they're sure to be a hit for an easy weeknight meal this fall.
Serves: 6-8
Done in: 25 minutes
Tips: Serve these up over pasta or just as with a heart piece of bread and some veggies. I loved serving with roasted harvest vegetables, but you can also do a side salad.
Wednesday: Tofu fried whole wheat couscous
this tofu fried whole wheat couscous is as delicious as it is unique. it's a great twist on a classic dish adding fun new textures for you to enjoy!
Serves: 4
Done in: 25 minutes
Tips: Don't have whole wheat couscous? Sub in rice or whatever grain you have on hand! Anything really works here. If you prefer meat, toss in some shredded rotisserie chicken to save yourself time!
Thursday: Chicken parm stuffed peppers
these easy chicken parmesan stuffed peppers come together quickly then bake in the oven for a delicious twist on a classic everyone will love!
Serves: 2-4
Done in: 65-70 minutes
Tips: Make these your own in whatever way works for you! You can sub eggplant or tofu for the chicken if you're not a meat eater, add in extra veggies or use unbreaded chicken. Serve with a side salad and some hearty bread to round out the dish.
Friday: Spicy red lentil pasta with feta & pistachios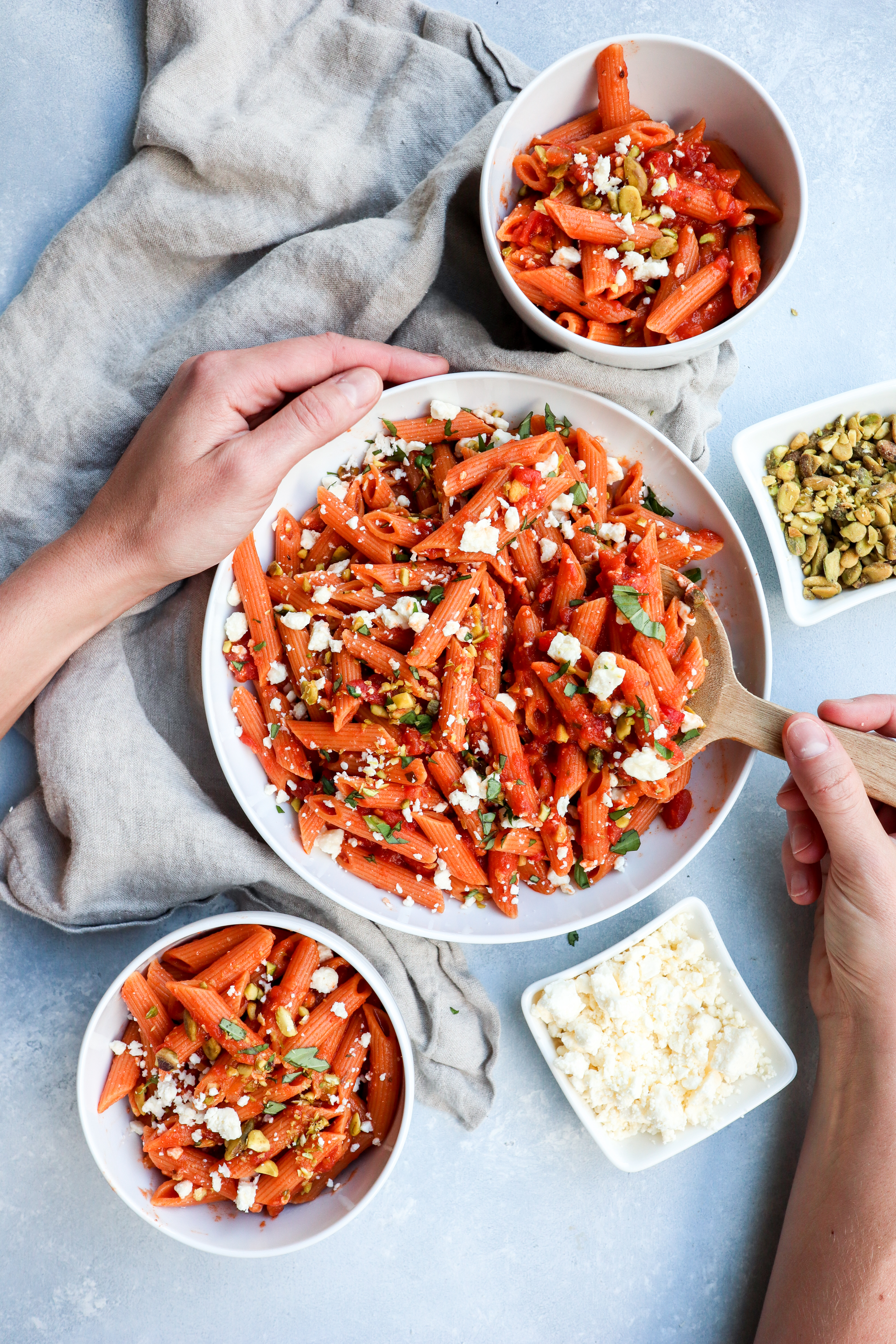 this easy meat-free pasta dish is packed with protein and comes together in minutes. serve with a side salad or some steamed veggies for an easy weeknight meal.
Serves: 4-6
Done in: 15 minutes
Tips: Serve this up with a big side salad or steamed veggies then kick back and relax and let someone else do the dishes! If you're serving to a toddler, serve the crushed pistachios separately so individuals can top with them as desired.
1