these easy root vegetable fries are a cinch to pull together and are a great way to sneak some veggies into your day!
When people ask me how to prepare vegetables to make them more palatable, my answer is always "ROAST THEM!"
My husband HATES the crunch of vegetables (I know…what a weirdo!) so roasting them has been one way I've successfully gotten him to eat veggies (if you haven't caught on yet this week…he's not the biggest veggie fan).
Slice 'em up like fries and give him a few fun dipping sauces (BBQ, honey mustard and ketchup are favorites) and he barely knows he's eating veggies.
Roasting vegetables is probably my number one favorite way to eat them. They not quite as crunchy as their raw versions but they still offer a slight crunch. Plus there's nothing in my world that a little olive oil + salt can't fix!
I tend to be super simple with my roasted veggies but you can absolutely feel free to go wild with your favorite spices. My husband loves anything spicy so when I'm making it for the both of us, I'll do half the tray just olive oil / salt / pepper and half olive oil / salt / pepper / chili powder (or taco seasoning or whatever spice blend we have on hand that's got some heat!)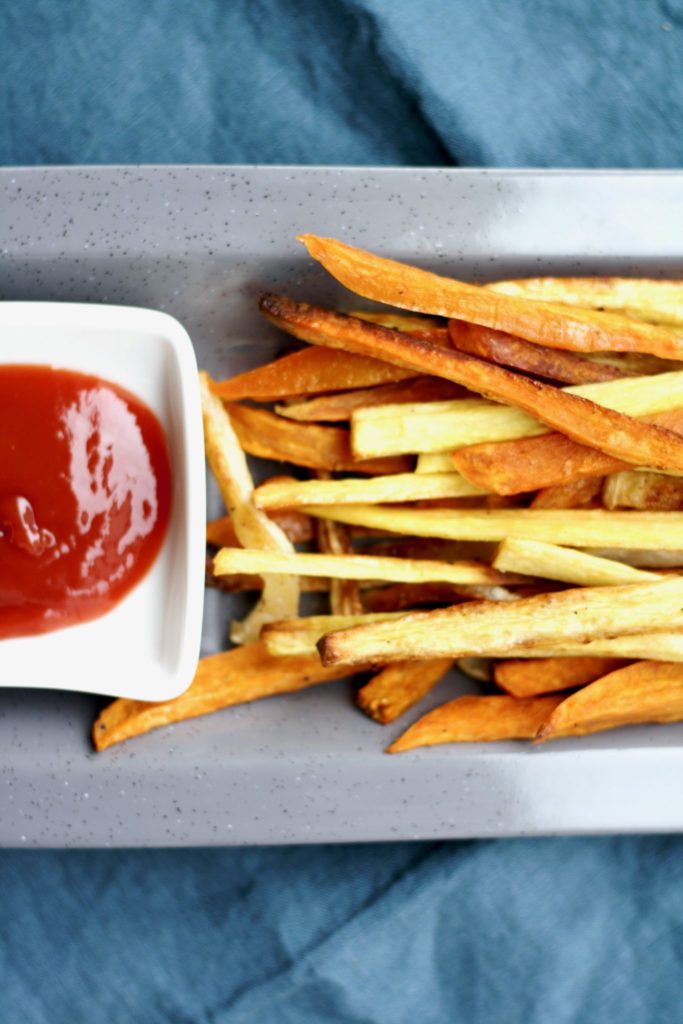 Whether you pair them with burgers, chicken fingers or just eat them with dips for a snack, I promise you'll love them and you can feel good about sneaking a few extra veggies in along the way!
easy root vegetable fries
Ingredients
1

medium

sweet potato, washed, peeled & cut into strips

1

medium

turnip, washed, peeled & cut into strips

1

medium

parsnip, washed, peeled & cut into strips

Olive oil

Salt & pepper
Instructions
Preheat the oven to 425 degrees F. Lay a piece of parchment paper onto a baking sheet and place the veggies in a single layer. Drizzle with olive oil (~1 teaspoon should work; you don't want the veggies soaking in oil or they won't crisp up, so just enough to lightly cover them) and sprinkle with salt & pepper (and any other desired spices). Roast for 25-30 minutes or until veggies are crisp.
3