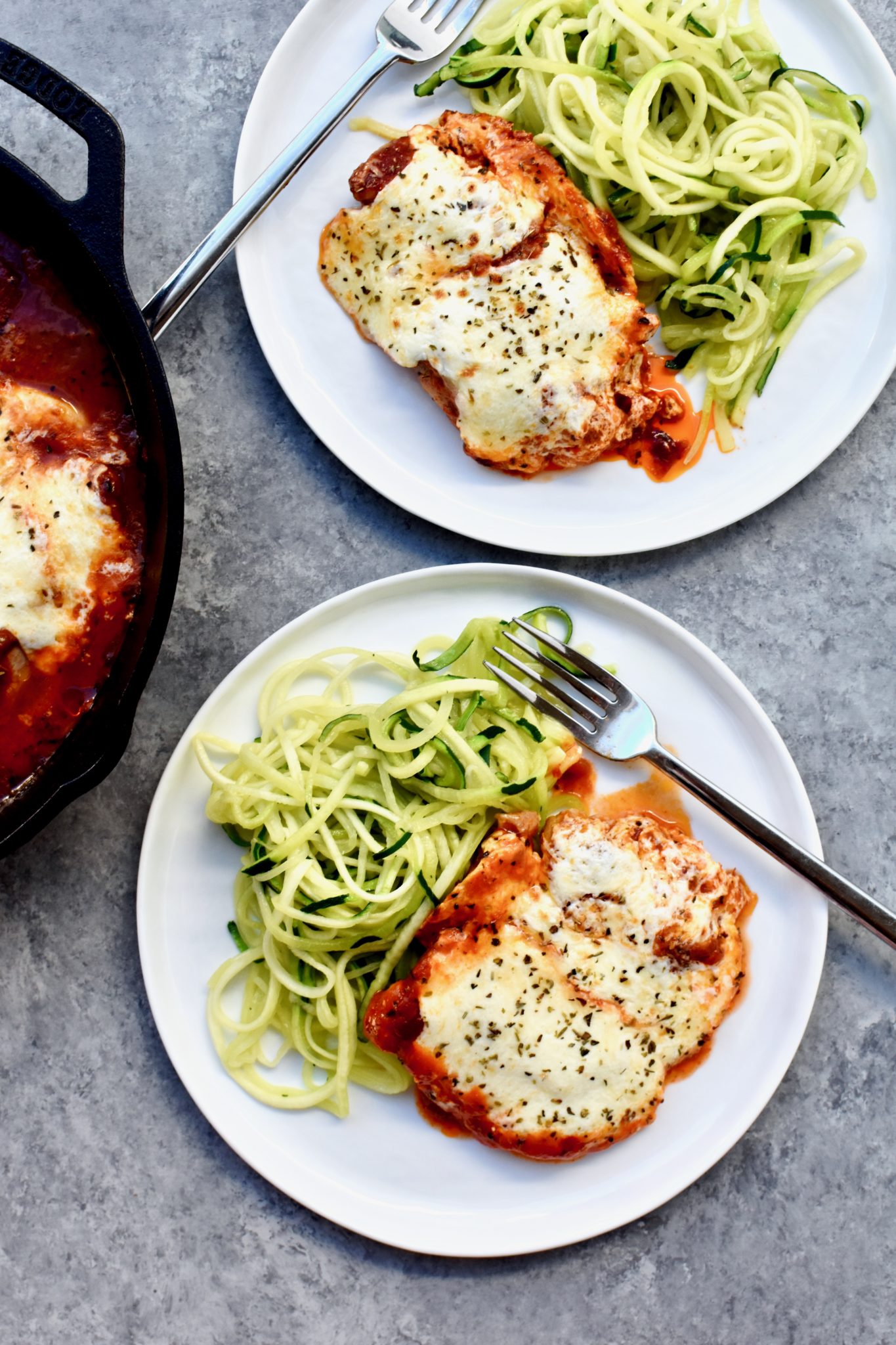 I've got your new favorite easy weeknight meal right here!
This skillet chicken parm comes together in less than 30 minutes but it tastes as if you spent all day in the kitchen.
It's also gluten-free thanks to the fact that the chicken isn't breaded and zucchini noodles are used in place of what would traditionally be wheat noodles.
It's loaded with lean protein and vegetables and goes perfectly when paired with some hearty whole-grain bread for mopping up that extra marinara sauce (please tell me I'm not the only one who can't eat Italian without a good piece of bread to scoop up the sauce!).
One top of the fact that it comes together easily and provides a good dose of nutrition, it also only uses two pans making cleanup a cinch.
I guarantee you this is a dish you will come back to time and time again because it's just so easy to make and it's sure to please everyone cause, let's be honest, who doesn't like chicken parm?
easy skillet chicken parm with zucchini noodles
Ingredients
3-4 boneless, skinless chicken breasts, pounded 1/4 inch thin
1 jar of your favorite marinara sauce (see note)
1 ball of fresh mozzarella cheese, sliced
1/4 cup freshly shaved parmesan
2-3 tablespoons Italian seasoning
2 medium zucchinis, spiralized (or buy pre-spiralized at your local grocery store)
Olive oil
1 tablespoon Italian seasoning
Salt & pepper to taste
Instructions
Preheat oven to 400 degrees F
Drizzle an oven-safe pan with olive oil and place over medium heat
Once oil is hot, place chicken breasts into pan cooking 1-2 minutes on each side
Turn off heat and add marinara sauce (you'll only need about 1-2 cups, just enough so that the chicken is mostly submerged)
Top chicken with fresh mozzarella and parmesan cheese
Place in the oven and cook for about 12-14 minutes
Remove from oven and set the oven to broil
Place the pan back in the oven for 1-2 minutes to allow cheese to brown and bubble (watch closely as it can burn quickly under the broiler!)
Remove from the oven and top with Italian seasoning. Set aside
In another non-stick skillet, heat a small amount of olive oil over medium heat
Add spiralized zucchini and sautee about 3-4 minutes until just soft
Serve 1 chicken breast with zucchini noodles, topping with extra sauce from the pan as desired
Notes
Note that not all marinara sauces are free of gluten, so make sure to check carefully before purchasing if looking to make this meal gluten-free
https://caitsplate.com/easy-skillet-chicken-parm-with-zucchini-noodles/
16