It's Friday!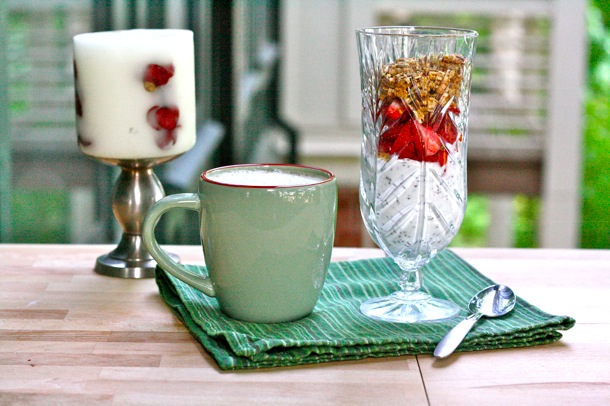 If that's not a reason to celebrate than I don't know what is!
Especially when there's Cville Cluster Granola in your morning 
Despite our healthy dinner last night, I woke up craving a simple, light breakfast this morning.
Fruit + yogurt + granola eaten parfait-style:
Cause it just makes Friday feel a little more special that way 
I layered to following into the glass:
1 container of plain 0% Fage + 1 tbsp. chia seeds
Sliced strawberries
It wasn't until I sat down to eat that I realized I had forgotten to put a little nut butter in!  I thought about getting up to get it, but then figured there should be enough healthy fats in the granola to hold me over until lunch so I went without it.  I missed it though!  It adds that little something special to breakfast…
Coffee + soymilk was consumed alongside:
And I couldn't help throwing in one of these candles:
Chad's grandmother made these beautiful candles for him that he has all around his apartment.  They smell absolutely incredible and I love that you can actually see the petals of the flowers that each candle includes.  She was one talented lady!
I've got a pretty hefty to-do list in front of me starting with folding laundry!  Wish me luck!
0