This post is sponsored by New Chapter; all opinions contained within are my own. As always, thank you for allowing me to partner with companies that allow me to create yummy recipes and speak about the topics I'm passionate about!
As a new mom, I often feel in need of some extra TLC.  The sleepless nights, brittle nails and hair loss due to reduced estrogen levels (please tell me I'm not the only one!) certainly start to take a toll!
While I would love nothing more than to spend a day at the spa, it's just not possible right now with Owen being so young. So, for all my fellow mamas out there, I wanted to bring you a virtual spa day!  I know the struggle is real and I want each and every one of you to be able to get a little refresh without having to leave the comfort of your own home. I've compiled my favorite easy, DIY spa treatments using ingredients you likely have right in your kitchen (or can easily pick up at the grocery store)!
If the idea of an at-home spa day feels a little too overwhelming, (trust me, I get it.  Sometimes just getting dressed feels like a struggle!) fret not! There are other things you can do, like making sure you're hydrating, staying active and of course, eating a well-balanced diet.  A lot of the benefits you reap on the outside from nutrients in 'beauty foods' also do wonders on the inside!
One of the beauty supplements I've been loving lately is New Chapter's Perfect Hair, Skin & Nails, which contains beneficial beauty nutrients like fermented biotin and astaxanthin. Biotin has long been known as a 'beauty' nutrient as it is necessary for protein, fat, and carbohydrate metabolism and a deficiency can lead to poor metabolism of nutrients and undernourished hair follicles over time. Perfect Hair, Skin & Nails delivers fermented biotin. The fermentation process makes it easily digestible and gentle enough to take on an empty stomach. Astaxanthin is a powerful nutrient widely distributed in the red pigment of foods like shrimp, salmon, and crab. Research suggests astaxanthin may reduce oxidative stress, block DNA damage, lower C-reactive protein and other inflammation markers all which can help give you glow from the inside out. Moms – it's all about the glow, am I right?
In addition to eating healthy and incorporating a whole food supplement like New Chapter, I'm sharing some of my super easy, DIY at-home spa treatments!
Avocado & Honey Facial
I love this facial for dry skin.  The natural oils in the avocado penetrate my pores and moisturize so well.  I add the honey in because honey offers natural antibacterial properties, which helps to keep any breakouts at bay. I simply combine 1/2 medium ripe avocado with 1 tablespoon honey, mix well and then spread it all over my skin.  I usually leave it on for about 10 minutes.  You can also try adding cucumber slices to your eyes as cucumbers can help reduce puffiness (something I definitely have plenty of after all my sleepless nights!)
Olive Oil & Yogurt Hair Mask
Olive oil knows no bounds in terms of the beauty benefits it can provide.  It's packed with Vitamins A, E and antioxidants, which can help protect the keratin, lock in moisture, repair damaged hair and even ease frizz.  Both olive oil and yogurt may even help your hair to grow, which as I mentioned earlier, is something I really need help with thanks to that lovely postpartum hair loss!  I simply combine ½ cup of yogurt with 2 tablespoons olive oil and mix well.  Then, I lather it on my hair (wet or dry) using gentle circular motions.  I cover my hair with a shower cap for about 10 to 15 minutes and then rinse out!
If you don't have 10-15 minutes, the Perfect Hair, Skin & Nails supplement is another easy way to help your hair shine! It contains fermented biotin which is easy to digest and helps build keratin, a durable protein required for strong nails and healthy hair.*
Bath Salts
Who doesn't enjoy soaking in a nice relaxing bath? I love to light some candles, dim the lights and play soothing music or get a few pages into my current book. I have a whole treasure trove of unique sea salts that I love to throw a tablespoon or two into a little footbath or even my bubble bath to help relax, exfoliate and detoxify!  My favorite is my pink Himalayan sea salt because I love the pretty pink color.
Olive Oil & Potato Hand Mask
After about my seventh round of washing bottles and baby bums throughout the day, my hands start to look a little less than stellar, which is why I've grown to love hand masks. It might sound a little funny, but I promise you once you try it, you'll want to be using them too! My favorite one to use is this olive oil & potato hand mask. I boil a peeled russet potato, mash it and combine it with 3-4 tablespoons olive oil. Olive oil lends its wonderful moisturizing properties again (which is great if you're like me and constantly wash your hands during the day!) and potatoes are said to be help increase skin firmness.  My mom has always said, "your hands show your age!" so that always sticks in my head when I'm doing this mask 🙂
Another wonder ingredient for your skin you can't get from a mask? Astaxanthin! Found in Perfect Hair, Skin & Nails, astaxanthin reduces the appearance of fine lines, wrinkles and helps to improve the skin's elasticity.* The antioxidant action works to protect cells from damage and keep your skin's natural collagen from breaking down – something we can all benefit from!
Lemon Eye Mask
Like cucumbers, lemons are great for helping to reduce swelling and puffiness many new moms find around their eyes.  There's nothing like 6+ straight months of not sleeping through the night to leave some pretty hefty bags lurking. Lemon is rich in Vitamin C, which is a great beauty nutrient – and as such, you can combine lemon juice with SO many different ingredients to help reduce those bags. A few of my favorites?  1 teaspoon lemon juice with ½ teaspoon turmeric, 1 tablespoon tomato juice with ½ teaspoon lemon juice or 1 tablespoon lemon juice with ½ teaspoon turmeric.  Combine any of the following and carefully pat underneath your eyes right on the bags.  Leave on for 10 minutes, then gently rinse off. Just be careful not to get these directly in your eyes or your eyelids, as lemon is acidic and can burn!  To be safe, you can try putting these serums on a clean cotton ball that you can carefully dab under your eye.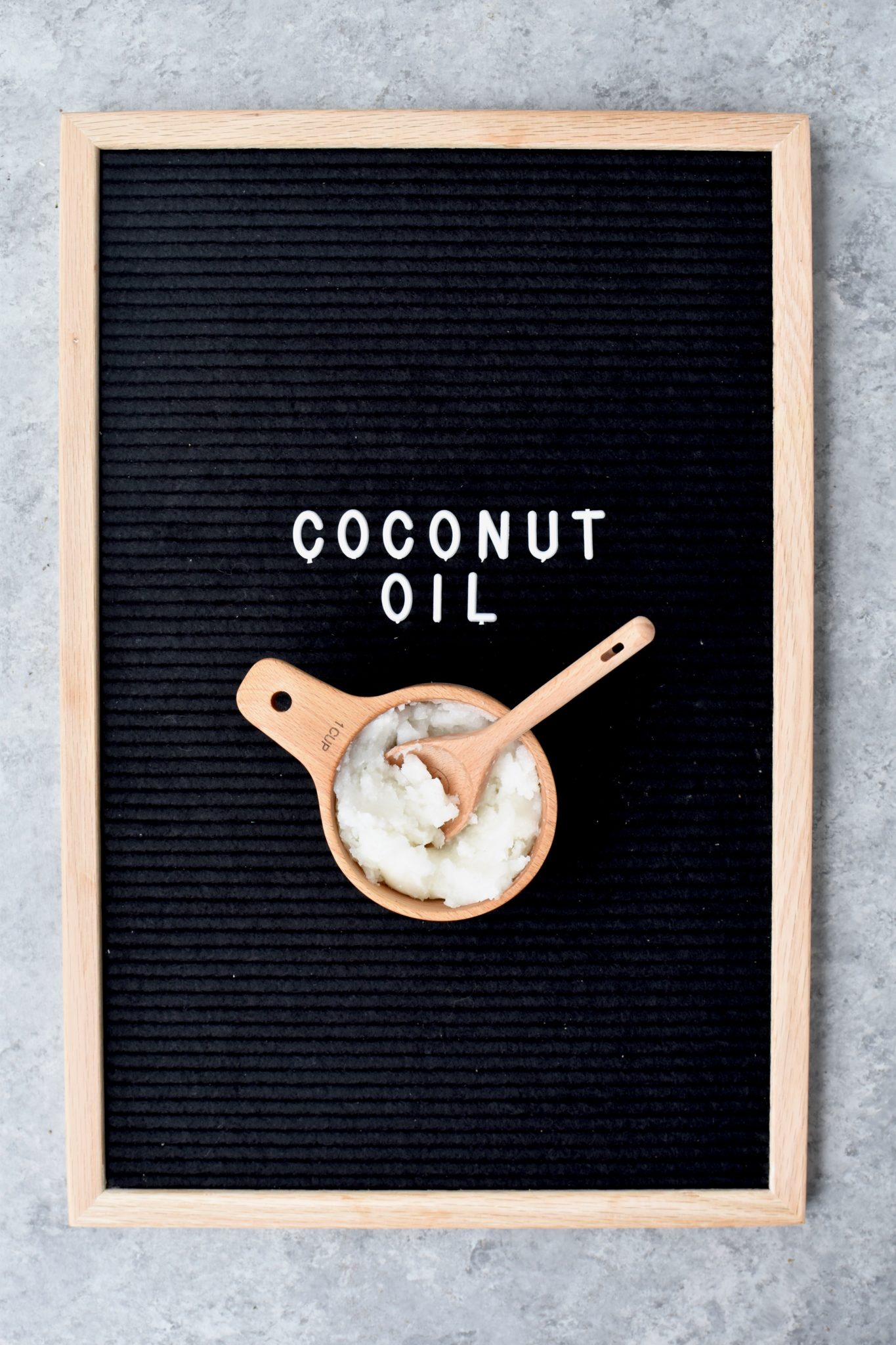 Coconut Oil
There's no end to the number of beauty treatments you can utilize coconut oil for. It's naturally antibacterial and antifungal making it great for skin and is a wonderful moisturizer for both skin and hair among many other things!  I love to rub a little on and around my nails – I find it helps reduce the cracking that I get from constantly washing my hands and the number of hang nails I get.  I also love to spread a little on my heels and then put on a pair of socks – not only are you getting some great moisture on your cracked heels, but it smells super yummy in the process!
Try one, try them all! But, in addition to at-home spa remedies, talk to your doctor about incorporating New Chapter's Perfect Hair, Skin & Nails supplement for an extra beauty boost! You can visit the the Perfect Hair, Skin & Nails product page to learn more and if you're interested, use code CAITPHSN for $5 of a 60 ct. bottle now through 6/30/18.
Now go ahead, hang up those "Do Not Disturb" signs and have an at-home spa day!  You deserve it!
*These statements have not been evaluated by the Food and Drug Administration. This product is not intended to diagnose, treat, cure, or prevent disease.  Always talk to your doctor prior to implementing anything new to your routine. 
** Certified Organic by International Certification Services, Inc., Medina, ND, USA
1