Cino de mayo is almost here!!  It's BY FAR one of my favorite times of year (though let's be honest, I pretty much celebrate all year long anyway).
I mean, who doesn't like a day that celebrates things like tacos, margaritas and guacamole!?  I guess someone that doesn't like those things…haha.
BUT.  If you're like me and love those things, then I know you're cheering on inside for the 5th along with me!
One of my absolute favorite types of tacos are veggie tacos.  Honestly if you use the right mix of veggies, you truly don't even notice they're meatless!  Options like mushrooms and roasted sweet potatoes feel just as hearty as chicken or pork.  Even my meat-eating husband will happily eat these and that's saying something!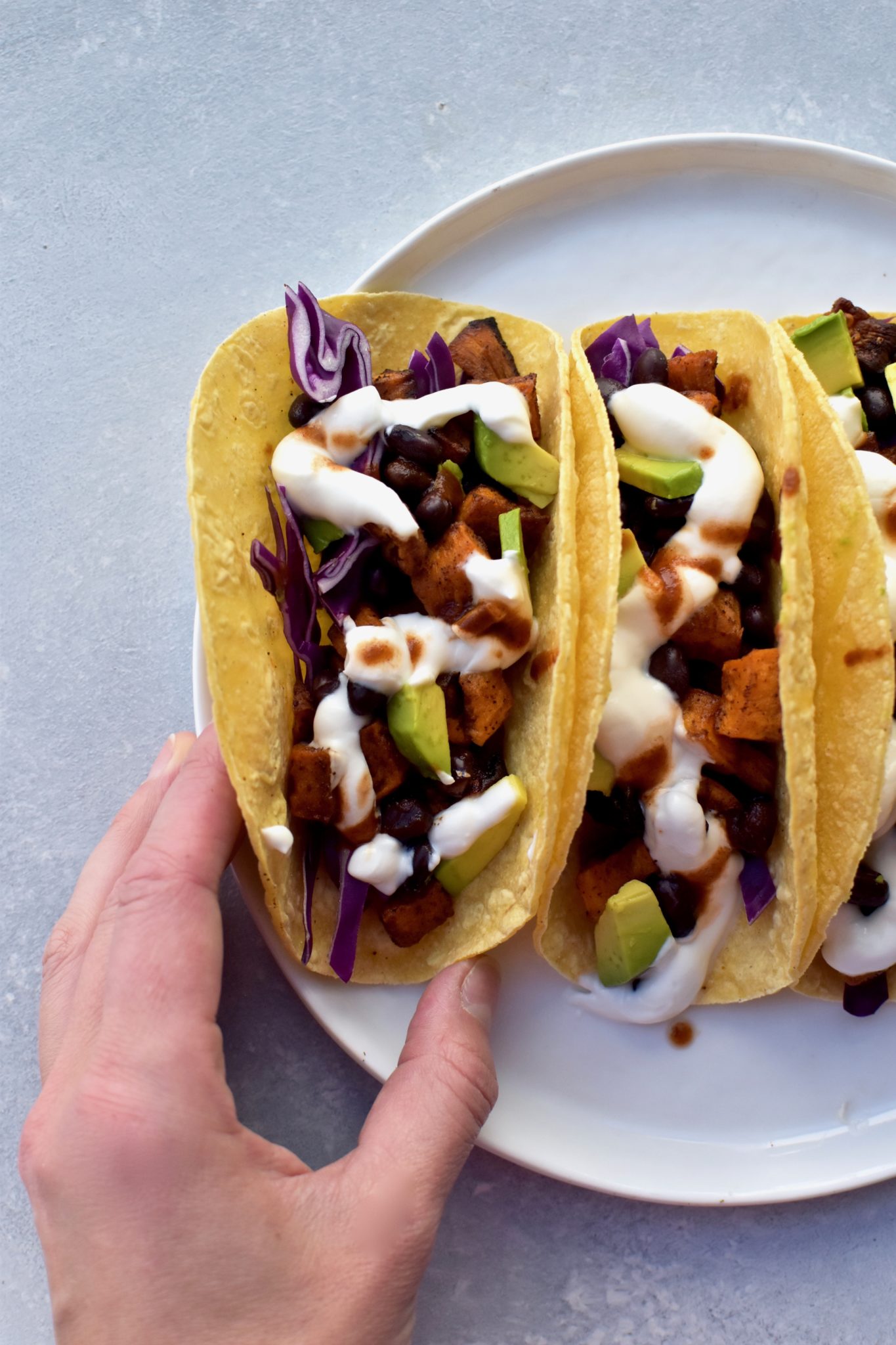 Top them with a little avocado, maybe throw in some purple cabbage and you're well on your way!
Also, I don't know about you but I'm personally a soft taco girl all the way.  The crunchy tacos just inevitably end up in a crumbly mess in my lap.  Am I alone in that?  Like, am I just eating them wrong or something?  Hard taco lovers, tell me your secrets!
No matter how you choose to celebrate (one day, or all year long like myself!) these should definitely make it into the rotation.  It's a great combination of flavors.  You can also add chicken, cheese or whatever else your heart desires!
For more of my favorites to eat on Cinco de Mayo, visit this post!
spiced sweet potato & black bean tacos
Ingredients
4 soft corn tacos
1 cup black beans
1 medium sweet potato, peeled & cubed
1 teaspoon cumin
1 teaspoon paprika
1 teaspoon crushed red pepper (less if you don't like a ton of spice)
Salt & pepper to taste
1 teaspoon olive oil
Small handful red cabbage, sliced
1/4 avocado, diced
4 tablespoons plain greek or skyr yogurt
Hot sauce to taste
Instructions
Preheat the oven to 425 degrees F
Line a baking sheet with tin foil or parchment paper
Toss sweet potatoes with olive oil then top with cumin, paprika, crushed red pepper, salt & pepper and toss well
Place in a single layer on a baking sheet and baking for 20-25 minutes or until browned and just crispy on the edges then remove from the oven and set aside
Warm the black beans in the microwave if desired (otherwise they're fine at room temperature)
Meanwhile, lay out each taco shell and layer with 1/4 of the sliced red cabbage, sweet potato, black beans, avocado, yogurt and hot sauce
Serve immediately
https://caitsplate.com/spiced-sweet-potato-black-bean-tacos/
3