spicy thai basil noodles loaded with peppers, onions and tofu for a better-than-takeout dinner option!
There's a thai place in my sister's town that makes a spicy basil noodle dish with tofu and it is SO good.
In the years since I've moved from Boston and could not longer get it, I've tried tons of different thai places to see if anyone could possibly replicate it but have had no luck.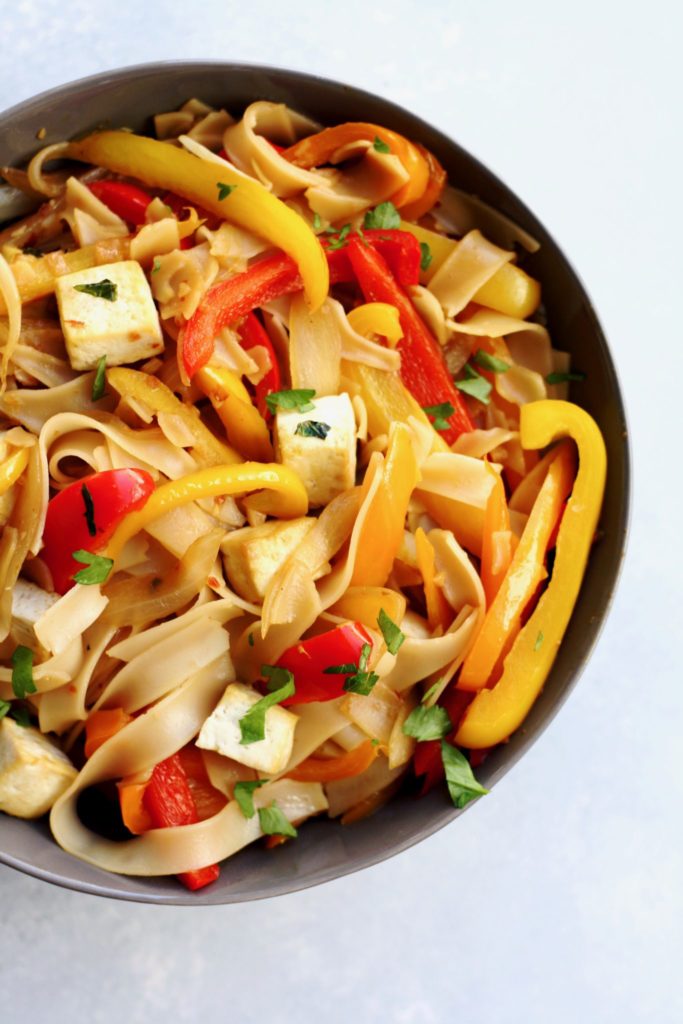 So I decided it was time to take matters into my own hand and replicate it in my very own kitchen!
Don't even ask me why it took me so long to come up with this idea! It probably should've been my first thought after the first or second failed attempt to find a place that could do it justice!
Regardless, I've now done it! It's not quite as good as the original, but it's definitely the closest I've tasted!
It's definitely less spicy than the take-out version, but I did that on purpose since I can barely feel my mouth after I eat the take-out one! That can be easily tweaked by increasing the amount of sambal oelek you add.
I found this dish kept well in an airtight container in the fridge for up to 4 days making it a great make ahead dish! Leftovers are also great for lunch 🙂
spicy thai basil noodles with tofu
Ingredients
For the Tofu:
1

package

firm tofu, drained, pressed & cubed

1-2

tablespoons

olive oil

salt, to taste
For the Sauce:
¼

cup

low sodium soy sauce

2

teaspoons

oyster sauce

1

teaspoon

maple syrup

1

teaspoon

sambal oelek (more for spicier noodles)

2

tablespoons

sugar

¼

cup

hot water
For the Stir-Fry:
8

oz

wide flat rice noodles

1

red bell pepper, de-seeded, thinly sliced

1

orange bell pepper, de-seeded, thinly sliced

1

yellow bell pepper, de-seeded, thinly sliced

1

medium onion, thinly sliced

1

clove

garlic

2

teaspoons

olive oil

1

cup

packed thai basil leaves regular basil will work too
Instructions
For the Tofu:
Preheat the oven to 425 degrees F.

Place a piece of parchment paper on a baking sheet then layer tofu in a single layer.

Drizzle with olive oil, sprinkle with salt to taste & toss.

Bake for 20-30 minutes or until golden brown.
For the Sauce:
Combine all the sauce ingredients together in a bowl and whisk to combine, then set aside.
For the Stir-Fry:
Soak noodles in hot water according to package instructions.

Place a large non-stick pan or wok over medium heat.

Add oil.

Sauté garlic until fragrant (about 30 seconds – 1 minutes).

Add onions and peppers, sautéing until tender (about 5 minutes)

Add noodles, tofu and sauce to the same pan and toss to combine (noodles should be well coated).

Remove from heat and immediately add basil tossing to combine.
7