Someone commented on my lunch post yesterday saying that it seems like we eat out all the time.
And she's absolutely right.
I feel like we eat out all the time.  And you know what?  It kind of stinks.
It takes the specialness of going out to a meal away.  It also means you're a lot less in control of what you're putting into your mouth.  And it means a lot less time in the kitchen for me…which I actually don't like.  Not to mention the financial and caloric impact!
I don't think either of us is really thrilled with how much we've been eating out lately – there has just been a lot of travel which has unfortunately lead to us not being able to really keep a consistently stocked kitchen.
But that's all about to change!
We're on a good stretch of "home" time now and the very first thing I did when I woke up this morning was to make a meal plan/shopping list and then head to the grocery store to restock!
There's literally a little bit of everything in there…we were down to bare bones.
My absolute favorite purchases though?
My fruit!
While I felt like I did an okay job of getting veggies in while in Chicago, the one thing I felt like I was sorely lacking was fruit.  
I may have gone a little fruit crazy.
My afternoon consisted of this.  And this.  And this as a result.
But that's alright.  It just feels really nice to have a fresh batch.
And it should come as absolutely no surprise that my lunch ended up including it –
I was thinking I would have a turkey sandwich…but by the time 1pm rolled around, then 2pm and I still wasn't feeling super hungry (way to go breakfast!) I figured a small bowl of yogurt, fruit and granola might be the better option.
I was right.  Love when that happens.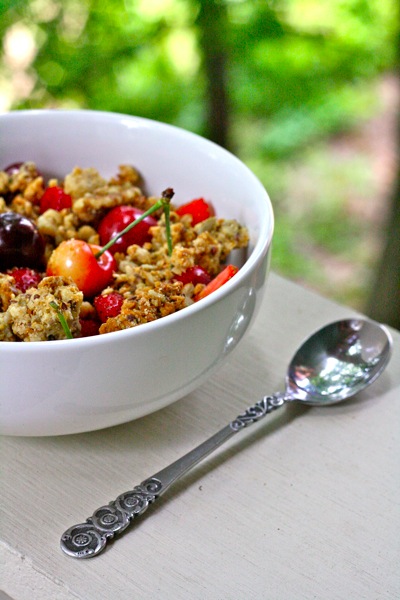 Into the bowl went:
Strawberry Banana Chobani
1 tbsp. chia seeds
Cherries
Strawberries
Was a perfect lunch for the official first day of summer!
0