A lot of people often ask me what my go-to brands and products are. I hope this grocery store tour post here helped you to see some of the brands that I buy on a regular basis!
My Instagram page is another place where I share products that I like or use regularly. As the last of my grad school experience wraps up and things have gotten busier, I thought I would share with you all a few of the things that have been helping me to get through when I have little-to-no time to spend cooking!
Annie's whole wheat white cheddar shells and cheese
I love that I can pair this with some protein (chicken sausage, beans or lean chicken) and veggies and have a pretty complete meal on my hands! It's fast to pull together and totally filling!
Trader Joe's Lentil Vegetable Soup (I also love Amy's low-sodium Lentil Vegetable)
Again, a quick and easy option that's helping me to get most of what I need in one bowl. I grab a cheese stick, a piece of fruit and some bread or crackers and I have a pretty decent meal on my hands in under 10 minutes!
Trader Joe's Super Spinach Salad
My love for this salad has turned into an all-out addiction. To the point where I actually CRAVE it at least once a week! It's filling and delicious and the most perfectly portable option. I again pair it with some crackers or bread and a piece of fruit and it makes for a wholly satisfying meal. (PSA: Shutterbean and One Little Kitchen went ahead and came up with homemade versions you can make yourself if you're interested!)
Chipotle-spiced Black Bean, Turkey and Veggie Bowl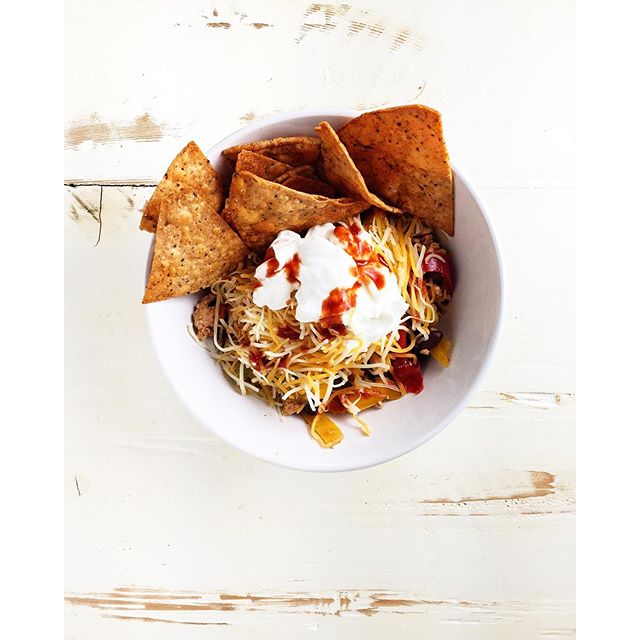 So this isn't actually store-bought but it's been a great go-to recipe for me because it comes together in less than 15 minutes and can be used in a variety of ways. I literally sauté some diced tri-colored peppers and zucchini in a pan with olive oil until they're tender. I remove them, add a bit more oil to the same pan, brown the ground turkey breast (usually 1 pound) then add the veggies back. I add a variety of spices (whatever's on hand – chipotle pepper chili powder, ground red pepper, paprika, etc.) then toss in a 15 oz can of drained black beans. I mix well then let simmer all together for the flavors to marinate for a couple of minutes and viola! I use it for burrito bowls, burrito filling, quesadilla fillings…the sky's the limit!
Trader Joe's Minestrone Soup
Yes another soup, and yes another Trader Joe's option! They're the best store while in grad school because they're affordable! Again, it's a great way to get grains, veggies and protein (from the beans) in one fell swoop. I can add a couple things to it and I have a full meal. Plus, with the cooler weather it's a nice, comforting dish. One note on the soups is that if you're watching your sodium, they can add up fast so opt for low-sodium options if so!
Butoni Whole Wheat Three Cheese Tortellini
Like the Annie's mac and cheese, this is an easy option to just throw some veggies into and have a meal out of! I love to pair it with pesto to make it feel a little special. Basically any meal that takes less than 10 minutes to cook, tastes delicious and can get most of what I need into one bowl is good by me with my limited time schedule. Just because I'm busy doesn't mean I have to skip meals!
Follow me on Instagram for other meal ideas and to see the sneaky ways I make balanced meals without a lot of time!
0