crisp whole grain toast is topped with warm chickpeas & sun-dried tomatoes then mixed with peppery arugula and topped with freshly shaved parmesan.
I love a good sandwich, don't get me wrong.  But sometimes an open-faced option just feels so much more special.
You also don't have to worry about overstuffing (I'm a serial over-stuffer) which is a major bonus.  Just grab a fork and eat whatever doesn't make it on the toast separately.  For some reason eating an open-faced sandwich with a fork is more acceptable than a regular sandwich (at least that's what the looks people give me when I have done it in the past tell me…don't ask me why!).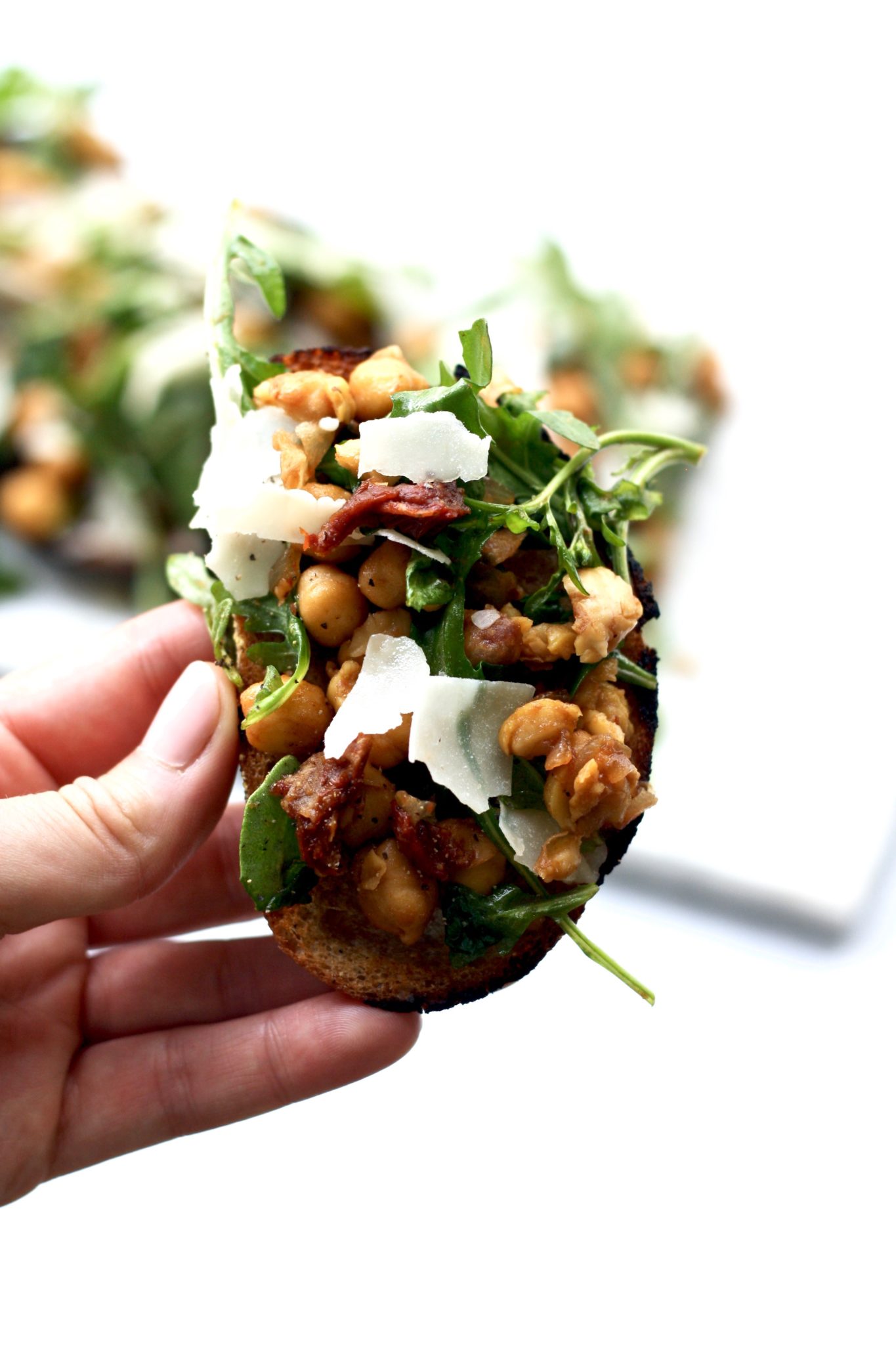 And this particular open-faced sandwich is one you won't want to miss.  It combines warm chickpeas and sun-dried tomatoes with peppery arugula all finished off with freshly shaved parmesan.  It's not only a flavor explosion in your mouth but you're also getting whole grains, protein, veggies and heart-healthy proteins.
It also makes a great snack to serve if you have guests coming over.  It's something a little different than the usual cheese and crackers but still handheld.
Personally if I was showing up to a party and saw these being served over cheese and crackers, I'd automatically feel like that person was my food soulmate.
What?  You feel like I take my party food too seriously?! 
whole grain chickpea & arugula toasts
Ingredients
6 slices whole grain bread, toasted or grilled
1 tablespoon olive oil
1/2 medium white onion, diced
1 can no salt added chickpeas
2 tablespoons oil-packed dried tomatoes, chopped
1 tablespoons balsamic vinegar
1 large handful arugula
Salt and freshly ground black pepper, to taste
Freshly shaved parmesan for garnish
Instructions
Grill or toast bread slices to your desired texture.
Place a non-stick skillet over medium heat then add olive oil. Once olive oil is warm, add onion and cook for 3-4 minutes or until fragrant and just tender. Add beans, tomatoes and vinegar, stirring to fully heat the mixture.
Transfer mixture to a bowl and using a fork or a potato masher, mash (it's okay if not all the beans are mashed).
Toss in arugula stirring to combine. Scoop mixture over each slice of toast (there will be some leftover - feel free to eat it as a salad!). Sprinkle salt and pepper over each toast then finish with freshly shaved parmesan.
https://caitsplate.com/whole-grain-chickpea-arugula-toasts/
recipe inspired by better homes & gardens
1