Despite my delicious lunch, I found myself feeling ready to eat again around 3pm.  I don't know if it was actual hunger or the stress of studying…but either way – I was hungry!
I snacked on a delicious granny smith with some almond butter to hold me over:
It did the trick perfectly.
We live about 2 miles from the gym – so a 30 minute walk or a 5 minute drive.
I find it really hard to get in the car and drive such a short distance, so today I tested out the walk.
And you know what?  I loved it!
Once at the gym I did a quick 30 minutes on the elliptical – then did a couple of core exercises (think planks, upward dog and weighted bar pulldowns) then headed back home!
It was such a nice break from studying and a great way to spend the afternoon.
I was super excited about dinner tonight because it's a dish I've had my eye on for months!   I think I even pinned it!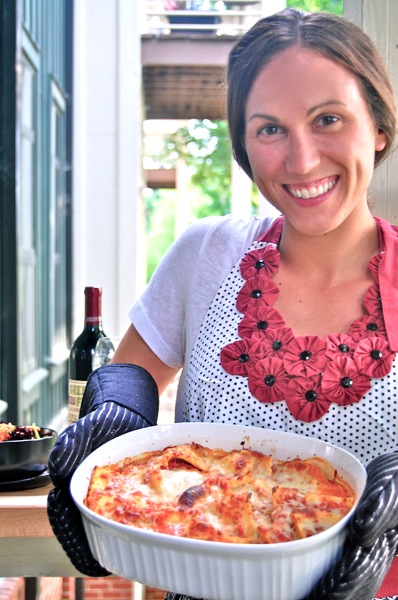 Martha Stewart's Baked Ravioli.
That's right.  Baked.  Ravioli.
Cheese pasta smothered in cheese.
It does not get better than that ladies and gentleman.
Mine may not have looked like Martha's – but I think it tasted just as good.
The absolute best parts were the top with the baked cheese.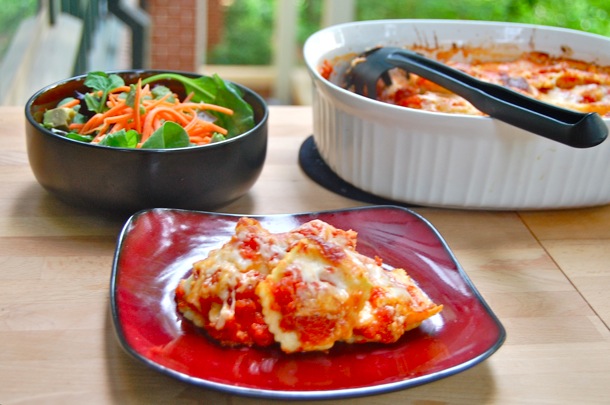 So unstinkingbelievably good.
And fairly easy to make as well!
I halved the recipe because there was absolutely not need for Chad and I to take down 2 pounds of ravioli on our own (and we just might have had it been in front of us) and it worked out perfectly.
We had side salads to go alongside made of mixed greens, shredded carrots and avocado:
And to top off the meal I broke into my $3.99 bottle of Cabernet Sauvignon!
No that's not a typo.
There's not supposed to be a "1, 2 or 3" in front of that 3.
This puppy was $3.99 at Trader Joe's and I just couldn't resist picking it up.  C'mon, who doesn't want to know what a $3.99 bottle of wine tastes like!?
Lucky for you guys…I tested it out for ya 😉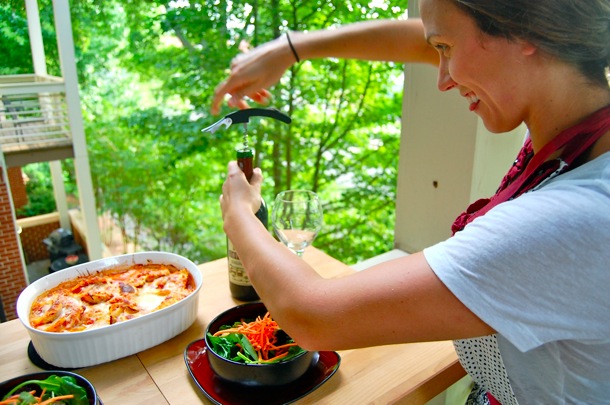 YOU'RE WELCOME!
Cork popped…
Glass poured…
Aaaand yup!  It tasted pretty much what you expect a $3.99 bottle of wine to taste like.
HOWEVER.
It wasn't awful.  It was actually tolerable!  I finished my entire glass of it.  And that's coming from someone who tried some preeeettttyyy fancy bottles of wine while working at FOOD & WINE.
Would I buy it again?
Probably not.
But I'm glad I at least tried it!
We dined outside…summer style:
A good situation right there if you ask me.
Happy Friday everyone!
0