5 quick and easy, balanced dinner ideas to get you (or your whole family!) through the work week!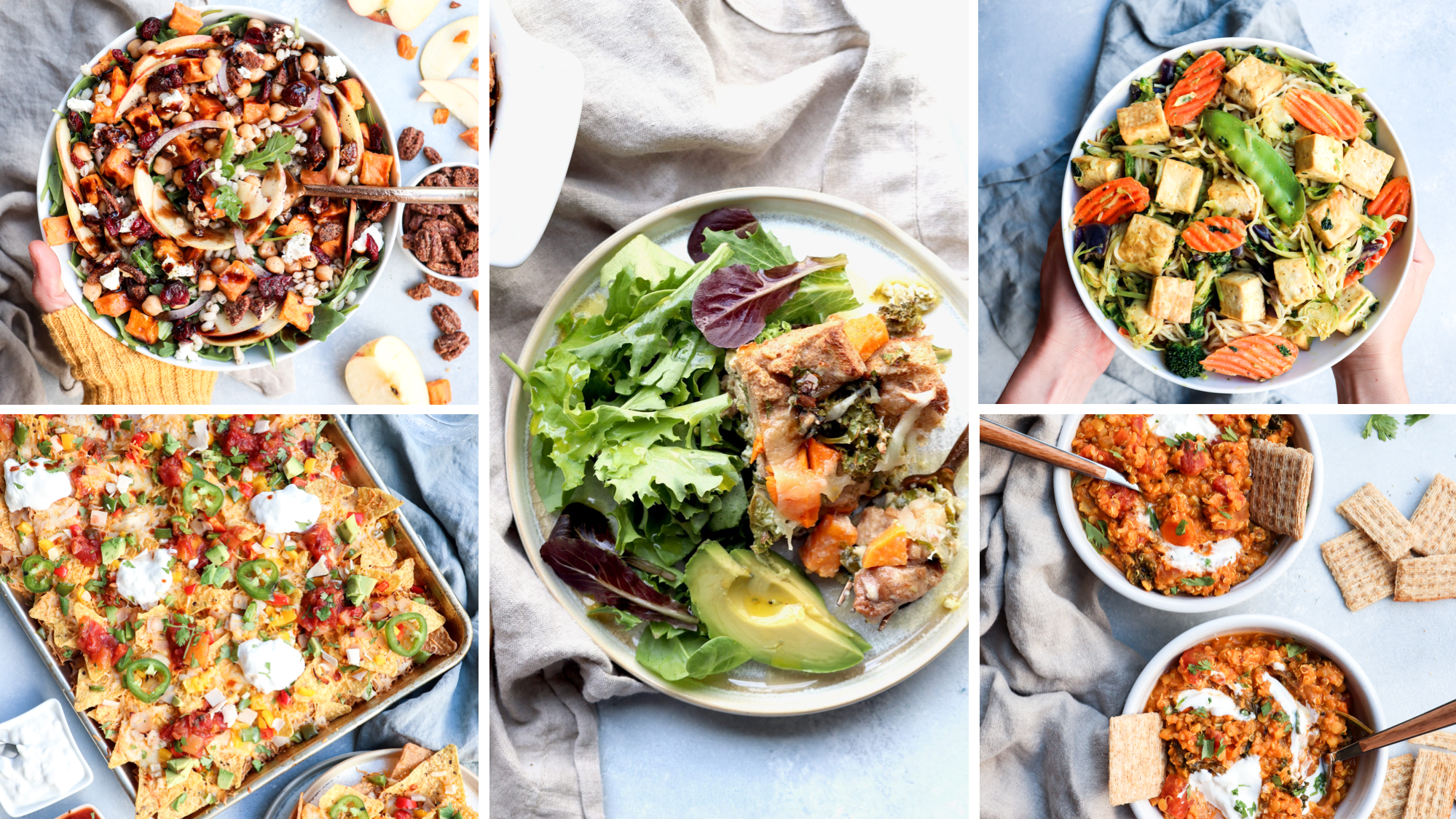 Five easy weeknight meal ideas to help make your week ahead a little less stressful!
If you want even more dinner inspiration – find all my Work Week Dinner Game Plans here!
MONDAY: Fall harvest barley bowl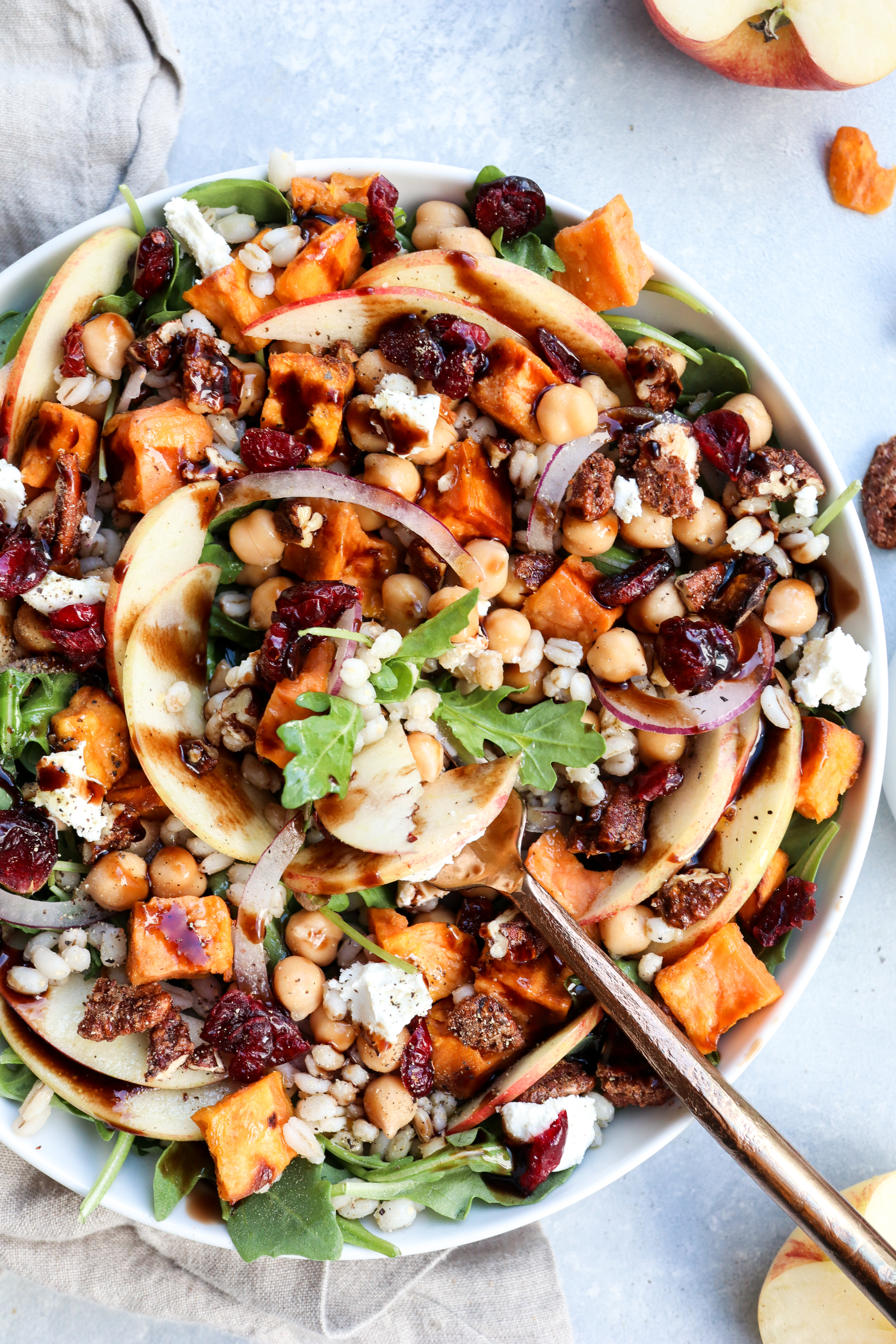 This easy grain bowl comes together quickly and combines some of my favorite fall flavors! filled with whole grains, fiber, heart healthy fats and protein, it's the perfect way to celebrate the official start of the season.
Serves: 1, but can easily serve more
Done in: 5 minutes
Tips: Feel free to mix this up in whatever way you want. Choose chicken or tofu instead of chickpeas, swap out the roasted sweet potatoes for butternut squash and toss out the pecans for walnuts. Whatever you prefer goes. Serve it up as is for a fully balanced dish!
TUESDAY: Aloha sheet pan nachos
These sheet pan nachos are easy (done in less than 30 minutes!), delicious & dirty just one pan, making them the perfect easy weeknight dish. mix up the flavors in any way to like best to suit your preferences!
Serves: 4-6
Done in: 25-30 minutes
Tips: Again, make this work for you! Swap out the turkey for black beans, go with a hot salsa instead of the pineapple mango, whatever you want will work. Serve with guac, yogurt, fresh cilantro and hot sauce.
WEDNESDAY: Coconut curry & tofu ramen noodle bowl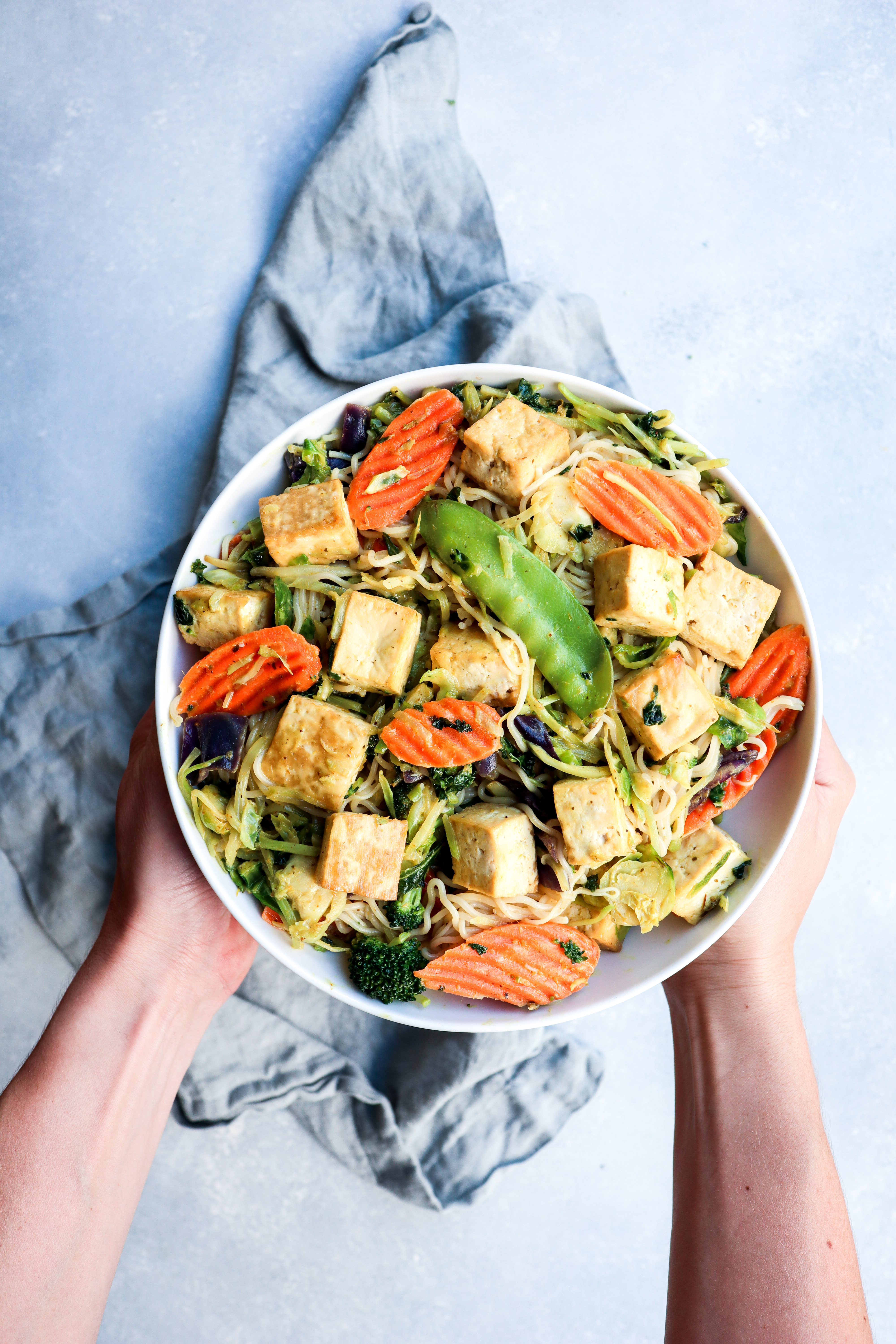 This easy ramen noodle bowl comes together with just 5 basic ingredients.  Done in just about 30 minutes, it's a perfect weeknight meal option!
Serves: 4
Done in: 30-35 minutes
Tips: If you're not a tofu fan this would be great with just about any protein. If you don't have ramen noodles on hand, it would work well with brown rice.
THURSDAY: Creamy red lentil, kale & quinoa stew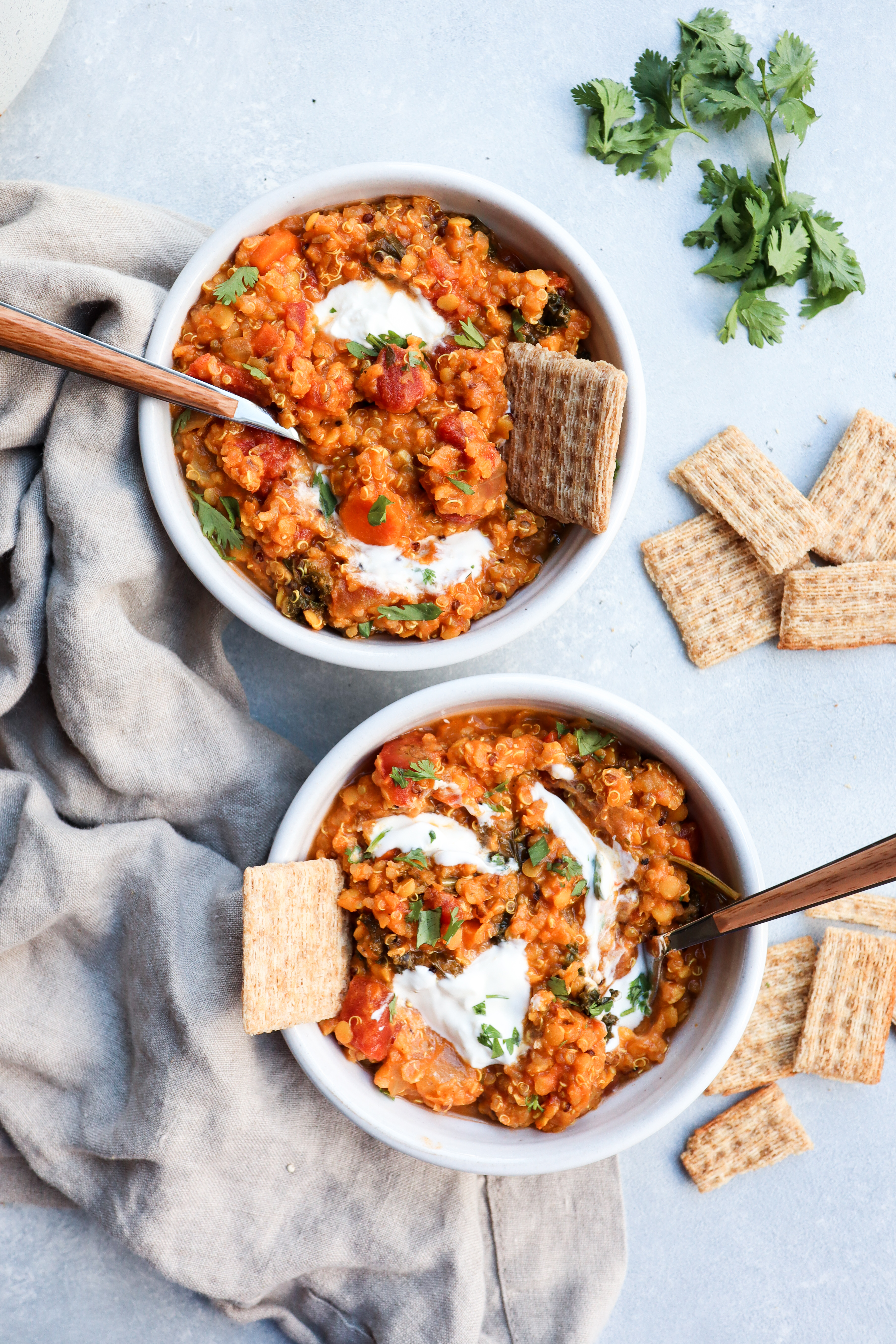 Red lentils combine with kale, quinoa and creamy yogurt for a delicious vegetarian meal that's as comforting as it is easy to make!
Serves: 4-6
Done in: 35 minutes
Tips: The best part of this dish is that it freezes well. You can make a big batch on the weekend and freeze the rest, pulling it out when you need quick and easy meals throughout the week!
FRIDAY: Sweet potato, kale & fontina whole grain strata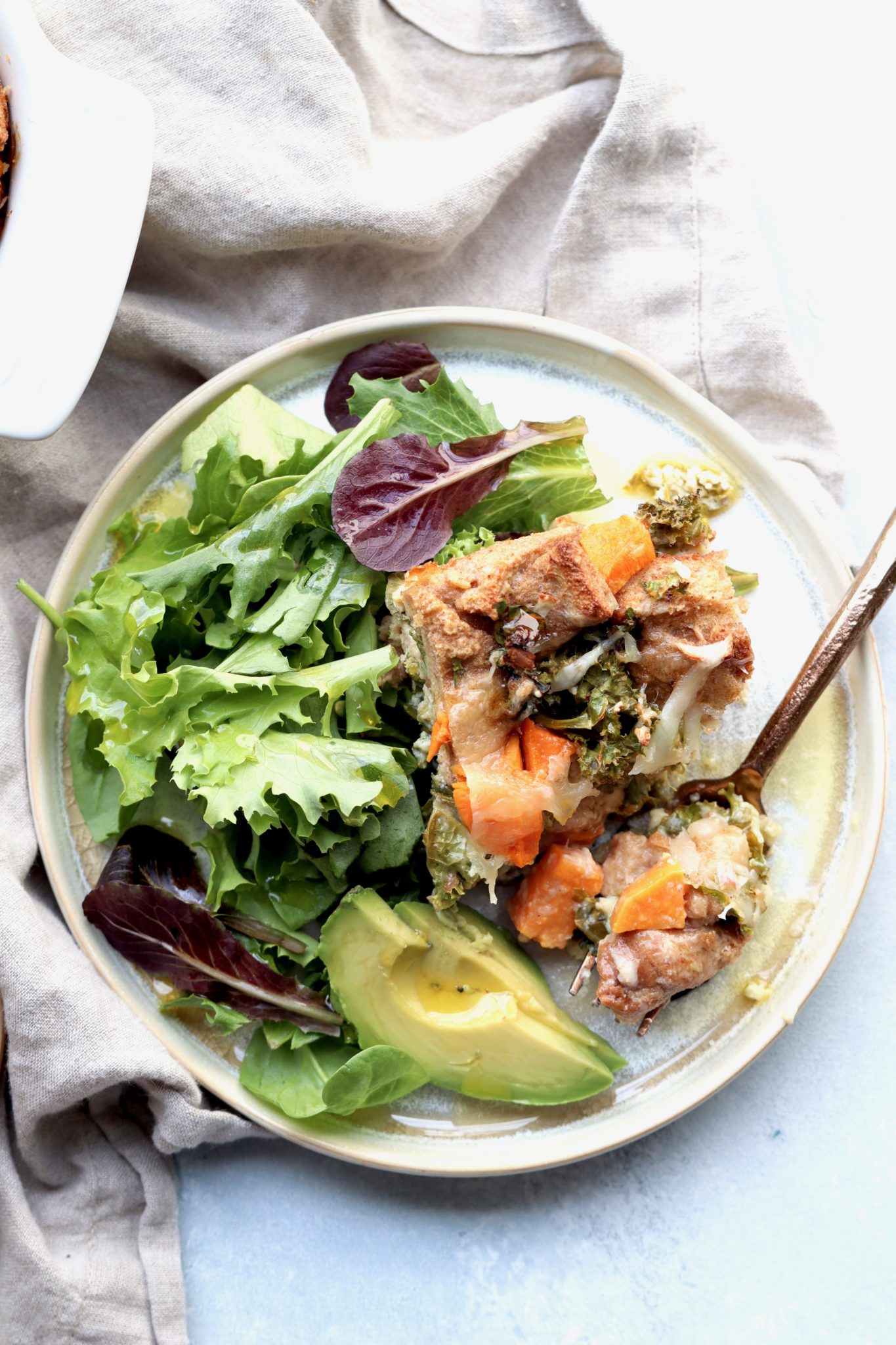 This easy strata is perfect for using up fridge leftovers.  It takes all of 10 minutes to pull together and results in a flavorful dish offering whole grains, protein, heart-healthy fats and fiber!
Serves: 6-8
Done in: 65 minutes
Tips: This is the perfect dish to whip up over the weekend and pull out and eat all week long. A reheat of this on a Friday night is the best way to end the week. Pair it with a mixed greens salad and some avocado and you've got the perfect dish.
2