this post is brought to you in partnership with banza
I know, I know, it seems crazy to call this pasta recipe "protein-packed" right?
But this is not just any pasta – it's from a company called Banza which makes their pastas from…
Chickpeas!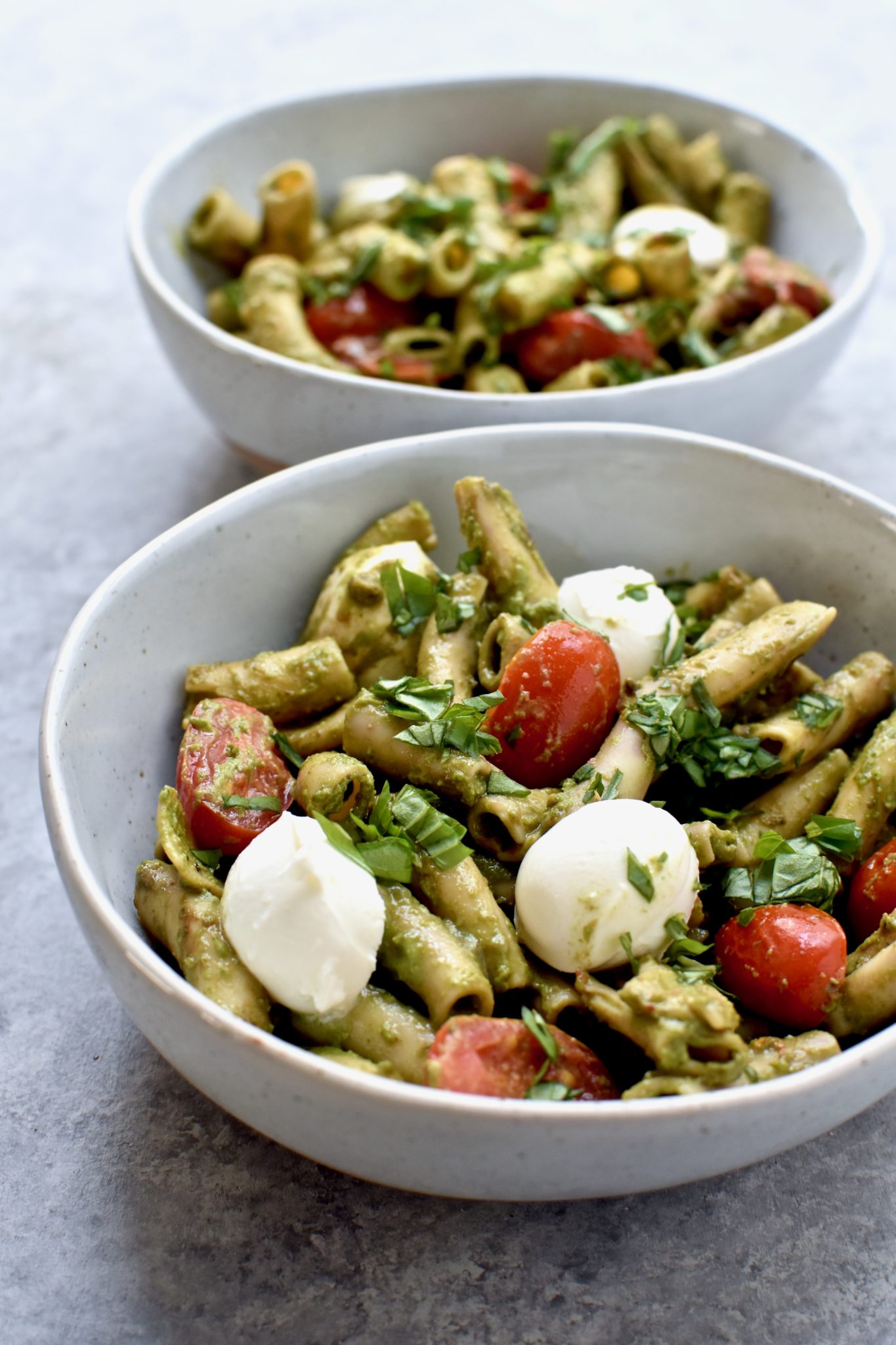 Pretty cool right?  It gives a whole new meaning to lazy night pasta dishes.  I can't tell you how many times I just want to cook a big pot of pasta, throw some sauce on it and call it a night.  But then I feel like I should try to cook a protein to go with it so that it will hold me over longer.
This is a serious game changer.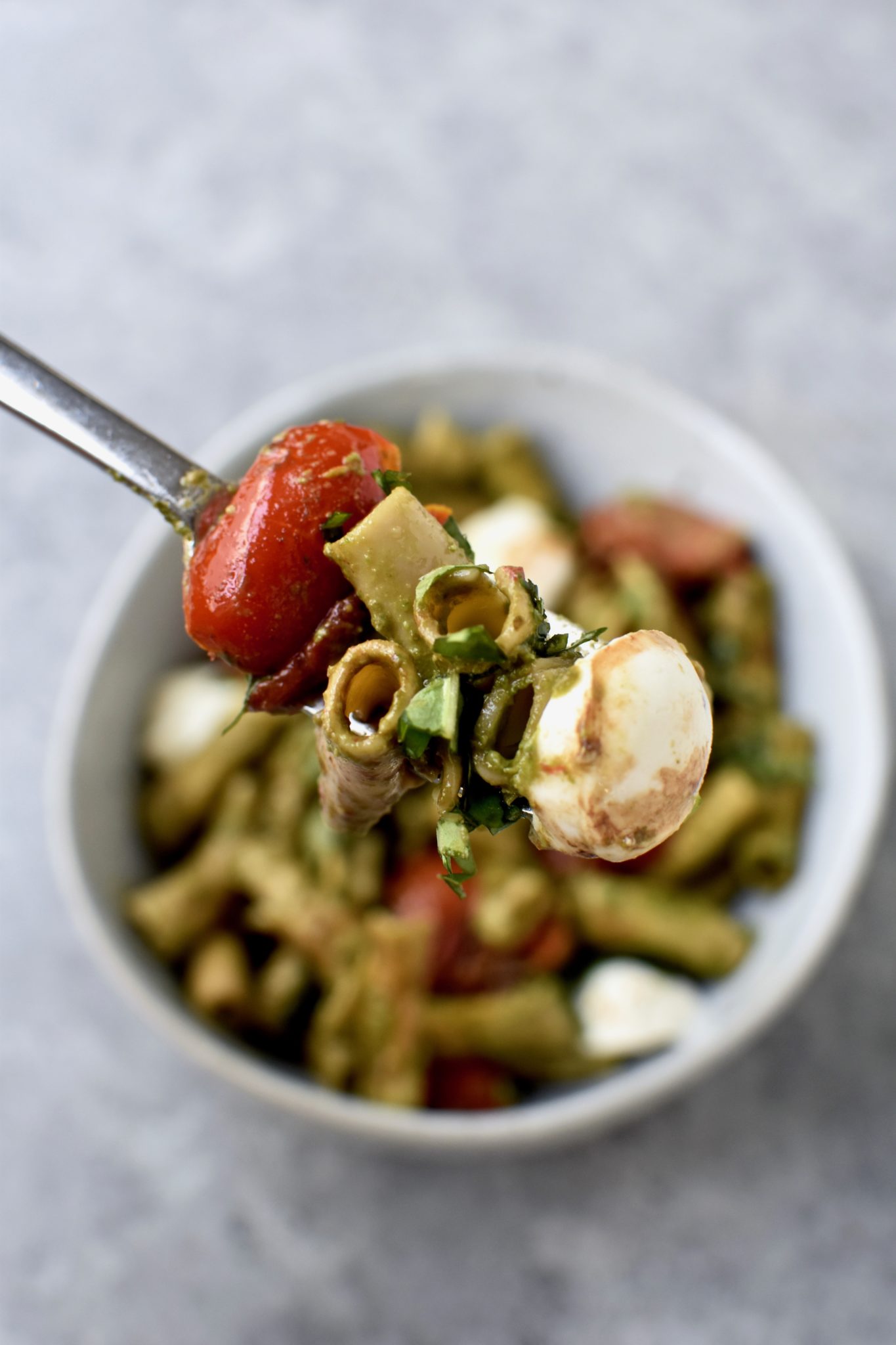 And even better is the fact that it actually tastes good.  A lot of times I feel like the problem with "too good to be true" is that it sometimes actually is too good to be true and you end up majorly disappointed.
But I'm happy to say that's not the case here!  It's the REAL DEAL.
Rather than just going the regular pasta sauce route, I decided to whip up some of my favorite spinach walnut pesto and I paired that with blistered cherry tomatoes and fresh mozzarella then topped with a sprinkle of salt, some chopped basil and a drizzle of balsamic.
This dish is simple, delicious and refreshing while also providing the comfort of a hearty pasta dish.  Can't go wrong with that!
protein packed pesto caprese pasta
Ingredients
For the Pesto:

3-4 large handfuls of fresh spinach
3-4 cloves peeled garlic (less if you don't really like the garlic taste to shine through)
1/2 cup shaved parmesan cheese
1/4 cup walnut halves
Olive oil (I really don't measure the olive oil, I stream it in until I've reached the desired thinness - we like ours kind of thick, the more olive oil you stream in, the thinner the pesto will get)

For the Pasta:

4 oz. Banza pasta of choice (I used ziti)
1 10 oz. container cherry tomatoes, washed and halved
1 teaspoon olive oil
8 oz. container fresh mozzarella balls (you may not end up using it all)
Salt, to taste
Fresh basil, chopped
Balsamic vinegar
Instructions
For the Pesto:

Add spinach, garlic, cheese and walnuts to a food processor and begin to process.
Slowly stream in olive oil pausing after about 1 minute to scrape down the sides of the processor
Cover again and continue to process adding more olive oil as needed until you've reached your desired thinness

For the Pasta:

Heat a pot of boiling water on the stove and cook the pasta according to package instructions.
Meanwhile heat olive oil in a pan over medium heat. Add cherry tomatoes and a pinch of salt, sautéing until the outside skin just begins to wrinkle (the tomato should be soft but not complete mush)
Drain the pasta and return to pot it was cooked in
Add pesto to pasta and toss until well combined
Add pasta to a large bowl, top with tomatoes, fresh mozzarella cheese, a sprinkling of salt, chopped basil and a drizzle of balsamic vinegar
http://caitsplate.com/protein-packed-pesto-caprese-pasta/
2