tart apples are sprinkled with cinnamon then baked until tender and filled with vanilla cinnamon raisin walnut oatmeal for the perfect fall breakfast.
This post is sponsored by siggi's.  All opinions contained within are my own.  As always, thank you for allowing me to partner with brands I love to bring you wholesome, balanced recipes!
I'm a firm believer that food served in an edible container is automatically ten times better than food served in a regular old bowl.  Soup and salad are better served out of bread bowls and overnight oats are better served out of a warm, cinnamon apple.
If you don't believe me, try these baked apples stuffed with overnight vanilla cinnamon raisin walnut oats and then come back and see me.  I guarantee they'll make you a believer.
The thing I love most about serving these overnight oats out of baked apples is that it ups the fruit content of the dish, packing even more nutrition in.  You're pretty much getting everything you need in one little stuffed apple – whole grains, fruit (and therefore fiber), heart-healthy fat and protein.
I used siggi's 0% vanilla yogurt whose simple ingredients and lower sugar allow for the perfect sweetness without any additional added sweetener needed.  And as always, it's high protein content gives this dish the punch you needed to carry you through the morning!
I like to drizzle a tiny bit of maple syrup over the top to really send this dish over the edge, but that's not necessary at all since you're already getting plenty of natural sweetness from the fruit and the perfect hint of sweetness from the vanilla siggi's.
Slicing into these babies almost feels like cutting into a mini apple pie.  I recommend making sure you get a little bit of baked apple with each bite of filling  – the juxtaposition of the warm baked apple with the chilled oats is perfect, and the symphony of flavors when they're all combined cannot be beat.
This is the perfect dish to make after you go apple picking this fall and bring home more apples than you'll ever need!  It's simple, feels super special and is full of autumn flavors.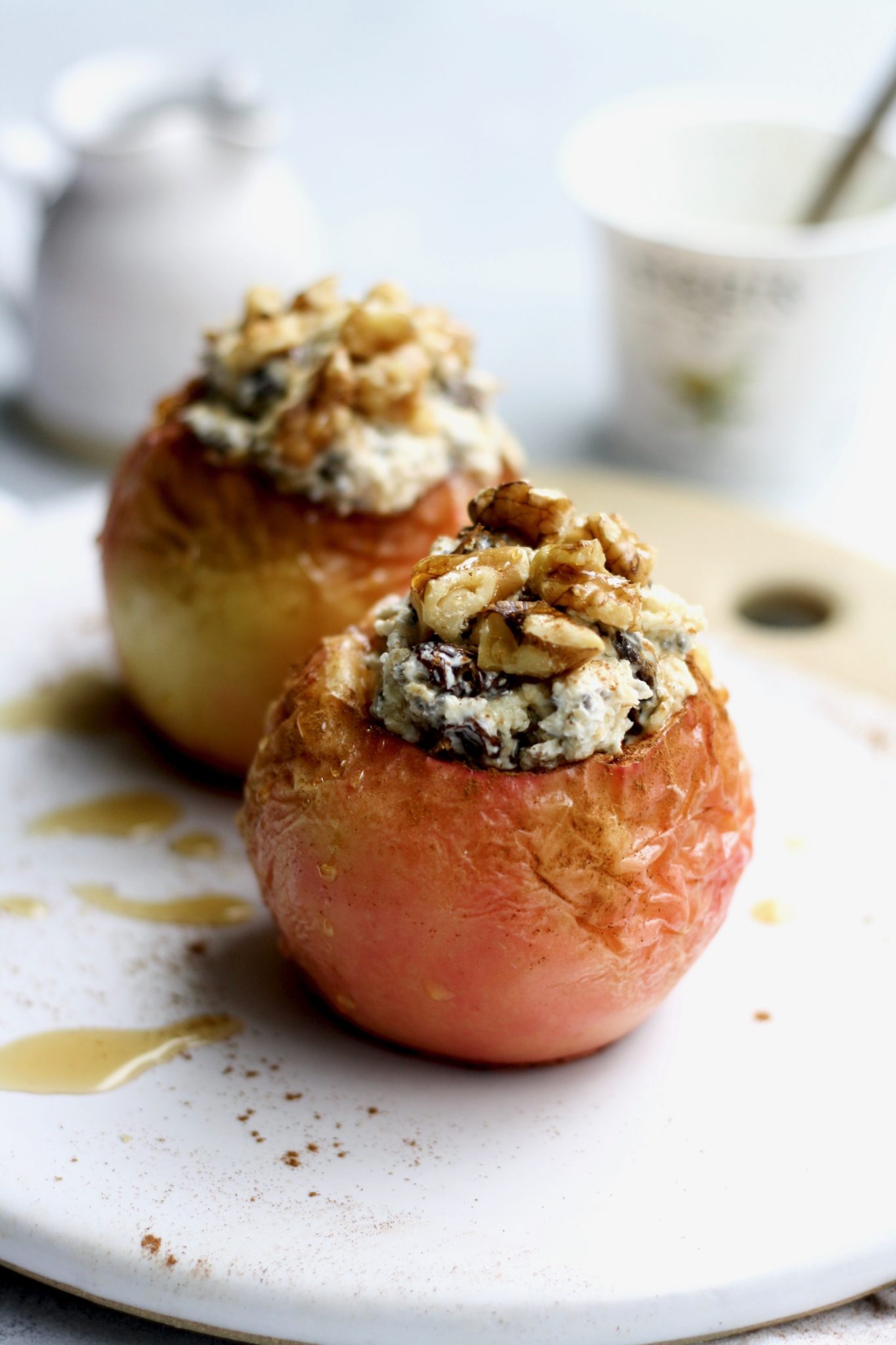 baked apples stuffed with overnight vanilla cinnamon raisin walnut oats
Ingredients
4 apples (Granny Smith and Braeburn varieties work well), cored
1/2 cup siggi's 0% vanilla yogurt (siggi's vanilla whole milk yogurt works well too!)
1/2 cup plain unsweetened soy or almond milk
1/2 cup rolled or old fashioned oatmeal
1 tablespoon chia seeds
4 tablespoons raisins
2 tablespoons walnuts, roughly chopped
1 teaspoon cinnamon (apple pie spice also works well!)
¾ cup boiling water
Instructions
Combine yogurt, milk, oats, chia seeds and raisins together in a bowl. Stir well then transfer to an air-tight container and store in the fridge overnight.
Wash and dry each apple then, using an apple corer or a sharp paring knife, cut the core out of the apple scooping out any additional seeds that may be left. Then, wrap apples and place in the fridge for baking in the morning (you can squeeze a little lemon juice over them to prevent browning or, just complete this step in the morning).
In the morning, preheat oven to 375 degrees F.
Place apples into a baking dish with deep sides then pour ¾ cup of boiling water into the base of the dish (being careful to avoid the apples).
Sprinkle apples with ½ teaspoon cinnamon (or apple pie spice) and bake for 30-40 minutes until tender (test with a fork, if the apple gives to the press of the fork tine, they're done!)
Once apples are done baking, allow to cool slightly (about 10 minutes) and then fill with overnight oats. Drizzle with maple syrup if desired and dig in!
https://caitsplate.com/baked-apples-stuffed-with-overnight-vanilla-cinnamon-raisin-walnut-oats/
4