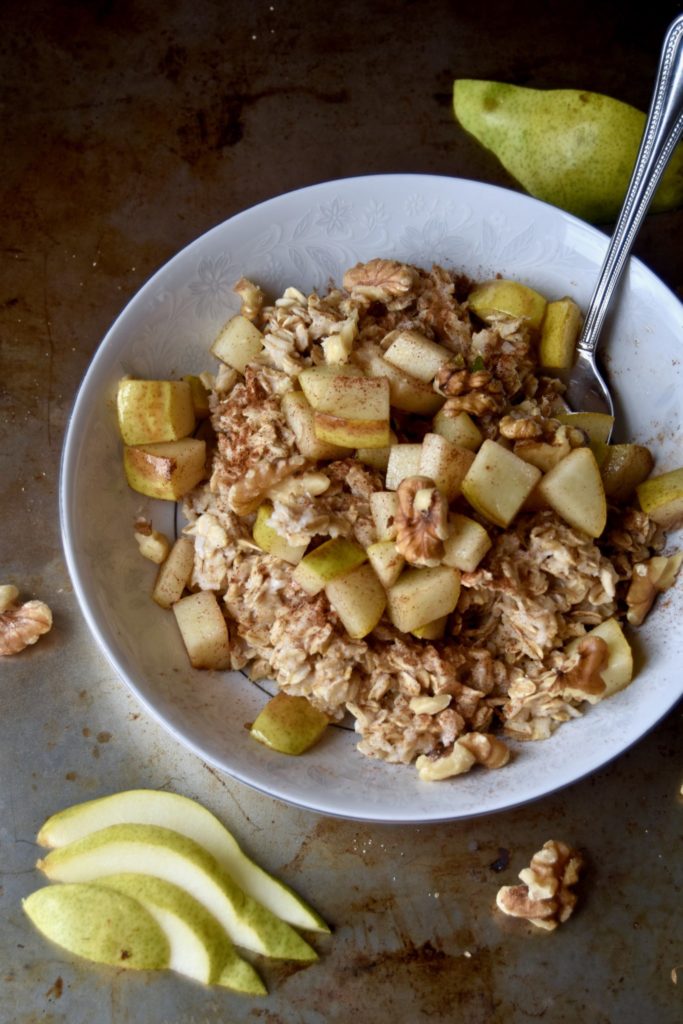 Warm, cinnamon-kissed pears with just a touch of honey are dripped over cooked oats to make this amazing morning meal.  Then it's topped off with a few toasted walnuts for a little crunch.
That's definitely a reason to get out of bed on a cold morning if you ask me!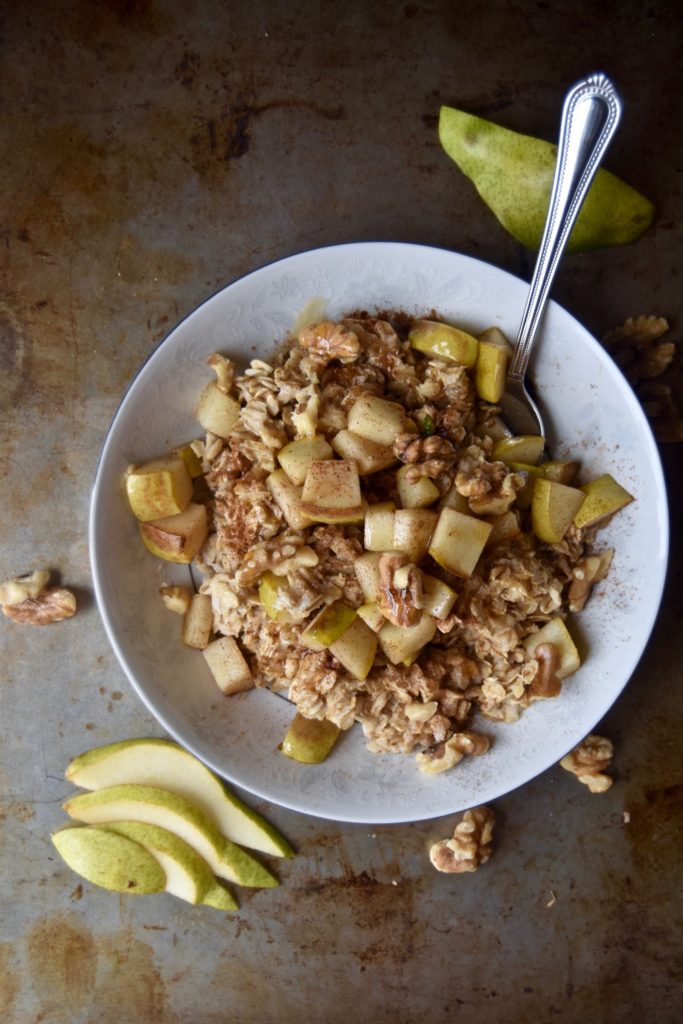 I love the balance of flavors in this dish – there's just a subtle amount of sweetness from the honey that, when combined with the juice of the pears (loosened from sautéing them) is absolutely perfect.  The slightly tender pears melt in your mouth while you get just a little crunch from the toasted walnuts.
If you wanted to get really fancy you could even mix in a dollop of plain greek yogurt to make it extra creamy.  But honestly, it's not even necessary in my opinion – everything just as it is works really well together.
This little bowl offers up whole grain oats, healthy fat (and a little protein) from the walnuts, some protein from the milk and fruit from the pears – not too bad for a meal that can comes together in less than 10 minutes!
cinnamon-kissed pear, toasted walnut & honey oatmeal
Ingredients
1/2 cup oatmeal, uncooked
3/4 cup milk of your choice
1 teaspoon earth balance or butter
1/2 teaspoon cinnamon
1 pear, diced
2 tablespoons walnut halves
1-2 teaspoons honey
Instructions
Preheat the oven to 375 degrees F
Line a baking sheet with parchment paper and lay walnuts on it
Bake until walnuts just start to brown and smell toasted (about 3 minutes, but cooking times may vary based on the oven so pay close attention)
Remove walnuts from the oven and set aside
Meanwhile, in a small non-stick pan, add earth balance or butter and place over medium-low heat
In a small bowl, toss pears with cinnamon then add to the prepared pan and sauté until just soft (about 5 minutes)
Finally, take 1/2 cup oatmeal and combine with milk of choice
Cook in the microwave or on the stovetop following package instructions
Top cooked oatmeal with sautéed pears, toasted walnuts and drizzle with honey
https://caitsplate.com/cinnamon-kissed-pear-toasted-walnut-honey-oatmeal/
4