creamy oats combine with plump raisins, crunchy walnuts and a dash of cinnamon to make this easy oatmeal filled with items you're sure to have on hand!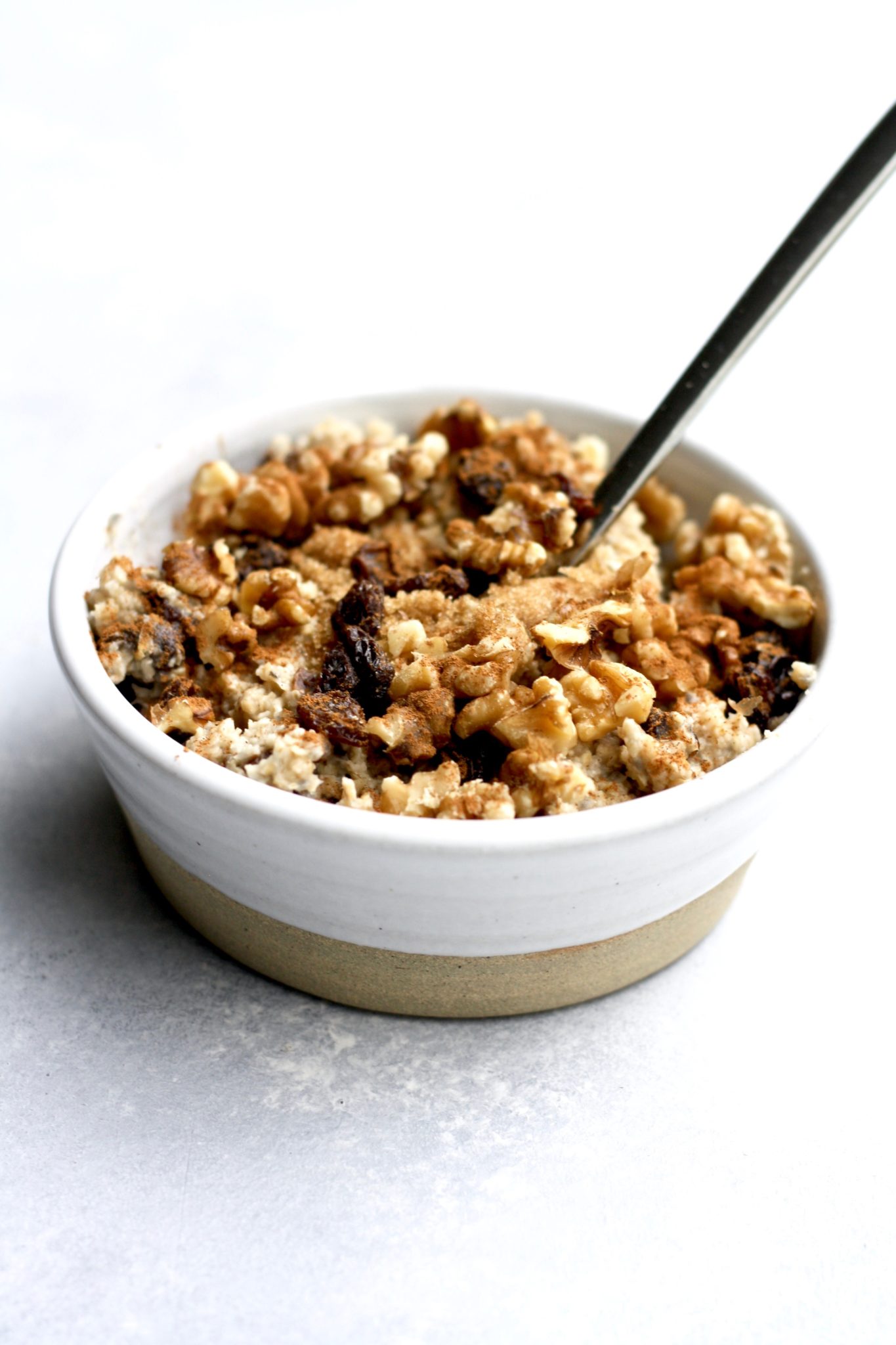 Okay, I've owed this recipe to you guys for way too long!
Every time I would make it, I would eat it before I took pictures but this time I finally remembered!
I love this recipe because it's literally composed of stuff I always have on hand in my pantry.  I mean, it's also delicious – but it's especially nice that I don't need to worry about having a fridge full of groceries to make it!
It literally tastes like the cinnamon raisin bread.  It's hearty, filling and so incredibly good.  You're getting whole grains, heart-healthy fats, fruit and some protein, not to mention tons of perfect fall flavors.
Have I mentioned I'm obsessed with Fall 
And perhaps the best part about this dish of all is that it literally takes less than 10 minutes to make.  I don't know about you, but these days less than 10 minutes is pretty much all I have to bring a meal together so that alone makes this a winner in my book!
cinnamon raisin walnut oatmeal
Ingredients
1/2 cup rolled oats
2/3 cup water or milk
1/2 tablespoon chia seeds
1/4 cup raisins
1-2 tablespoons walnuts, roughly chopped
1/2 teaspoon of cinnamon (or as much as you like!)
1/2 tablespoon brown sugar (more as desired)
Instructions
Add oats, liquid of choice, chia seeds and raisins to a saucepan and cook over medium heat, stirring frequently (alternatively, you can cook in the microwave. To do so, combine oats, liquid of choice, chia seeds and raisins together, let sit for 1 minute for the chia seeds to soak up some of the water, then cook of HIGH for 2 minutes).
Cook oats about 2-3 minutes or until the majority of the liquid is absorbed and oats are more gooey.
Remove from heat and place into a bowl. Add brown sugar while the oats are still warm and stir to combine then top with cinnamon and chopped walnuts.
https://caitsplate.com/cinnamon-raisin-walnut-oatmeal/
12