sharing the ins and outs of my grocery shop routine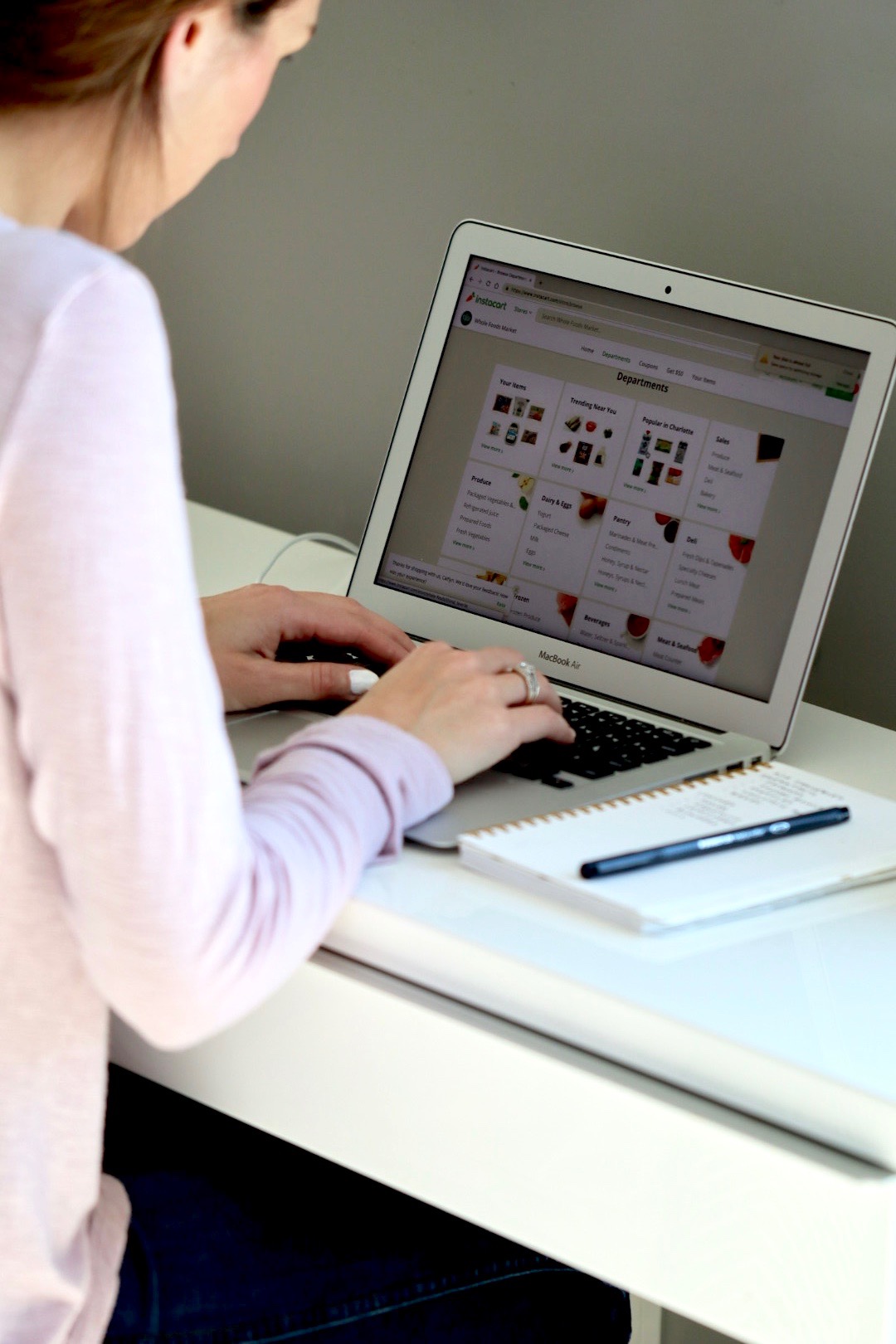 I've gotten a lot of questions lately about how I grocery shop, why I choose what I do, what I keep on hand, etc. so I wanted to do a quick post covering those questions.
How I Plan My Shops:
Usually around Thursday or Friday I come up with a loose meal plan for the week ahead.  I've tried in the past to create a strict list of things that we're going to eat but for our household, it just doesn't quite work.  Chad's work schedule can be a little chaotic and with Owen and Ollie, the amount of time I have to cook/make certain meals can change drastically day to day.  For us (right now anyway!), it's easier if I have a loose plan that can be changed/altered as needed depending on all the day to day variables that come up.
My goal is usually to try out 2 new recipes per week. Sometimes that happens, other times not so much and I find myself just relying on the same staples we always use.
So like I mentioned, on Thursday or Friday I'll sit down and plan out a general plan of what I want to eat that week. I'll list out 5 breakfasts, 5 lunches and 5 dinners (assuming we're not traveling and don't have plans to eat out. If we do, I go ahead and slot those in where needed).
Here's an example of what my weekly plan will look like: 
BREAKFASTS
Waffles with fruit/yogurt/nut butter
Bagel with cream cheese/nut butter & fruit
Oatmeal with fruit/nut butter
Yogurt Bowl with fruit/granola/nut butter
New breakfast recipe (whatever that may be!)
LUNCHES
Dinner leftovers
Turkey sandwich with chips & veggies
Salad with whole grain roll & fruit
Tuna sandwich with veggies & fruit
Dinner leftovers / scrounge up meal / soup
SNACKS
Homemade trail mix
Yogurt & granola
Cheese sticks & whole grain crackers
Fruit & nuts
Cereal & milk
DINNERS
Burger or chicken sandwiches with french fries & roasted veggies or side salads
Pasta with steamed veggie
New dinner recipe
Meatballs or sausage with whole wheat pasta and steamed veggie
Leftovers / pizza night with side salads
While Owen is getting better about eating whatever we eat, there are still a few things that I need to get specifically for him so I'll also make an "OWEN" list and fill in the different things we might be out of or need to re-stock on (it's usually things like chicken nuggets, organic whole milk, snacks, etc.).
After My Plan & Before My Shop:
After I've come up with a rough plan, I then go through and list out all the ingredients that I'll need for any dish I'm planning to make. This ensures that I don't miss anything and makes shopping a whole lot easier!
From there I'll try to make a whole shopping list referring back to my loose plan and those ingredients that I can take with me to the store (or look at while I online shop).
How I Shop:
I then take that list to the grocery store (or, more recently I've been doing online ordering via both Instacart or Harris Teeter pickup) and will narrow down options as I shop based on what happens to be on sale that week. For instance, for the pasta & veggie dish, I'll go with a whole wheat pasta and pesto or ravioli and marinara based on what happens to be the better deal that week. I do this until I've gotten everything on my list and then check out!
5