these easy, no-sugar added breakfast cookies are perfect for back to school.  throw them into lunchboxes as a yummy treat or grab them yourself on your way out the door!
I don't know if you know this about me, but cookies are my #1 dessert choice.  I will choose them over pretty much any other dessert.  Don't get me wrong, I'll gladly dig into a piece of cake or chow down on an ice cream cone, but if there's a choice, I'll go cookie 99/100 times.
So what could be better than cookies for breakfast?  I'll tell you, nothing!  (Bet you didn't see that answer coming huh?)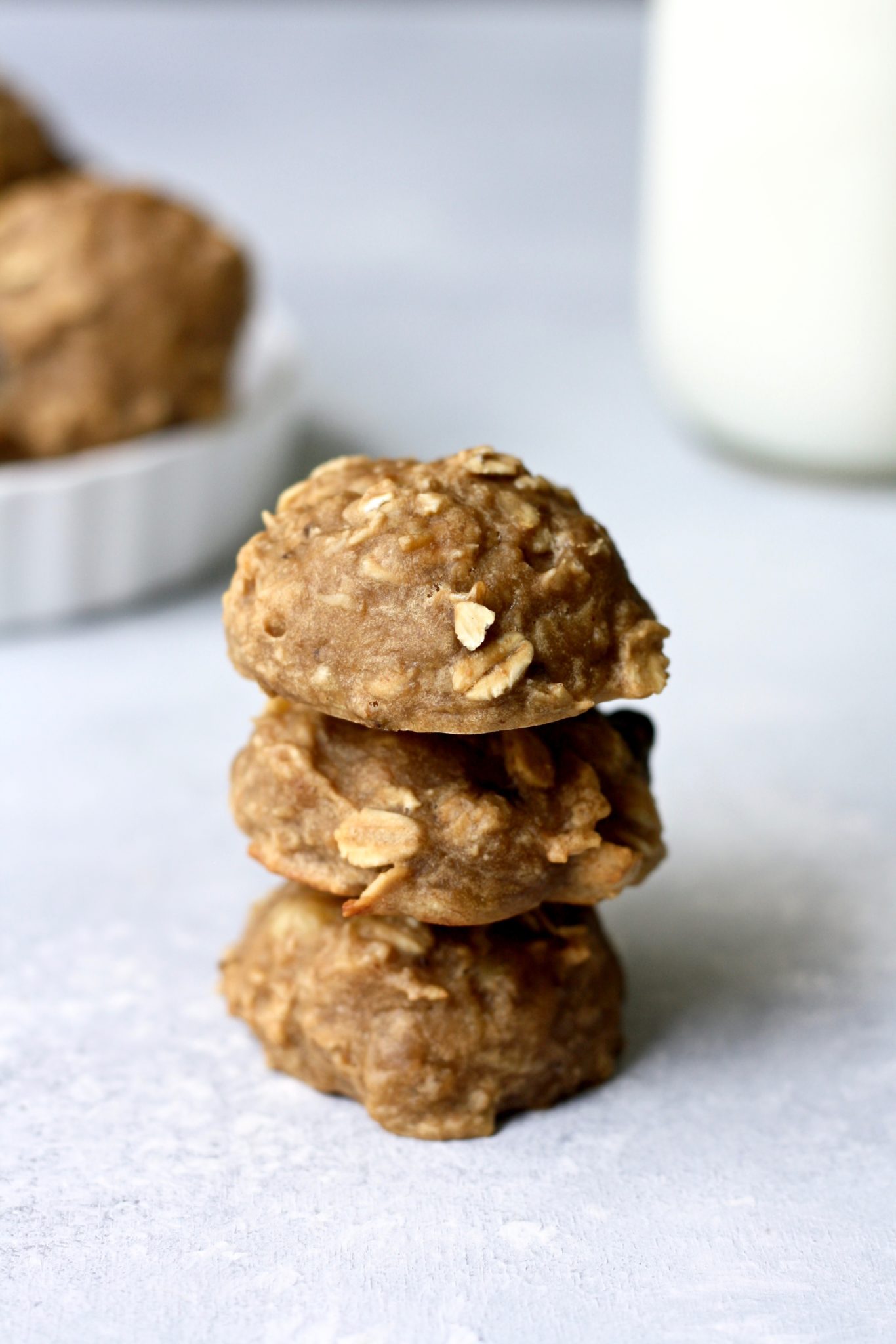 I also love these because if I scoop out a few before adding the crunchier mix-ins, they make a great breakfast for Owen as well!  That's actually what they were born out of.  He's obsessed with peanut butter banana oatmeal so while thinking about the different variations I could make, I figured breakfast cookies could be perfect!
And I have to say, they really were.  They're soft and chewy and full of peanut buttery banana flavor.  They also provide whole grains, protein, heart healthy fat and fruit.  Not too bad for one little cookie!
I made half the batch plain (for Owen) and half with dark chocolate chips and chopped unsalted peanuts (for me).
I like to eat two (and like to add a little more peanut butter on top for good measure) or crumble one over plain yogurt and throw a little fruit in for a meal.  They also make great on-the-go snacks (for both myself and Owen).  I throw a couple in a baggie before we head out the door and we've both got a treat to look forward to!
No matter how you choose to use them, they'll be a staple in your house moving forward, I promise.  They're easy to make, filling and oh-so-delicious.  Nothing much more you can ask for out of a recipe!
peanut butter banana breakfast cookies
Ingredients
1/2 cup rolled oats (old fashioned oats will work too)
2 large bananas, mashed
1/4 cup natural peanut butter
1/2 tsp pure vanilla extract
Pinch of salt
Optional add-ins: 2 tablespoons roughly chopped unsalted peanuts and/or dark chocolate chips, chia seeds, raisins
Instructions
Preheat the oven to 350 degrees F and line a baking sheet with parchment paper or a silpat
Put mashed banana, peanut butter and vanilla together and, using an electric hand mixer, whisk until well combined (you can also do this in a standmixer)
Add rolled oats and pinch of salt then add peanut butter mixture stirring until well mixed (add any desired mix-ins at this point as well)
Using a large cookie scoop, scoop batter out onto prepared baking sheet.
Bake for 15 minutes then allow to cool for 10 minutes before removing from the baking sheet.
Notes
If cooking some without add-ins, add less than 2 tablespoons of the add-in
https://caitsplate.com/peanut-butter-banana-breakfast-cookies/
recipe from chocolate covered katie with a few tweaks
6