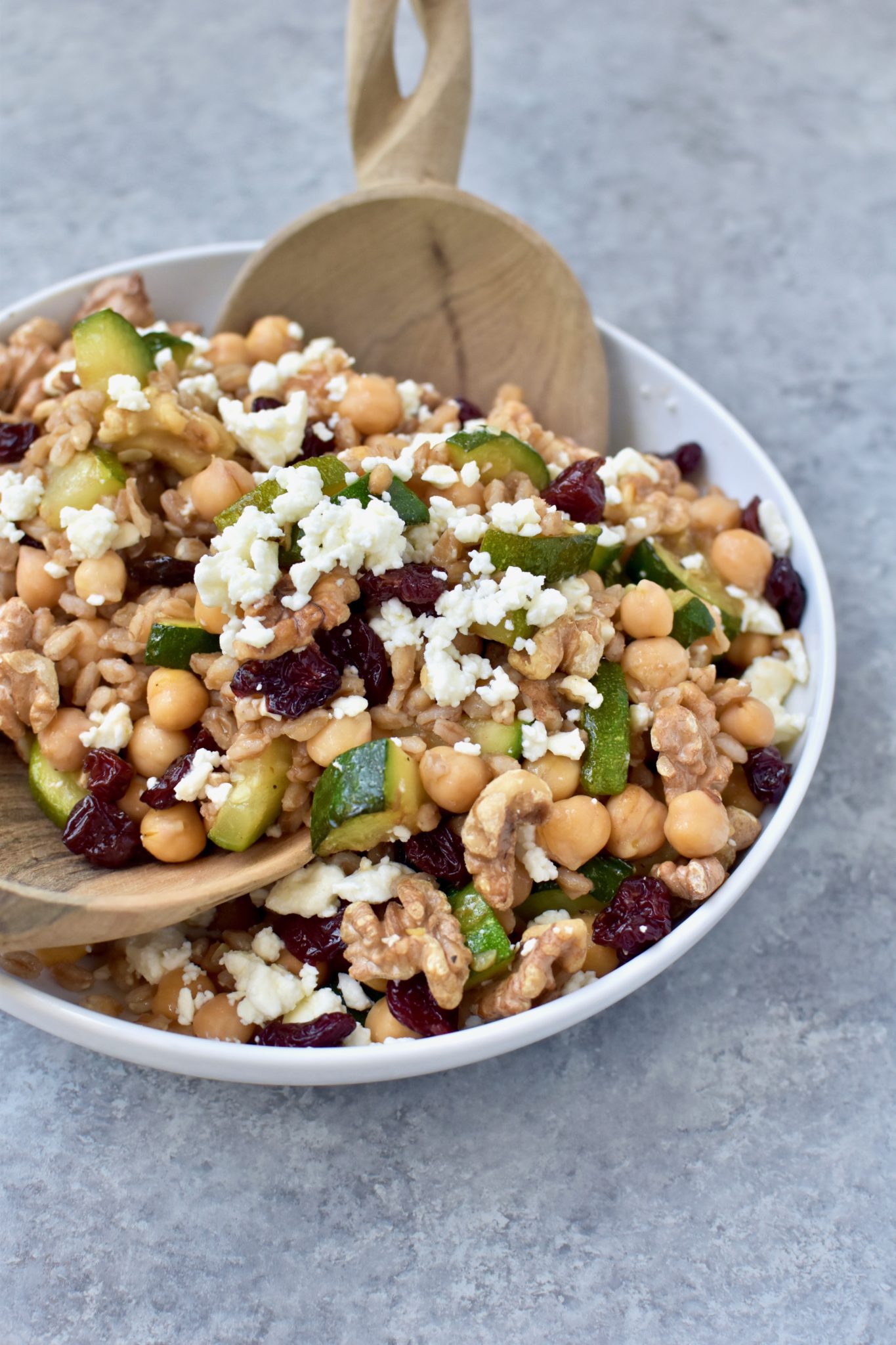 This is the most ridiculously simple dish but is so satisfying.  It's filled with just about every good group you could ask for – whole grains, protein, dairy, veggies, fruit and healthy fats – and comes together in less than 30 minutes.
It's meat-free (but hearty!), requires minimal time in the kitchen and holds over pretty well meaning you'd got a couple meals for the week!
I plan to use it for easy lunches this week.  It's super packable and makes a really easy lunch to take on the go because it can be served hot or cold.  I remember how much I used to hate having to bring a lunch somewhere and not knowing whether I'd be able to access a microwave to heat it up.  Luckily, this meal solves that type of problem – no more lunchtime anxiety!
Those of you that follow me on Instagram know that I'm a huge salad lover.  And while I can probably eat more salads than the average person, even I get a little bored of the leafy greens every once in a while!  This dish still gives the salad 'feel' without feeling so completely monotonous.
And I think we can all agree that feta makes absolutely everything better, amiright?  I added dried cranberries for a little hint of sweetness and toasted walnuts for a good crunch.  This is truly a one-bowl wonder – it has it all from flavor and texture to hearty satisfaction.
protein-packed summer farro salad
Ingredients
1 cup farro, cooked
1 medium zucchini (or two small), cubed
1 can chickpeas, drained and rinsed
1/2 tablespoon olive oil
2 tablespoons red wine vinegar
1/4 cup dried cranberries
1/4 cup feta cheese
1/4 cup toasted walnuts
Salt and pepper to taste
Instructions
Preheat oven to 350 degrees F
Place walnuts on a baking sheet and bake for 5-7 minutes
Remove walnuts from the oven and set aside.
Meanwhile cook farro according to package instructions
While farro cooks, add olive oil to a non-stick skillet over medium-high heat
Once oil heats up, add cubed zucchini to the pan cooking for 2-3 minutes without stirring
Add salt and pepper to zucchini, cooking 1-2 more minutes or until zucchini is just tender
Toss chickpeas into the pan stirring for another 30 seconds then remove from heat
Add chickpeas and zucchini as well as vinegar to pot of cooked, drained farro
Salt and pepper to taste
Gently fold in feta cheese, cranberries and toasted walnuts
https://caitsplate.com/protein-packed-summer-farro-salad/
37