This wrap you guys.  I am LIVING for it lately.  I had some leftovers from this Roasted Veggie and Quinoa with Cilantro Lime Cashew Sauce dish that I made and wanted to do something a little different so I threw it all in a wrap and MAN was it good.
It's so funny how one simple little tweak to how you serve something can totally transform it into a completely different meal.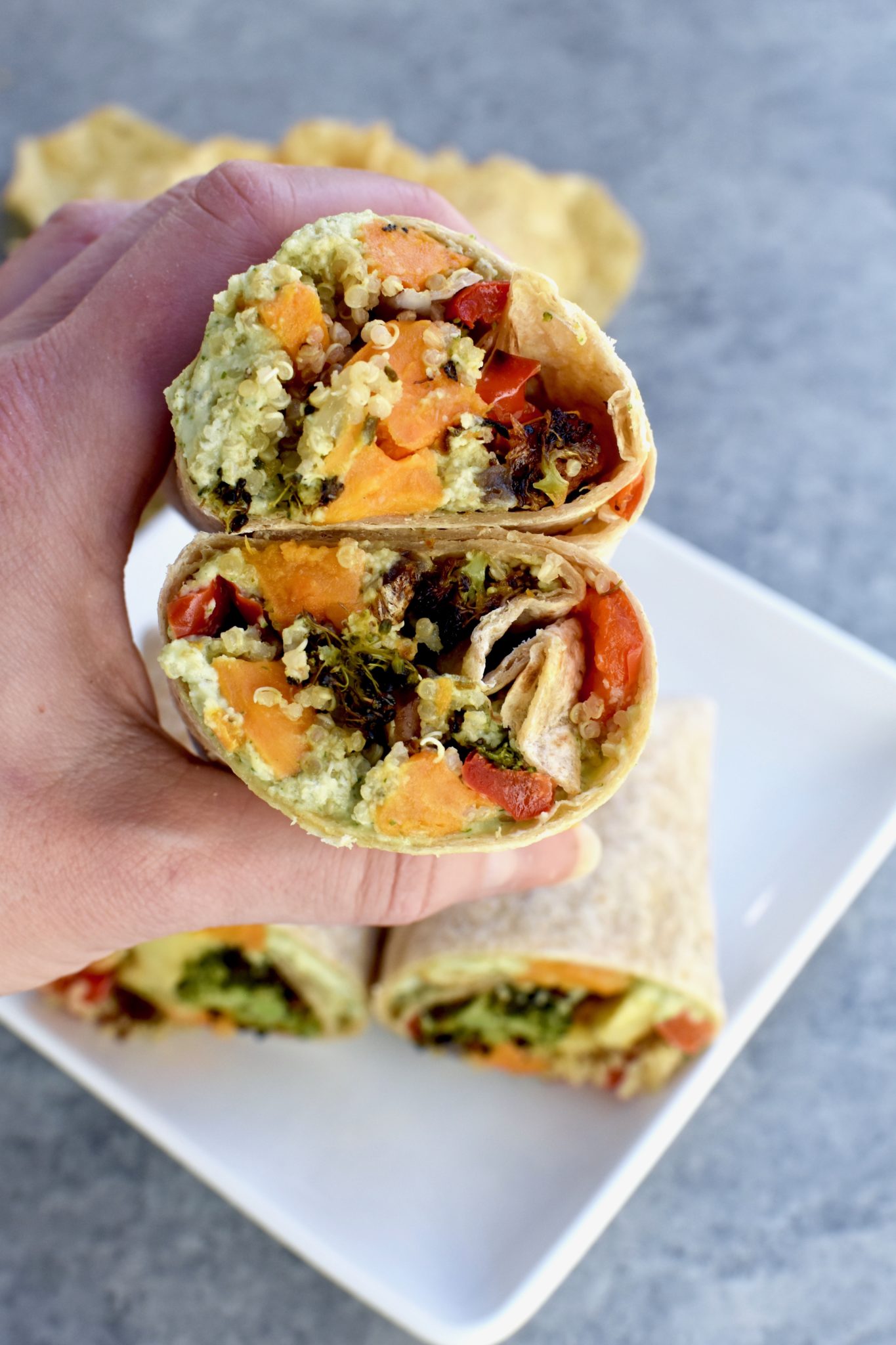 It keeps and reheats well in the fridge and is no less warm and comforting than the original (and just as nourishing and satisfying), which makes it just perfect in my book.
When I asked about the Weekly Meal Plans on Instagram, a lot of you responded that you like to cook once and eat all week (as opposed to eating something different every day) and this is a great way to utilize the same ingredients but feel as though you're eating an entirely different meal.
It's packed with protein thanks to the quinoa, has tons of vitamins and minerals from all the veggies packed in, plus plenty of heart-healthy fats thanks to the walnuts and cashew sauce.  Not too bad for a totally plant-based dish!!
roasted veggie and quinoa wrap with cilantro lime cashew sauce
Ingredients
For the Wrap:

1 cup fresh broccoli florets, stems removed and roughly chopped
1 red bell pepper, de-seeded and chopped into squares
1/2 a medium red onion, chopped into chunks
1 parsnip, peeled and chopped into chunks
1 medium sweet potato, peeled and chopped into squares
1-2 tablespoons olive oil
Salt and pepper to taste
1-2 tablespoons Italian seasoning
2 large 100% whole wheat wraps (such as Mission)
1 cup cooked quinoa
1/4 cup walnuts

For the Sauce:

3/4 cup cashews
1/2 cup water
1/4 cup packed cilantro leaves
1 tablespoon lime juice
1 tablespoon olive oil
Pinch of salt
Instructions
Preheat oven to 425 degrees F
Line a baking sheet (I love these Nordic Ware sheets) with tin foil
Drizzle the tin foil with 1 tablespoon olive oil
Lay chopped veggies in a single layer then drizzle with remaining tablespoon of olive oil
Sprinkle veggies with salt, pepper and Italian seasoning then toss to combine, spreading the veggies back out into a single layer once evenly coated
Roast for 20-30 minutes, tossing halfway through to ensure even cooking
While veggies roast, cook quinoa according to package instructions and set aside
Then combine all ingredients for the sauce in a food processor and process until smooth
Once veggies are done, toss with quinoa (note: you'll have extras of everything)
Take one of the large tortillas, spread with 2-3 tablespoons (more if you like!) of the cilantro lime cashew sauce then top with 1/3 cup veggie & quinoa mixture and 2 tablespoons walnuts. Roll up the wrap. Repeat for the second tortilla.
Serve with additional cilantro lime cashew sauce as desired.
https://caitsplate.com/roasted-veggie-and-quinoa-wrap-with-cilantro-lime-cashew-sauce/
8