what we did, where we stayed, where we ate and what I wore in Amsterdam.
If you missed it, I also shared what we did & where we ate during our 24 hours in Haarlem, Amsterdam.
Where We Stayed:
Like I mentioned in my last post, we stayed in an Airbnb in Haarlem, Amsterdam, just a short train ride away from Amsterdam Central Station which drops you off right in the central square of Amsterdam.
What We Did: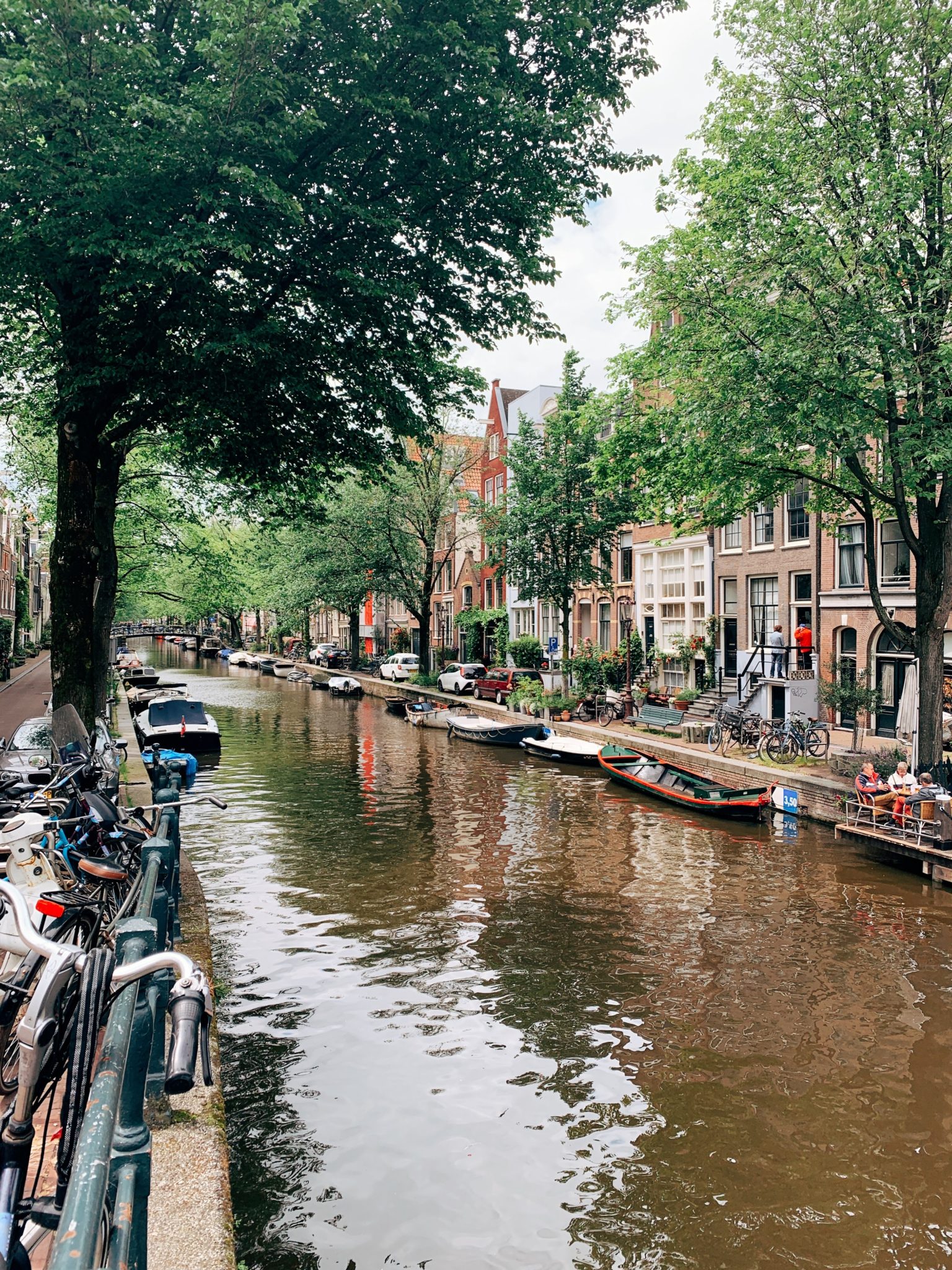 Honestly, there's SO much to do in Amsterdam that we only scraped the surface in the 24 hours we had. You could truly spend an entire week just walking around the city itself! One major tip? Bring an umbrella! We heard from locals that it can be beautiful one second then raining the next (which we definitely experienced!).
We arrived off the train and were immediately deposited into Dam Square, Amsterdam's town square.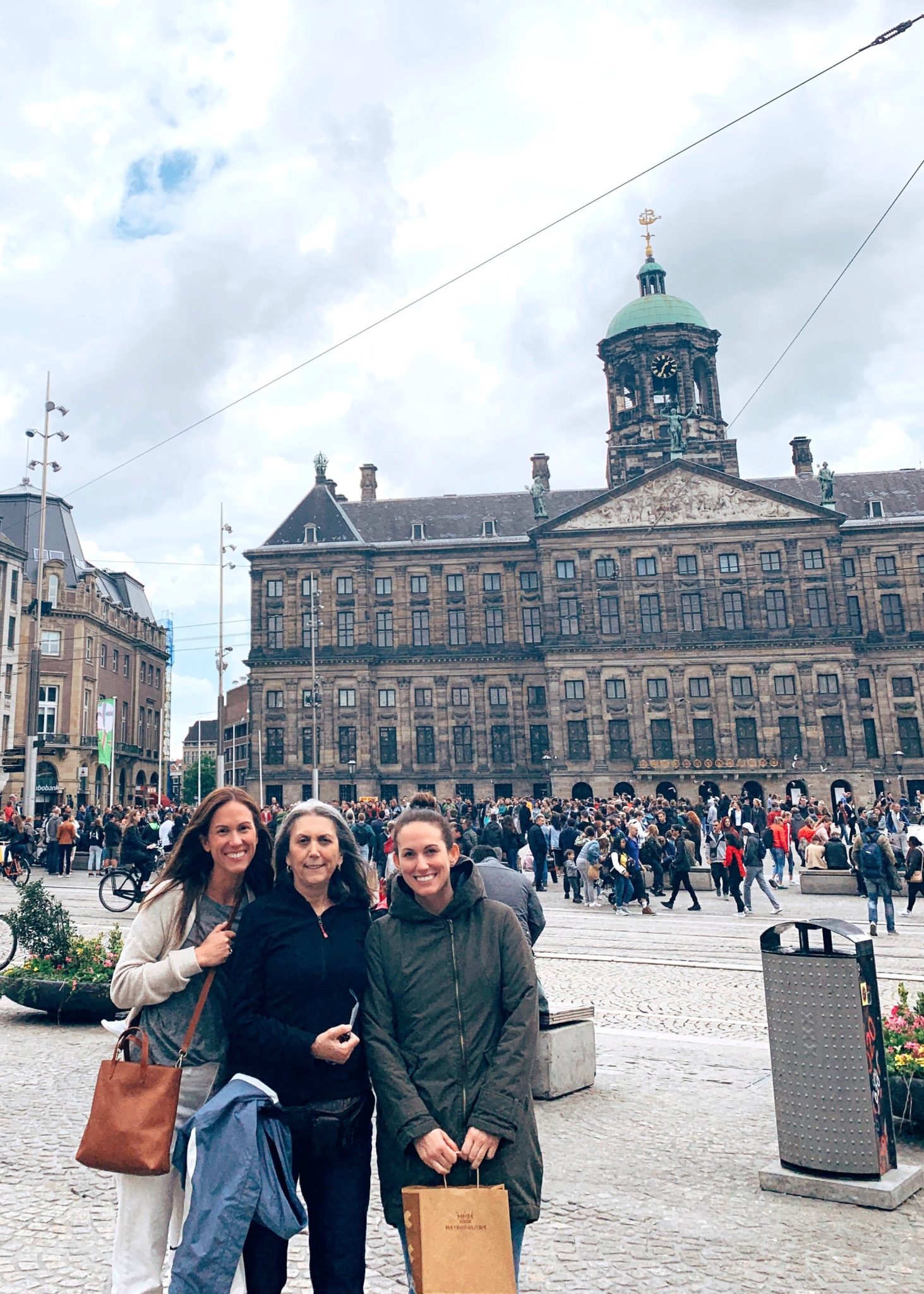 From Dam Square you are just steps away from Amsterdam Central Station (a main hub for public transport), the Royal Palace (behind us on the right), Madame Tussauds Amsterdam Wax Museum (behind us on the left), the National Monument (to memorialize victims of WWII):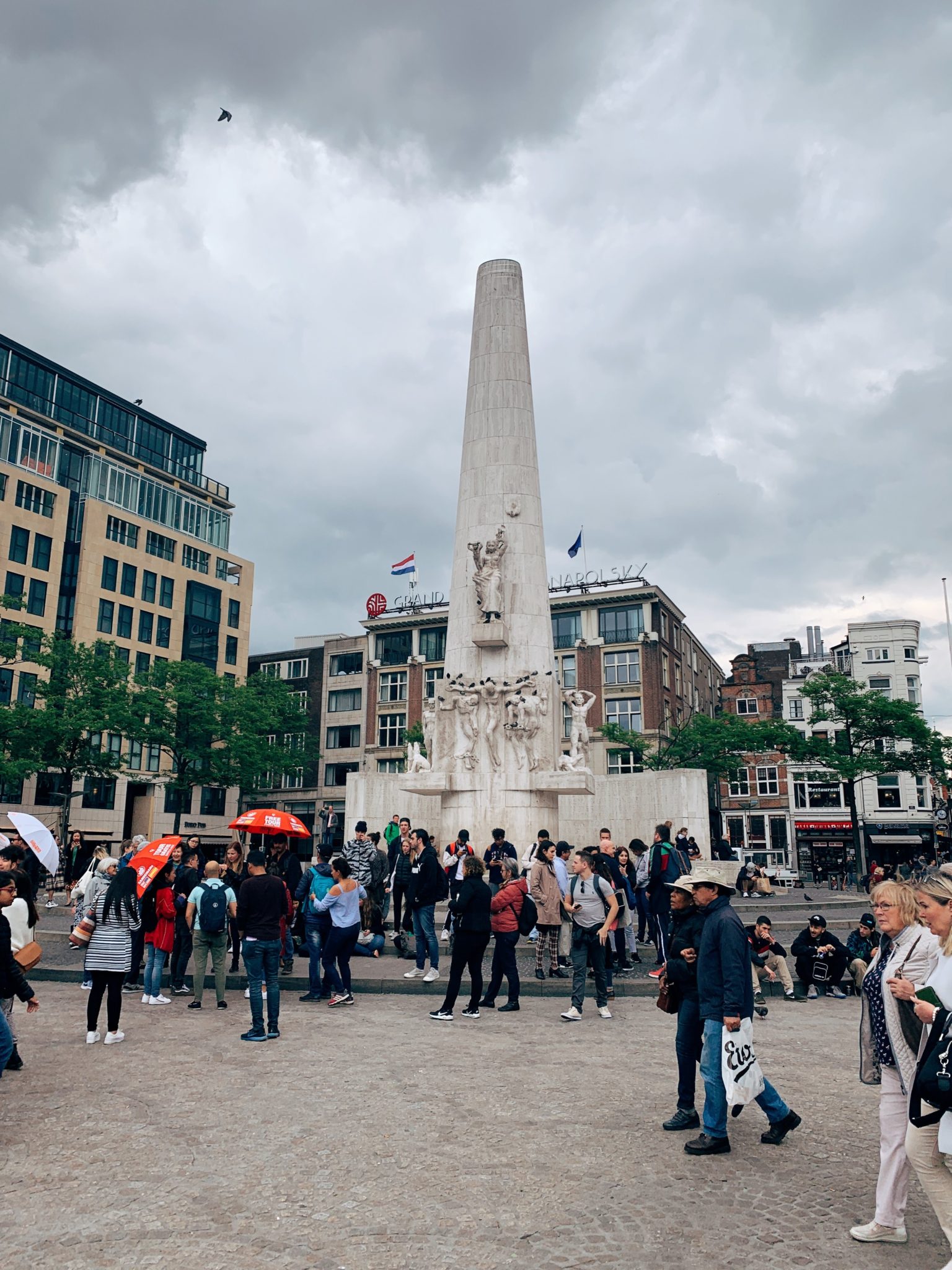 and just beyond the northeast corner, the infamous Red-Light District: De Wallen:
We stopped by the Anne Frank House. We had tried to get tickets to the museum btt they were sold out so we just took it in and read all about her on our phones – which was actually pretty interesting! Tip for those that want to go: get tickets early!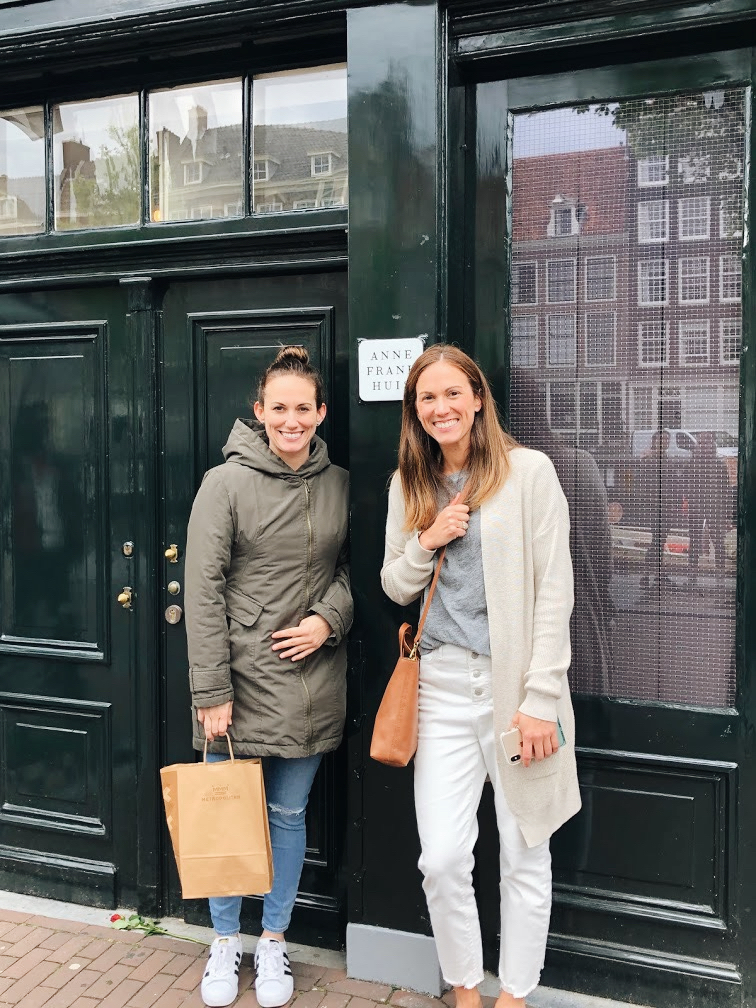 We wandered around as much of the 31 miles of canals the city has to offer which honestly you could spend your whole time there doing. There are so many great cafes and shops surrounding them that you can pop in or have something to eat and continue on. It also offers great people & boat watching!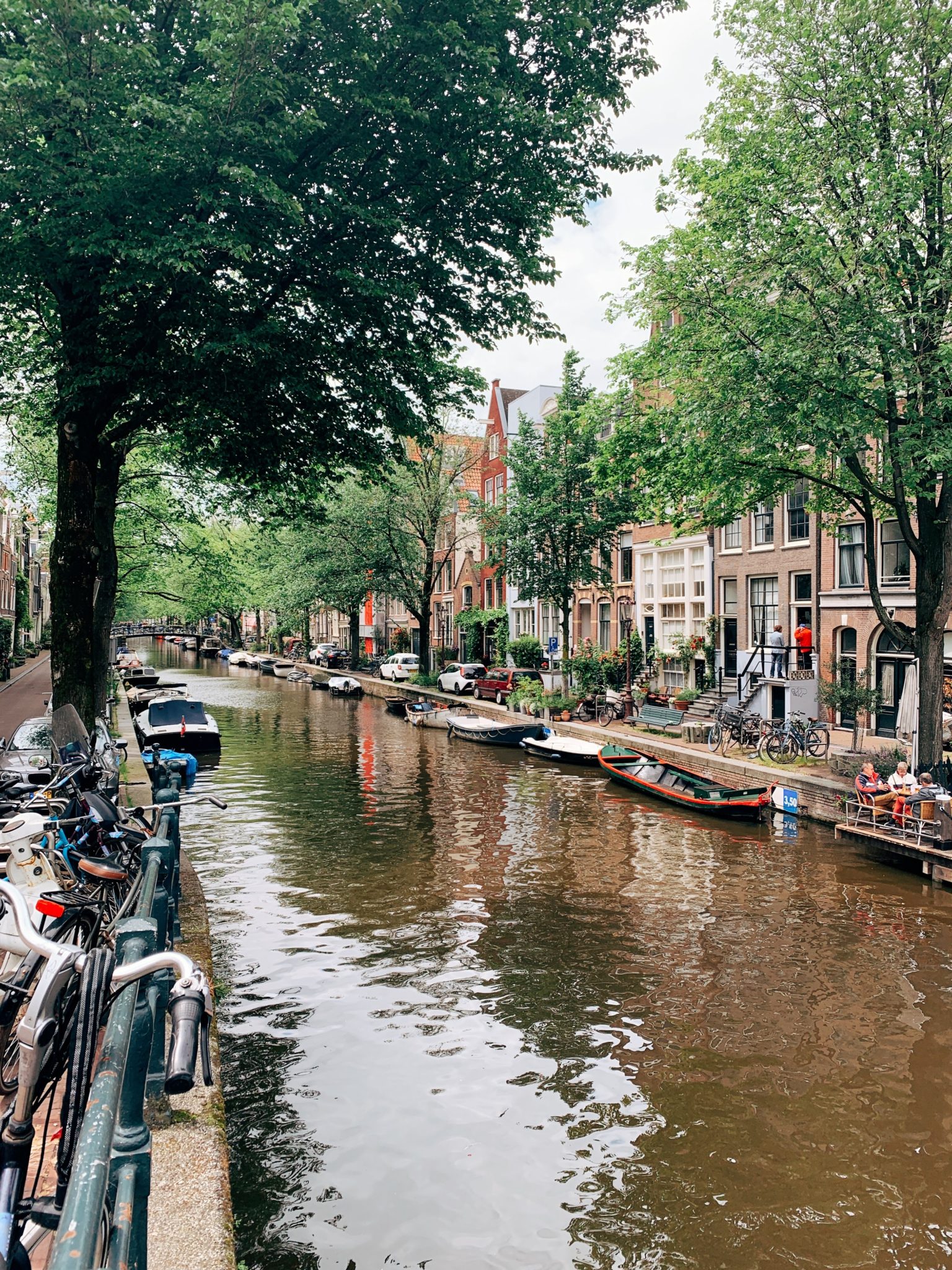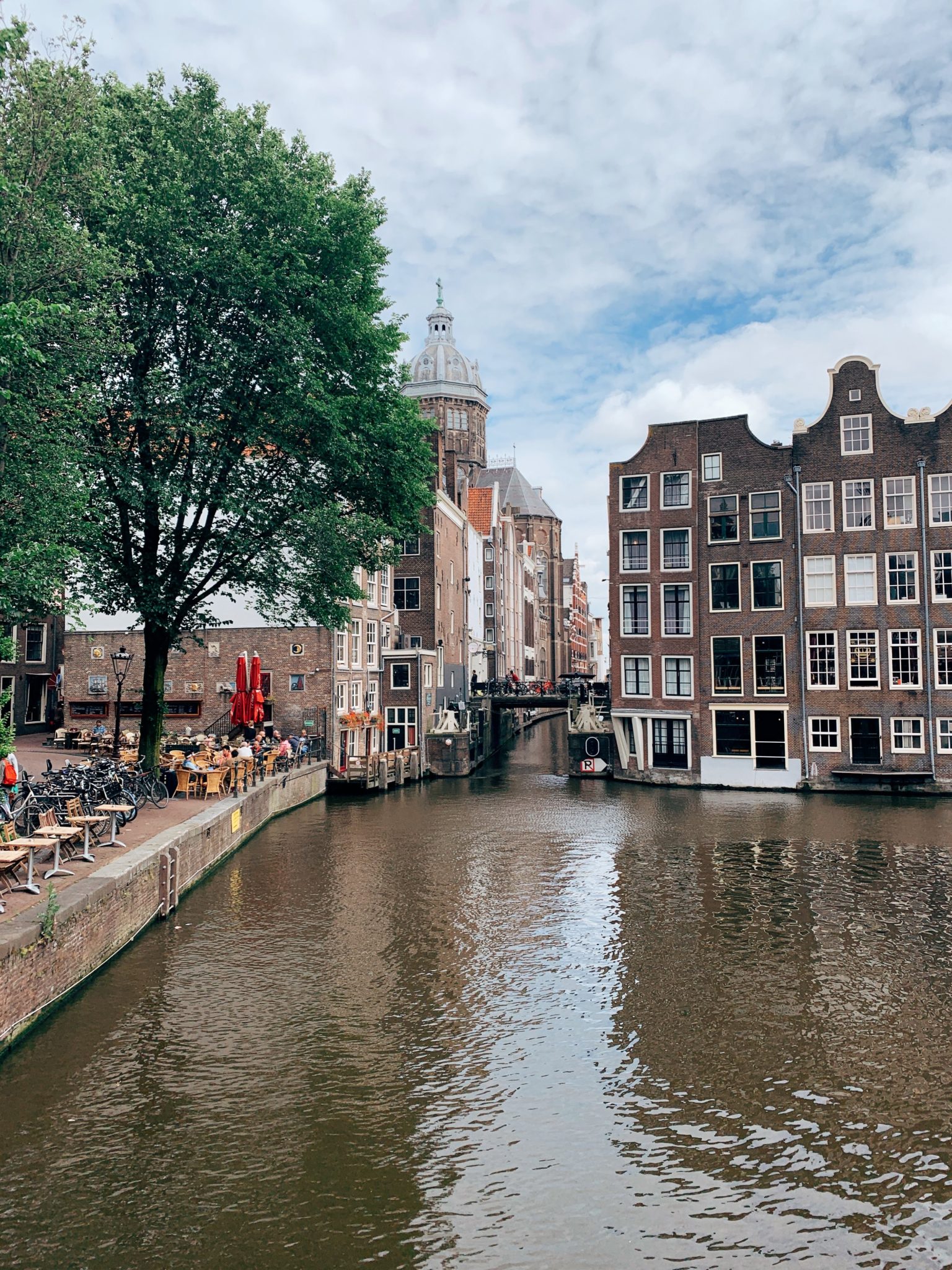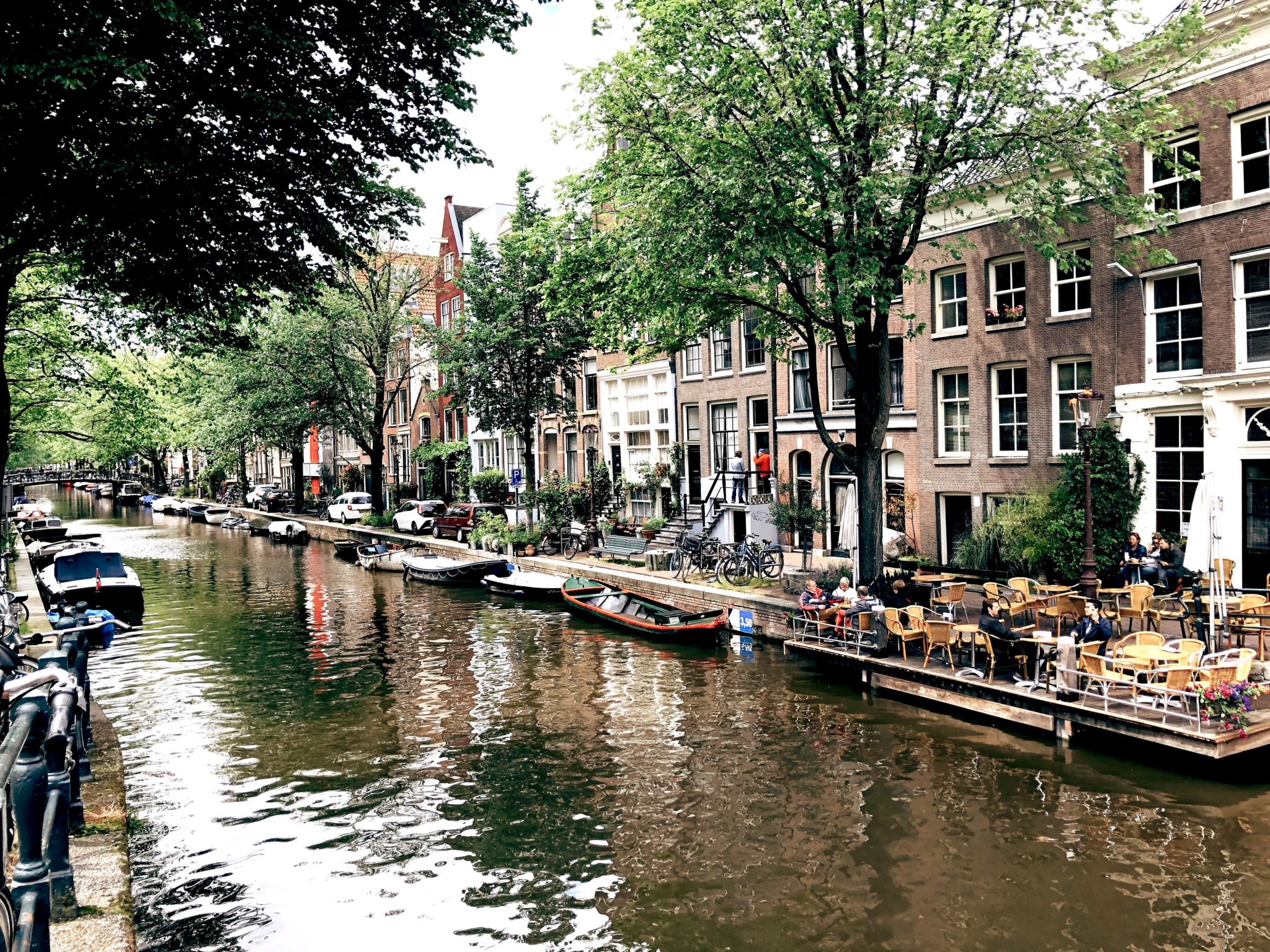 We stopped by the Tulip Museum since we had missed Tulip Season (it runs March through mid-May with the best time to go being mid-April) which is definitely worth a visit (especially if you miss Tulip season!). You'll walk out an expert on Tulips (and you may even walk out with seeds to bring back and plant at home!).
We also took the cobblestone streets all the way to the Oude Kerk which, according to Wikipedia is "Amsterdam's oldest building and oldest parish church, founded circa 1213 and consecrated in 1306 by the bishop of Utrecht with Saint Nicolas as its patron saint. After the Reformation in 1578, it became a Calvinist church, which it remains today."
There is so much to see and do in Amsterdam that even if you show up with no plan at all, you're guaranteed to have a good time. But hopefully this helps you a little if you wanted a few ideas of what to do! Everything we did was within walking distance given that we were just there for the day, but there is a whole world of other opportunities if you're willing to take a bike or a train a little further out.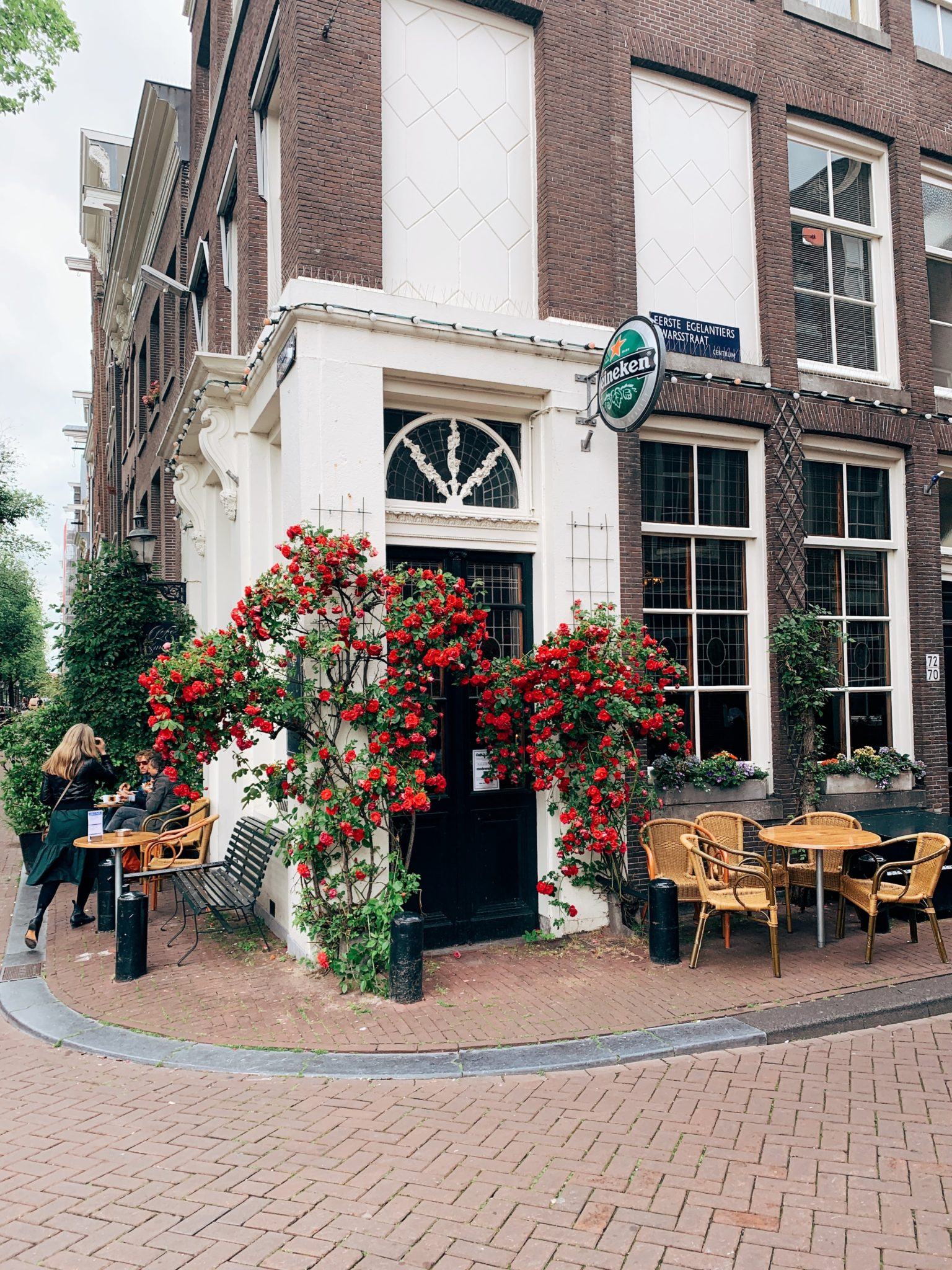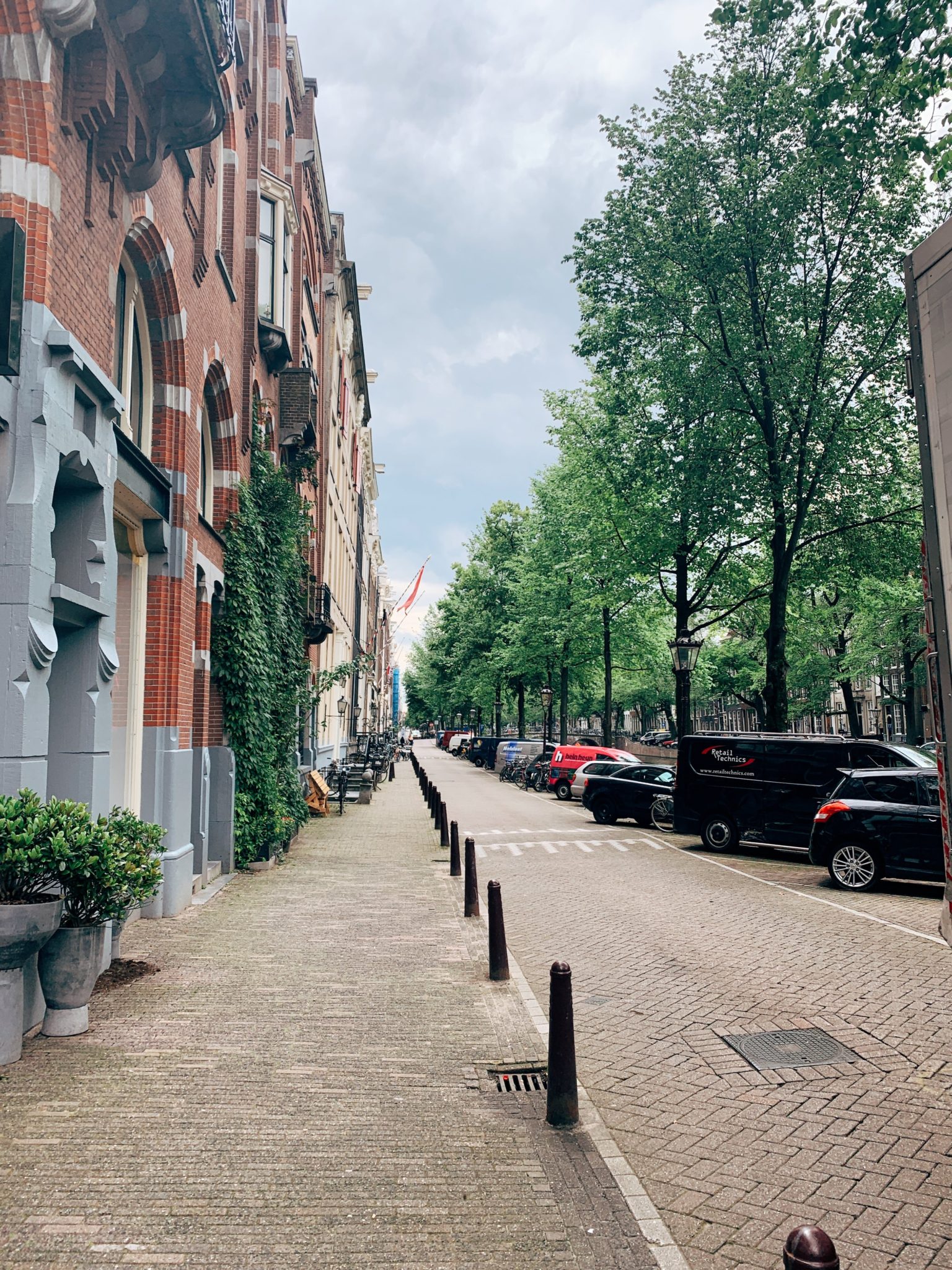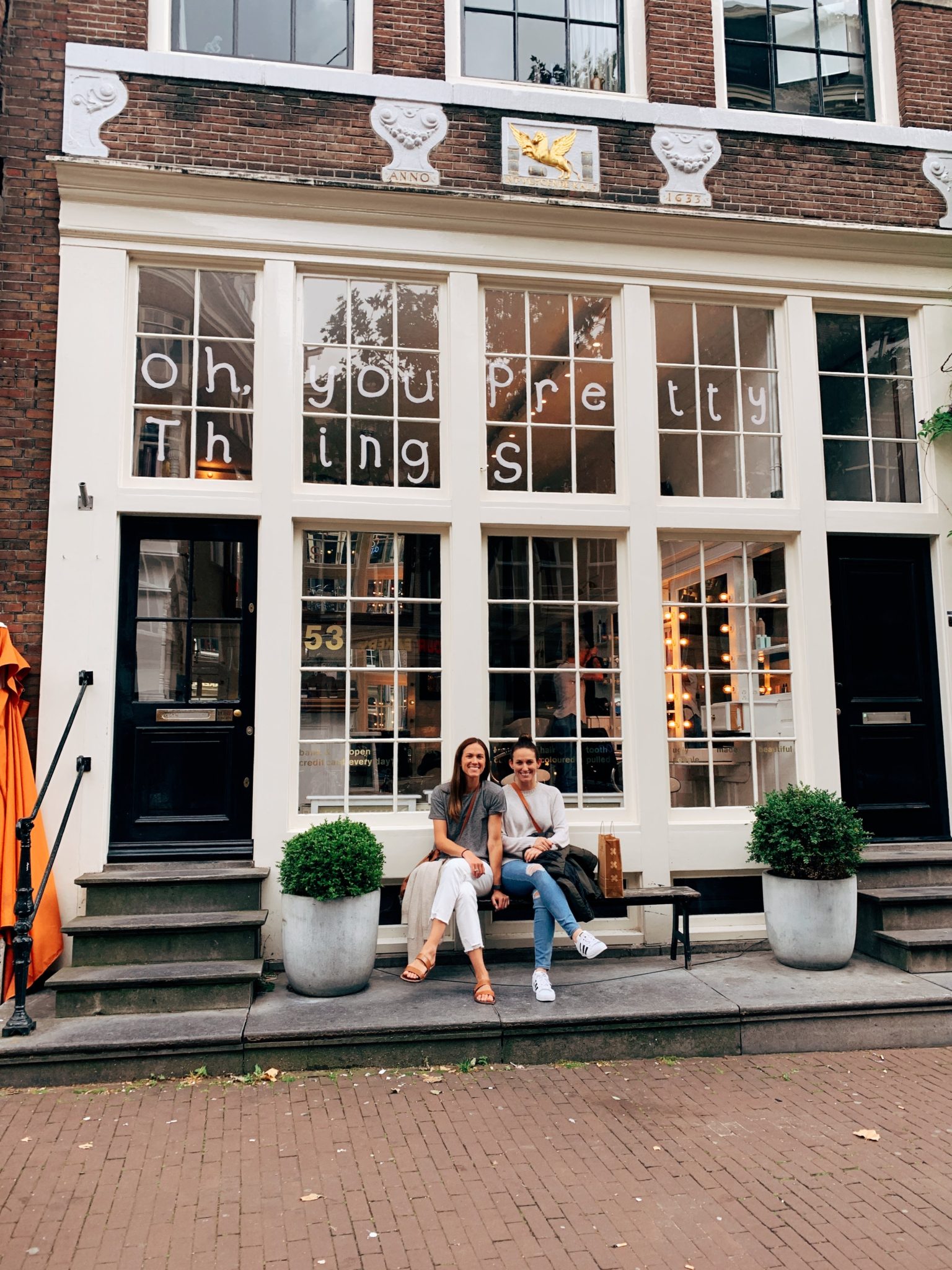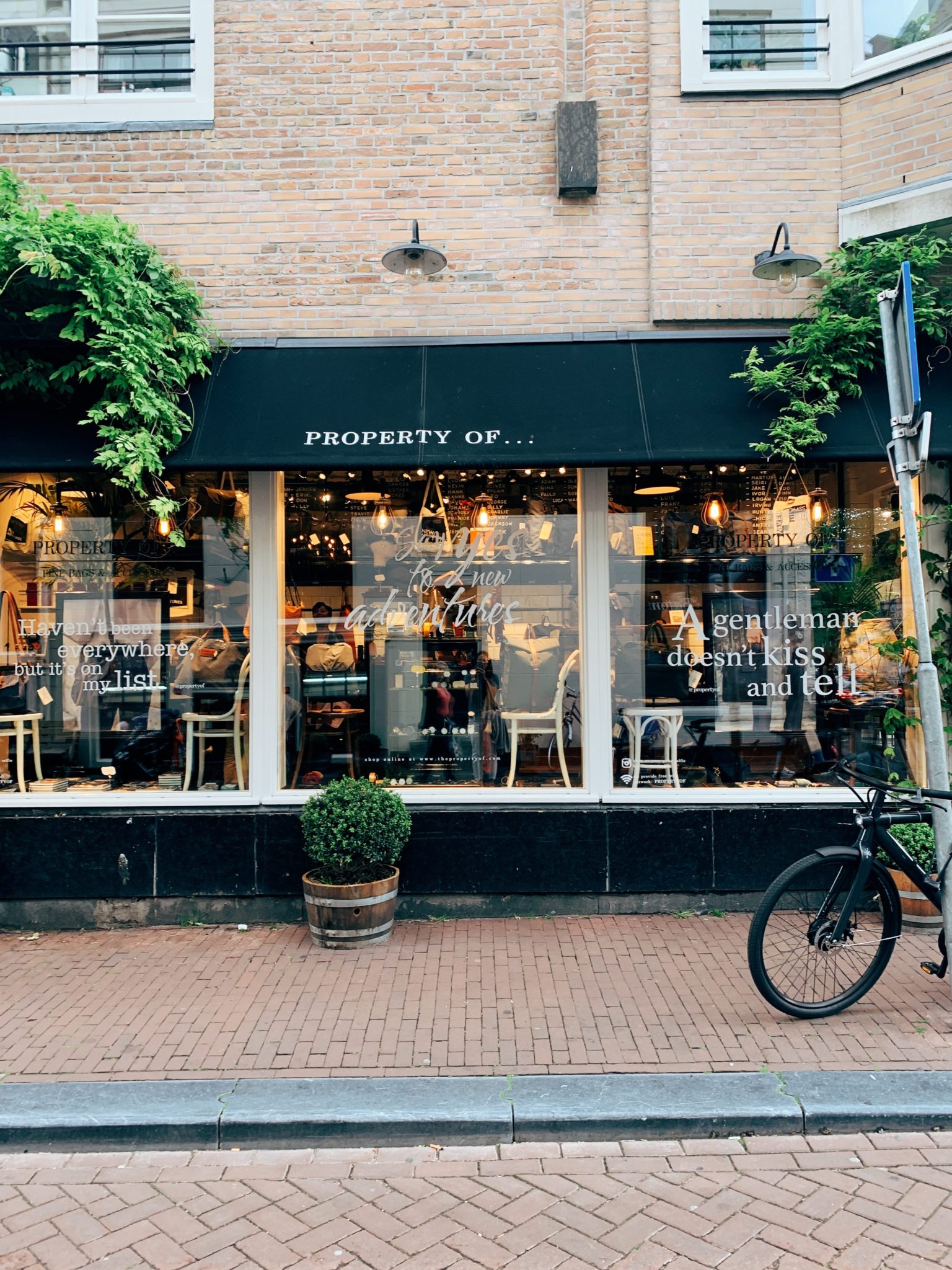 Where We Ate:
The first thing we did when we arrived in Dam Square was hunt for some good coffee (specifically for a place that served soy milk!). We found that with Naked Espresso.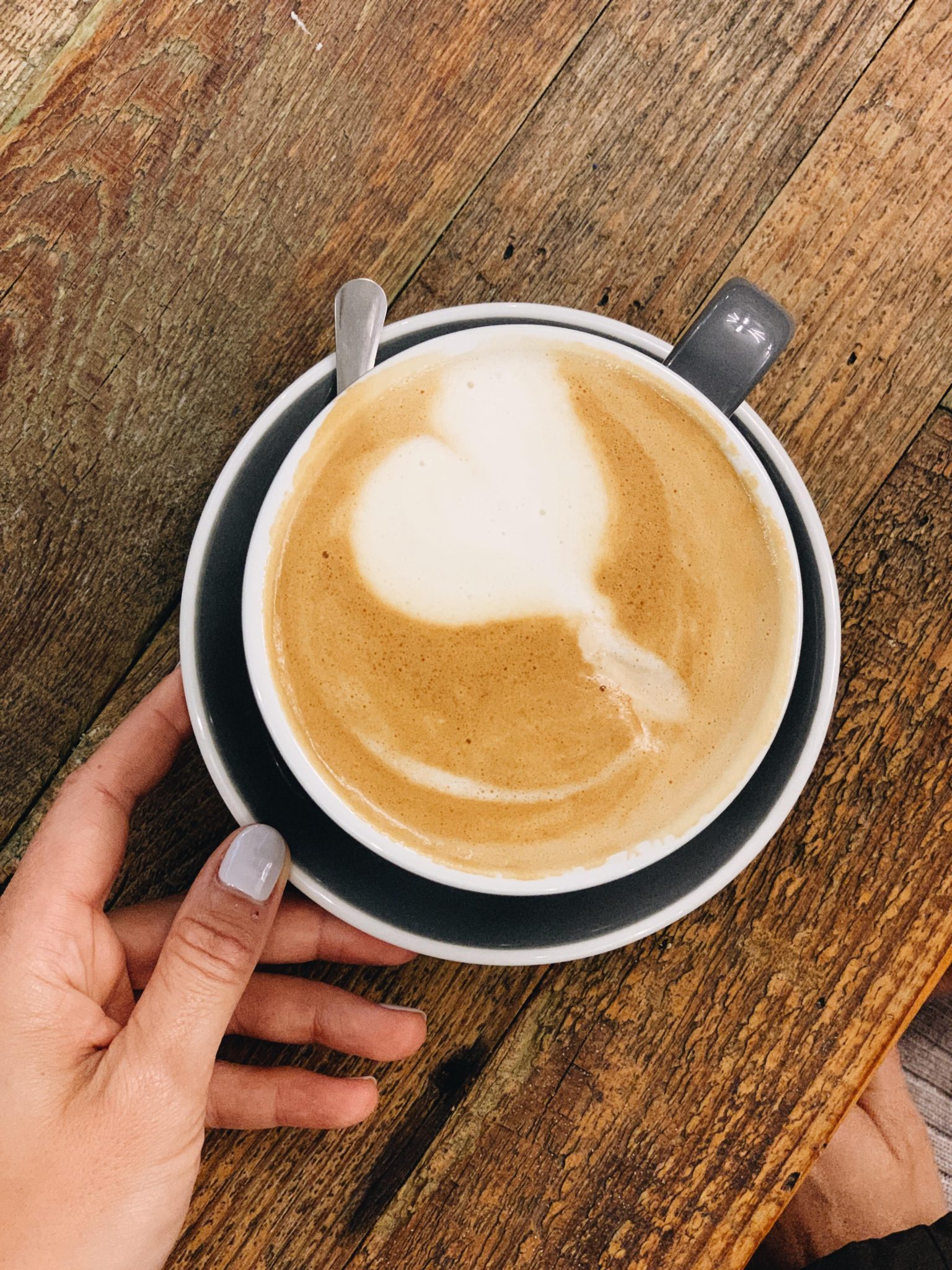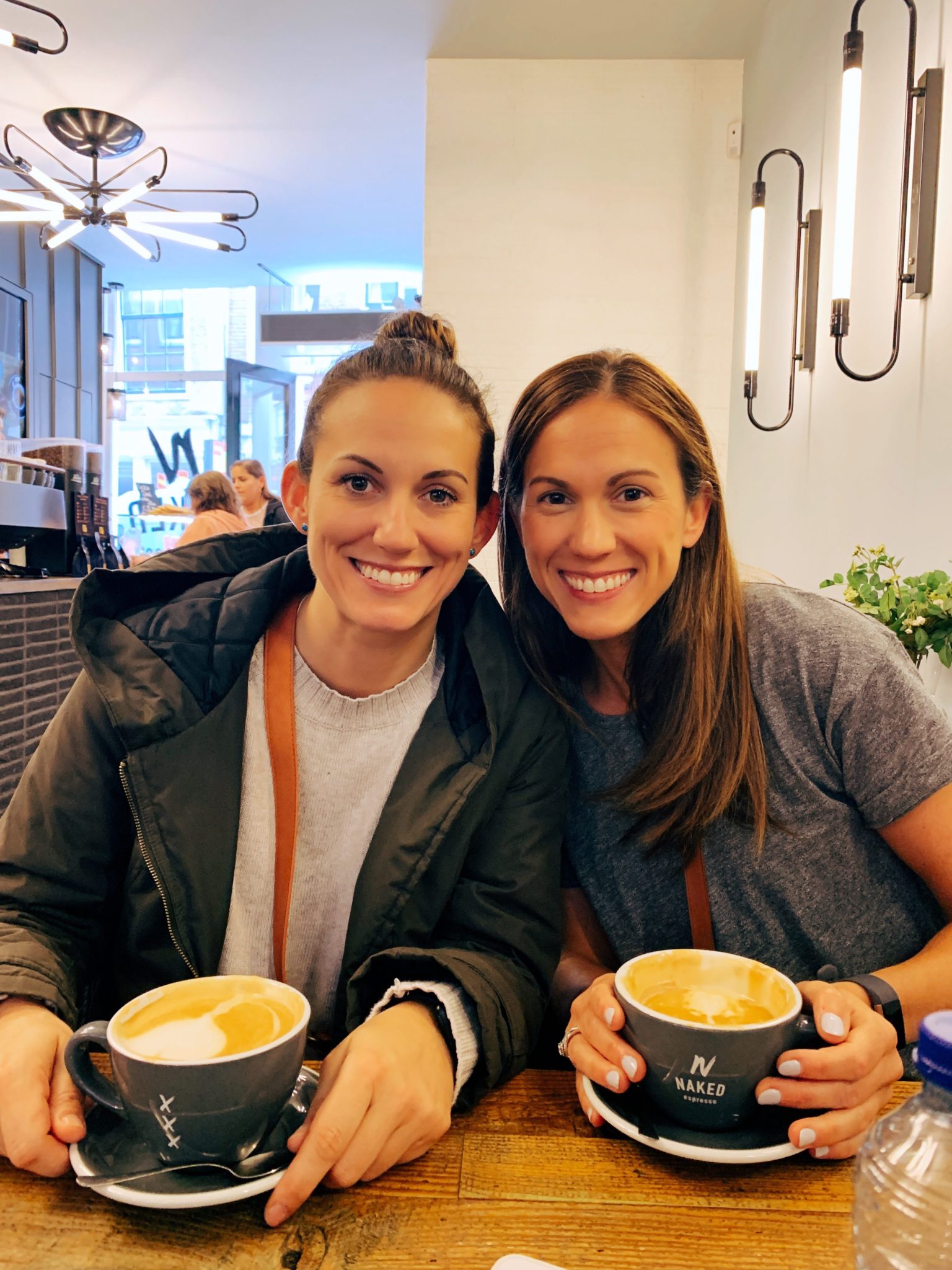 The latte was delicious, the wi-fi was free and dream of all dreams, they offered soy milk!
The only meal we had while in Amsterdam was lunch since we had to catch our train back to Haarlem before dinner. My mom's a big meat eater and my sister is a vegan so we settled on Ivy & Bros which offered a good amount of vegan-friendly options but also served eggs.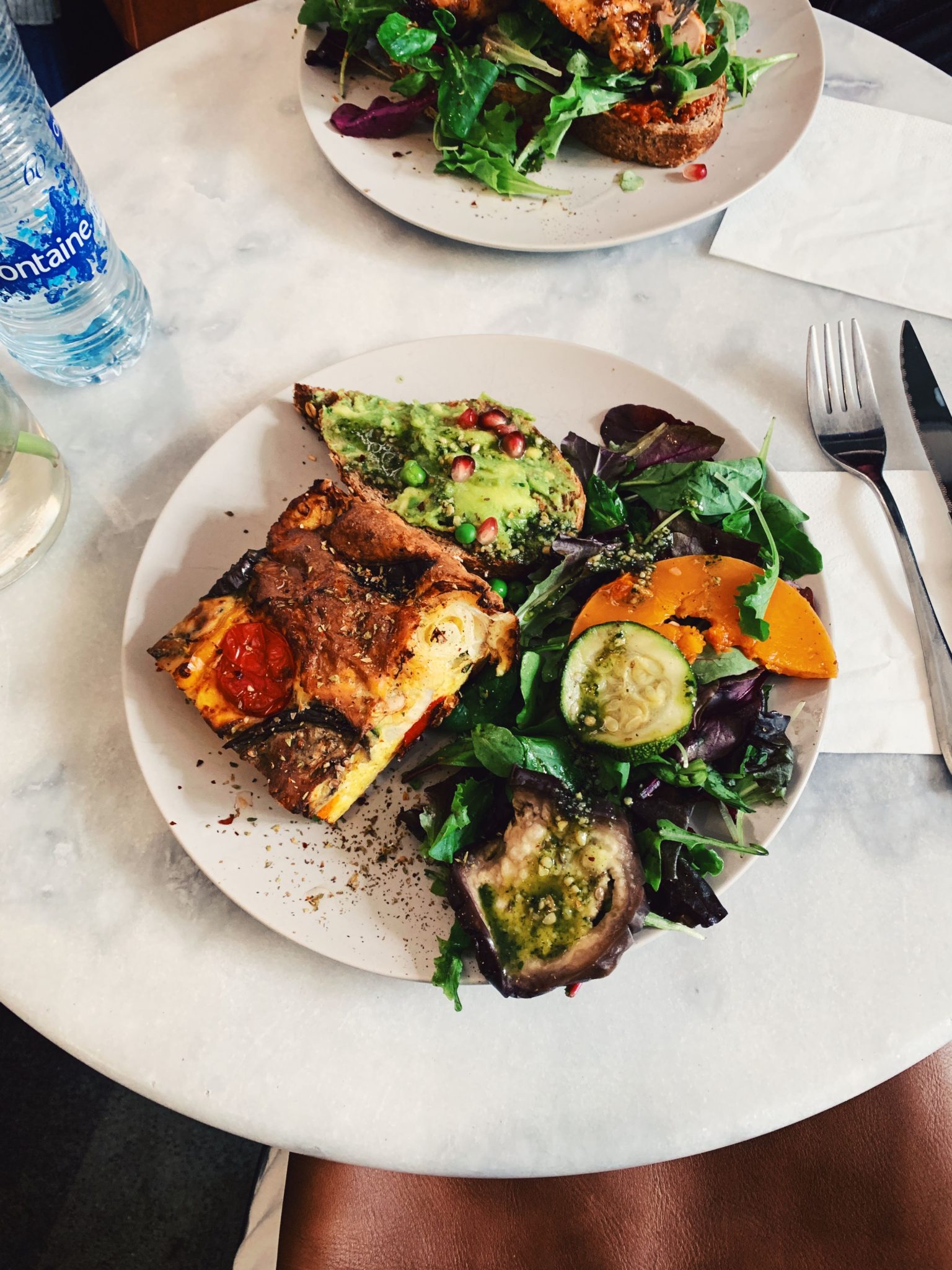 I got the daily frittata which came with avocado toast and a salad. The food was delicious, the atmosphere was pleasant, the wi-fi was non-existent but the staff was friendly! Would highly recommend it.
We also grabbed a package of Stroopwafel from Metropolitan (which also offers a huge variety of chocolates, ice cream and other sweets – they even have an area where you can carve your name in a huge block of chocolate and literally sniff cocoa powder!).
While we didn't get to take advantage of other food options given our short stay, a couple of YOU reached out on Instagram with suggestions that I wanted to make sure I shared with everyone (THANK you to all who gave me recs!):
What I Wore: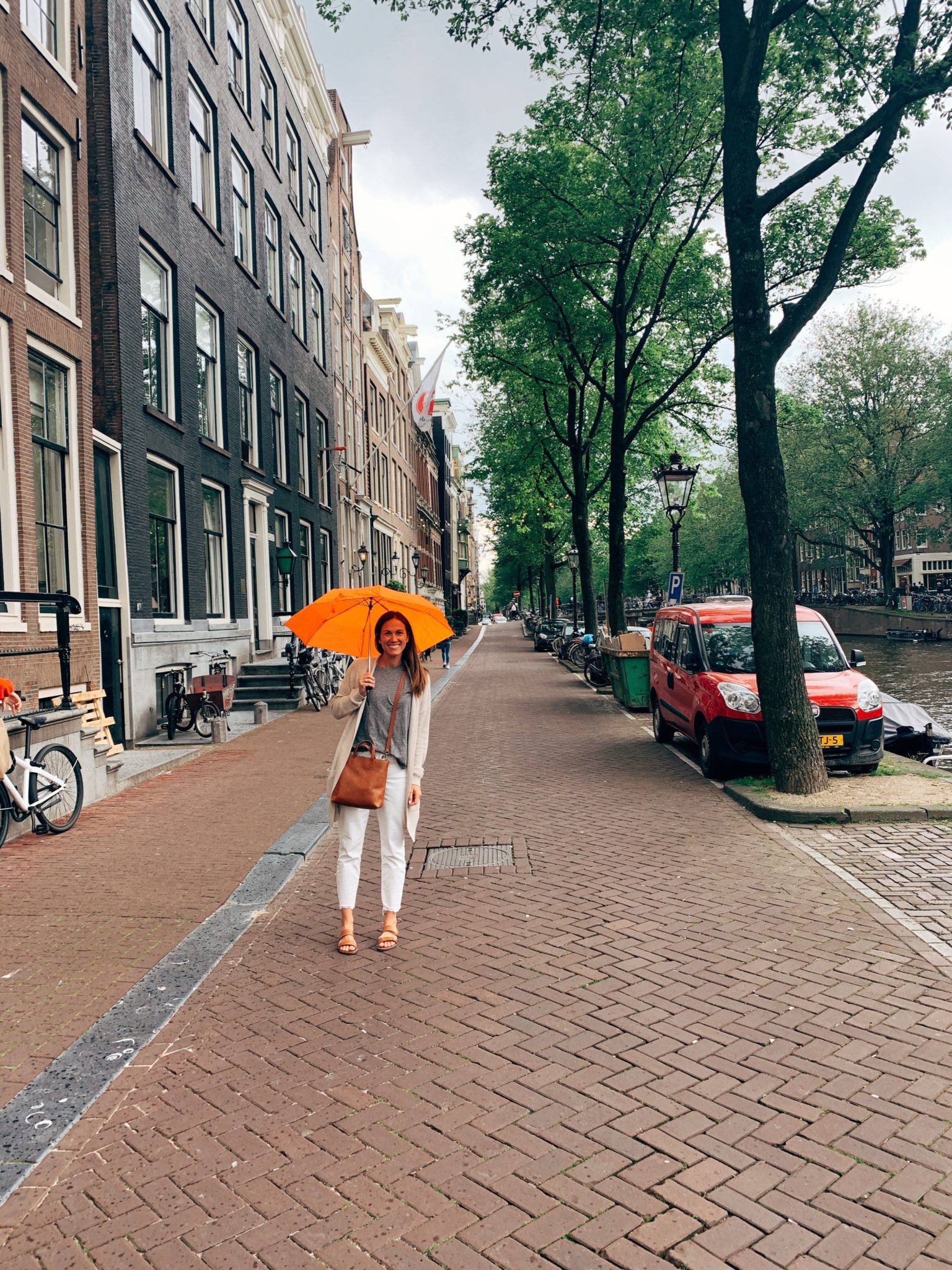 2