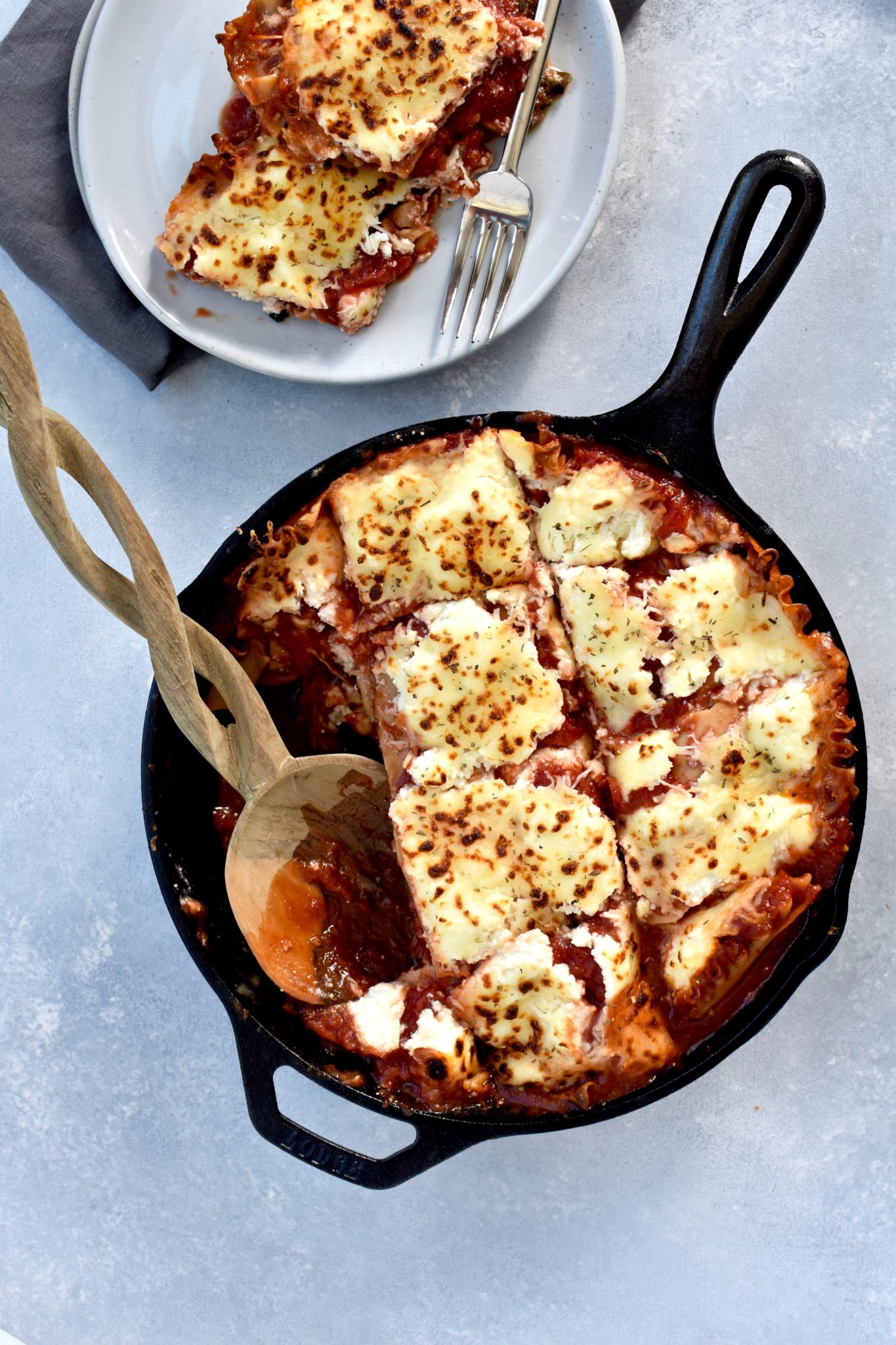 I've got another perfect comfort food meal for you guys!  As the weather starts to cool down, all I find myself craving are warm, comforting dishes and this one absolutely fits the bill!
I also love that it provides a good dose of nutrition with each bite.  I think most people think of "comfort food" as foods that are off-limits or that you should steer clear of.  But I'm here to tell you that's absolutely not the case!
With a few tweaks to traditional comfort food dishes, you can cram plenty of nutrition (and flavor!) in!
Take this lasagna for instance – I swapped out the noodles for a whole-grain version which provides a little more fiber to help you feel fuller longer.  It's also loaded with all kinds of veggies so one serving of this lasagna easily helps you hit that goal and you're getting protein from both the ricotta and mozzarella cheese.
Not too bad for a meal made entirely in one skillet, right?
Speaking of skillets, if you haven't invested in a good, cast iron skillet, I highly recommend it.  It's easily one of my most used kitchen items and makes dishes like these so much easier (and dishes like this whole grain banana chocolate chip yogurt skillet cake!).
If you're in the market, my favorite brand is Lodge Cast Iron – I have both a 9 and 12 inch skillet from them and love them both!  I mean, if it means being able to produce delicious and satisfying meals like this lasagna, it's gotta be worth it, right??
veggie-packed whole grain skillet lasagna
Ingredients
2 tablespoons olive oil, divided
2 medium zucchini, cut into 1/4-in.-thick slices
1 small yellow onion, diced
1 (8-oz.) pkg. cremini mushrooms, thinly sliced
4 cups baby spinach
3 garlic cloves, minced
1 (28-oz.) can unsalted crushed tomatoes, divided
1/2 teaspoon salt
4 -5 whole grain lasagna noodles I used Barilla
1 cup part-skim ricotta cheese
1 cup shredded low-moisture part-skim mozzarella cheese
1/4 cup dried oregano
Instructions
Heat 1 tablespoon olive oil in a large cast-iron skillet over medium-high.
Add zucchini in a single layer, cooking about 3 minutes on each side or until browned.
Remove zucchini from pan from pan.
Add remaining 1 tablespoon oil to pan being careful not to splatter yourself.
Add onion and mushrooms, cooking for about 6 minutes or until onions are soft and mushrooms tender
Stir in spinach and garlic, cooking for about 1 minute more.
Remove pan from heat.
Meanwhile, boil 4-5 whole grain lasagna noodles until just al dente (about 4-6 minutes)
Drain, drizzle with olive oil to prevent sticking and set aside.
Turn the broiler in your oven on HIGH and move the top rack to the first position.
Spread mushroom mixture in bottom of cast iron skillet then top with cooked zucchini.
Pour 2 cups of crushed tomatoes over zucchini then sprinkle with salt.
Arrange noodles over the top of the tomato sauce, snipping them as needed to fit the pan shape,
Pour remaining amount of crushed tomatoes over the noodles then use a spoon (or your hands) to drop dollops of ricotta evenly over the tomatoes.
Cover, and simmer 10-15 minutes over medium-low heat.
Remove pan from heat, top with shredded mozzarella and place pan into the oven (note: be sure you're using a cast iron or other oven-safe skillet before placing in the oven).
Broil 2-4 minutes (you may need to turn the pan using a pot holder for even browning depending on your oven) or until mozzarella cheese is melted and lightly browned.
Carefully remove from oven (pan will be hot and heavy so use pot holders on both hands!) and sprinkle with oregano if desired.
https://caitsplate.com/veggie-packed-whole-grain-skillet-lasagna/
recipe from cooking light with a tweak here and there! 
10