a look at the food I'm prepping for the week ahead
Back with another week of meal prep! I honestly had my doubts that this was something I was going to do every week (and it still might not always happen every week) but I find myself excited each week to do it and absolutely love how much easier it makes the week.
If you've missed my journey into meal planning – you can get all the posts here.
Last week I talked about the pros and cons of meal prep as I see them. I'm continuing to refine my process but I think we're getting closer to a meal prep that works for our family.
Here's what I prepped this week:
PARMESAN CHICKEN TENDERS – recipe coming this week!
This is the main dish I prepped for most of our dinners. I plan to serve it up in several different ways to keep things interesting – stay tuned for a post on that!
CHOCOLATE CHIP BANANA BAKED OATMEAL – recipe coming this week!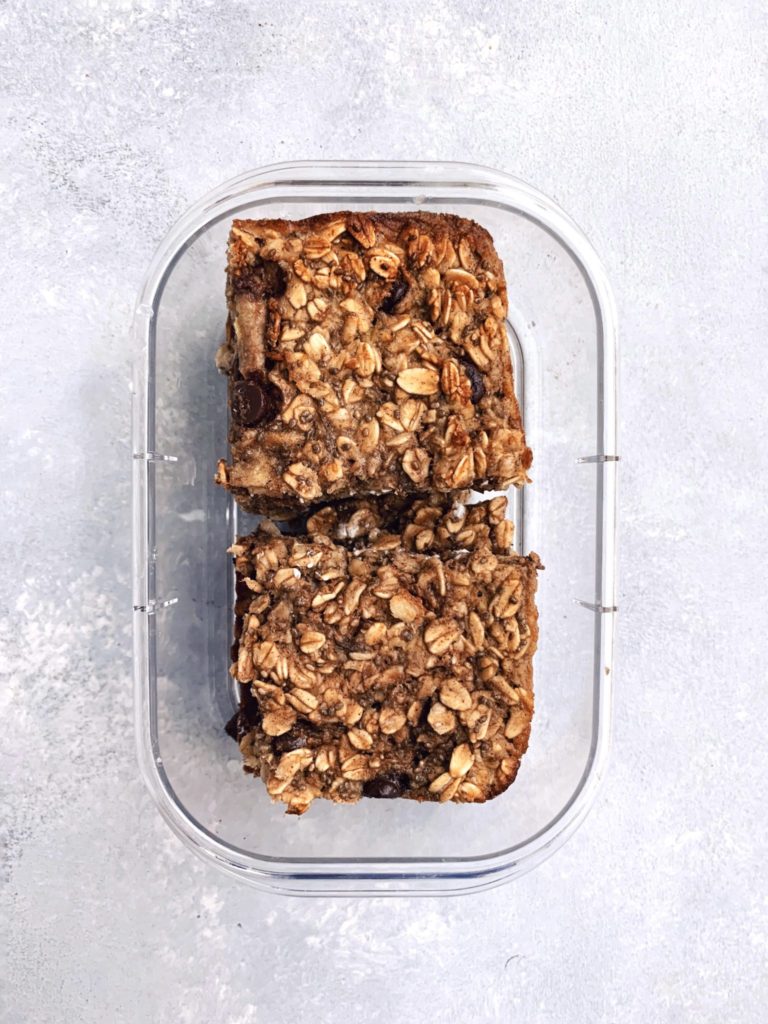 Yesss, I knoooow. MORE baked oatmeal. But I can't help it! It's so easy and delicious and it fills me up perfectly! I needed a use for a bunch of bananas I had that weren't going to make it into this week and this was a perfect option!
ROASTED BROCCOLI – recipe below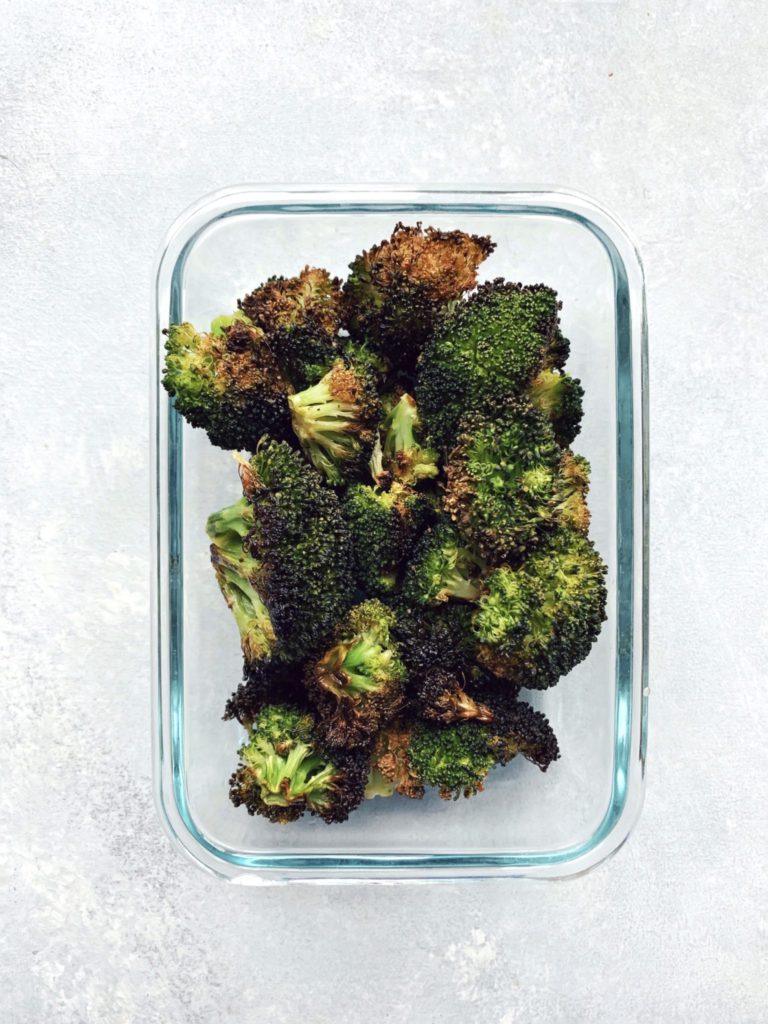 Simple Roasted Broccoli
Ingredients:
1 head fresh broccoli
Olive oil
Salt & pepper, to taste
Directions:
Preheat the oven to 425 degrees F and line a baking baking sheet with parchment paper. Cut the stems off a head of broccoli so you're left with just the florets then place them in a single layer on the prepared baking sheet. Drizzle with about 1 teaspoon olive oil, sprinkle with salt & pepper then toss to make sure all the florets are well coated. Bake for 20-25 minutes or until crispy and just browned.
Couldn't get enough of my roasted veggie grain bowls last week so I had to make a little more of this in case I wanted more this week 🙂
COOKED FARRO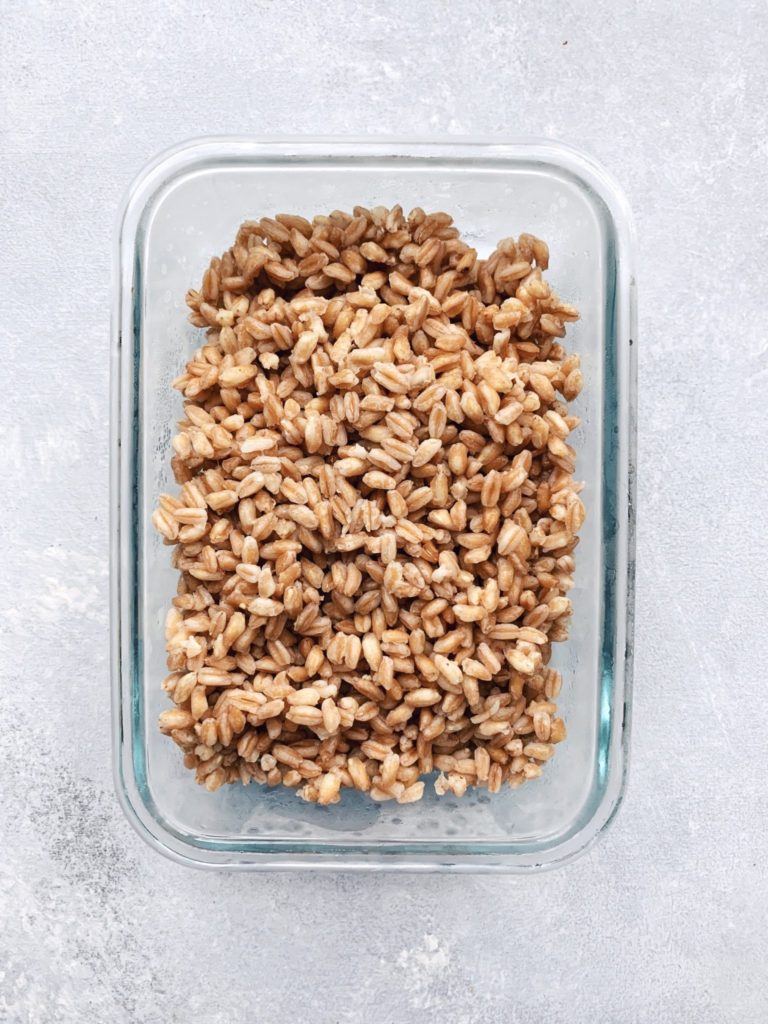 Made this for grain bowls this week (switched it up from barley!) and easy dinner sides as well as a grain side for Owen.
ROASTED SWEET POTATOES – recipe here – I've also done several IGTV videos where I make these!
Our whole household is crazy for sweet potatoes so having a bunch roasted on hand is just a good idea. Whether I'm throwing them into salads or grain bowls, serving them up to Owen as a snack or a meal side or we're making it part of dinner, these always go fast!
CHICKPEAS
I'm not the biggest meat eater so I like to make myself a vegetarian protein option every week that I can have for lunches and dinners if Chad won't make it home. Last week was baked tofu (a favorite! recipe is linked in my post from last week) so I wanted to switch it up this week. I'll throw these into salads and grain bowls for a nice protein boost.
WHOLE GRAIN STRAWBERRY BANANA YOGURT SNACK CAKE – recipe coming soon!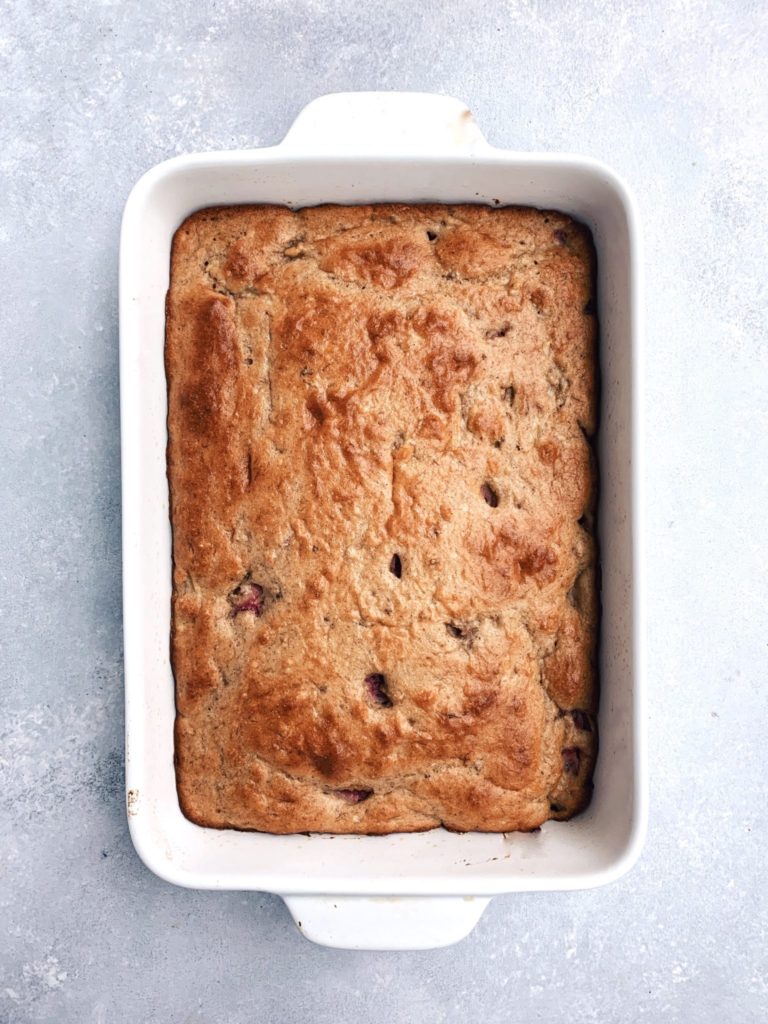 I used to make snack cakes all the time and haven't done it in too long! Like I mentioned, I had a batch of browning bananas and when I found a handful of strawberries as well, I knew exactly what I was going to make! Can't wait to share this recipe with you!
NO-BAKE OATMEAL RAISIN COOKIE BITES – recipe coming soon!
YOU GUYS. These things literally taste exactly like an oatmeal cookie, I kid you not! I CANNOT wait to share this one with you – it's definitely going to be a go-to for me so I hope it will be for you too!
WHOLE GRAIN HIDDEN VEGGIE MAC & CHEESE – recipe here except I used whole wheat penne
I made this for Owen and my husband. They'll both house mac and cheese so I figured why not make a version that also has a few veggies in there too?
I'm also going to be doing a post on 5 easy lunches that you can make with everything I prepped – so stay tuned for that tomorrow!
And that's it! Ready for the week ahead! What are you guys prepping?
9