Okay, so I know some of you are thinking "peanut butter and pumpkin???" but TRUST me, it's an absolutely delicious flavor combination!
You have to promise me that you'll at least give it a shot before you decide you hate it.  Because I swear, one bite and you'll be in love!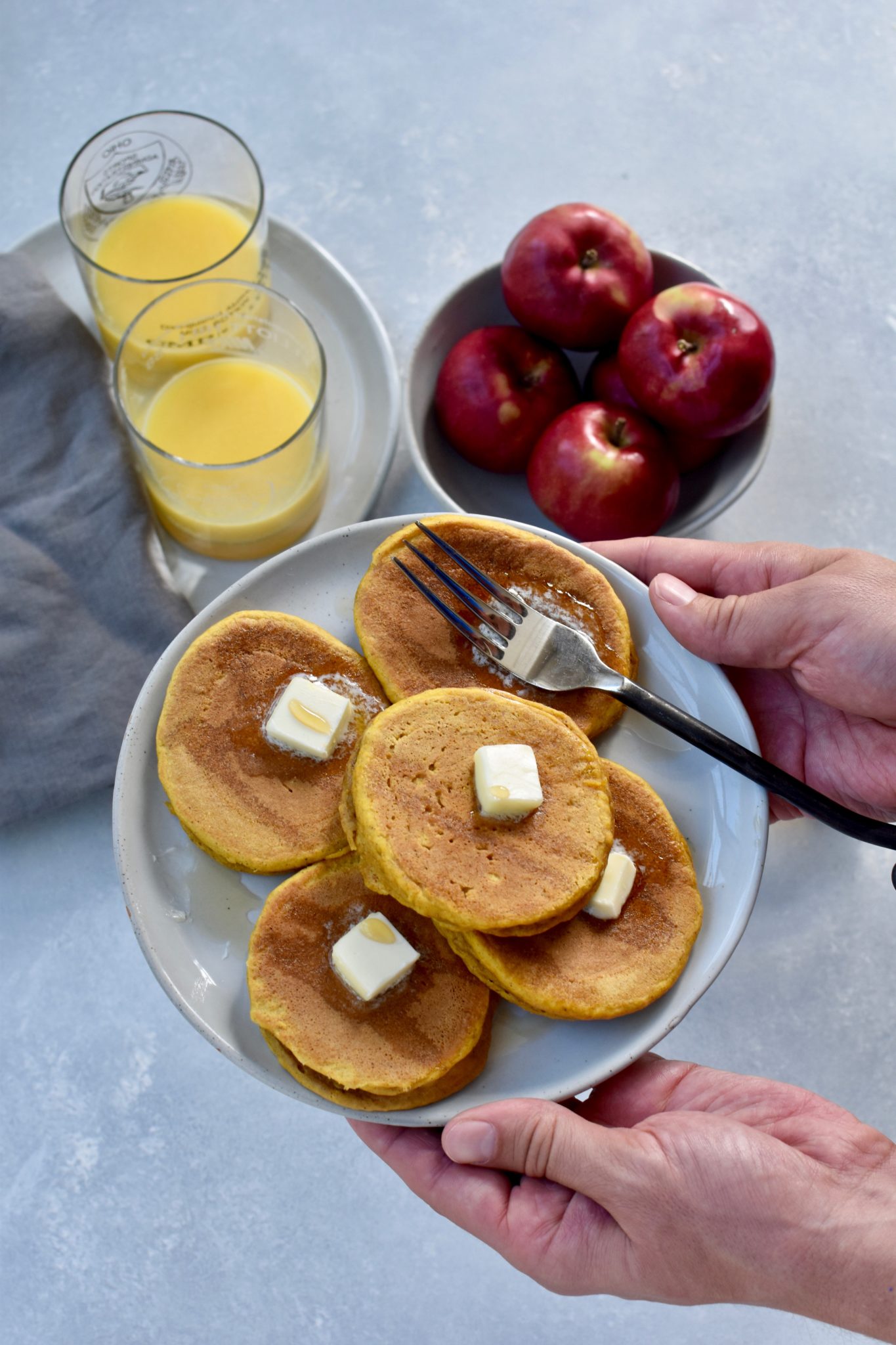 These pancakes will be a good place to start.  The flavor combination is present but subtle and they're oh-so-delicious topped with a little plain greek yogurt and some diced apples.
Not only are they delicious, but they're providing a good dose of whole grains, fruit, heart-healthy fats and fiber!  Topped with plain greek yogurt and fresh fruit and you've got yourself a fully balanced, perfect-for-Fall meal on your hands!
If that's not reason enough to dig in, then I don't know what is!
whole grain peanut butter pumpkin pancakes
Ingredients
1 and 1/4 cups whole wheat flour
1 tablespoon baking powder
1 tablespoon sugar
1/2 teaspoon salt
1 teaspoon pumpkin pie spice
1 beaten egg
1 cup almond or soymilk (more or less as needed to achieve desired thickness)
2 tablespoons canola oil
1/3 cup canned pumpkin puree
1/4 cup natural creamy peanut butter
Instructions
Preheat non-stick skillet, spray with cooking oil if needed to ensure batter won't stick
In a medium-sized bowl, combine flour through pie spice
In another small bowl, combine egg, milk and oil
Add wet ingredients to dry ingredients
Gently fold in pumpkin and peanut butter, one at a time with a soft spatula
Add additional milk as needed to get batter to desired consistency (see Note #1)
Place 1/4 cup of batter onto preheated skillet cooking about 3-4 minutes each side or until lightly browned on each side and cooked in the middle
Continue scooping 1/4 cup portions of the batter onto the skillet and cooking each pancake until all batter has been used.
Notes
1. These are pretty thick pancakes so if you prefer a pancake with more spread, you will want to add additional milk as needed to reach desired consistency. 2. You can also make these into waffles! If doing so, it's best to stick to just 1 cup of milk as that makes a batter with a perfect waffle consistency.
https://caitsplate.com/whole-grain-peanut-butter-pumpkin-pancakes/
10