5 quick and easy, balanced dinner ideas to get you (or your whole family!) through the work week!
Still focusing on warm & comforting dishes with this cold weather! Here are 5 more easy weeknight meal ideas to help make the week ahead a little less stressful!
If you want even more dinner inspiration – find all my Work Week Dinner Game Plans here!
MONDAY: Sweet potato & black bean quinoa chili
coconut milk, fresh ginger, ground cinnamon and coriander give this dairy & gluten-free vegetarian dish a refreshing twist on classic chili flavor. it's scoop-up-with-a-chip thick making it a hearty & satisfying meal that even the biggest meat eaters will love.
Serves: 4-6
Done in: 1 hour, 10 minutes
Tips: Make this ahead over the weekend and eat it all week! Serve with chips for scooping, yogurt, hot sauce, freshly slice and avocado. Omit the hot sauce if serving to a toddler who doesn't like spice.
TUESDAY: Roasted root vegetable couscous with chicken apple sausage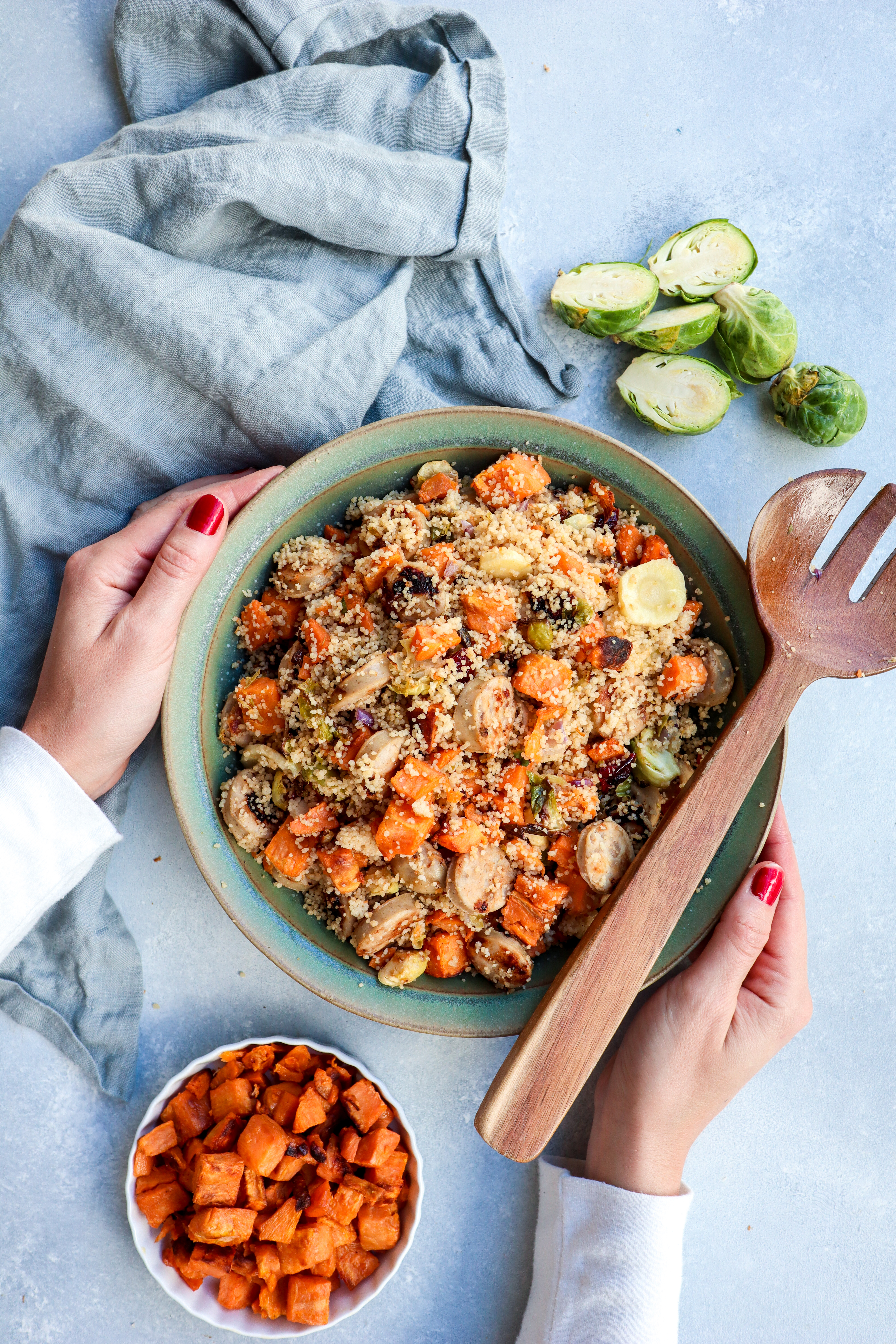 root vegetables are roasted until just tender then paired with whole wheat couscous. chicken apple sausage and dried cranberries add the perfect hint of sweetness for a dairy-free quick weeknight meal everyone will love!
Serves: 4
Done in: 30 minutes
Tips: Serve this up separately if you're not into food mixing. And feel free to swap whatever grain and protein you like best!
WEDNESDAY: Easy double bean & corn enchiladas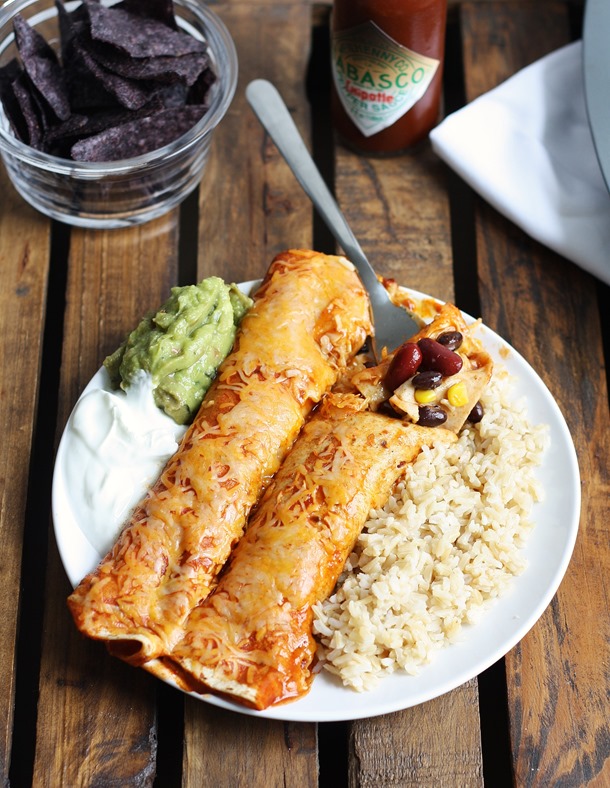 these easy enchiladas are packed with protein & fiber, come together quickly and are also budget-friendly! you'll need just 6 ingredients and 20 minutes to have these on the table!
Serves: 3-4
Done in: 20 minutes
Tips: Serve this up all your favorite toppings and a side of brown rice or chips. If you prefer chicken to beans, go ahead and make that swap. You can also add additional veggies (sweet potatoes, peppers, onions) to the mix as desired.
THURSDAY: Roasted veggie & quinoa with cilantro lime cashew sauce
this easy vegan dish gets a burst of color thanks to all the veggies. it comes together quickly and is loaded with fiber & flavor making it a great meal option during the week.
Serves: 2
Done in: 30 minutes
Tips: Feel free to add some roast chicken to this dish and swap out the quinoa for whatever grain you have on hand. Serve it all together or separately with a drizzle of sauce on everything! You can also roll it all up into a wrap (my favorite way to serve it!)
FRIDAY: Weeknight Baked Ziti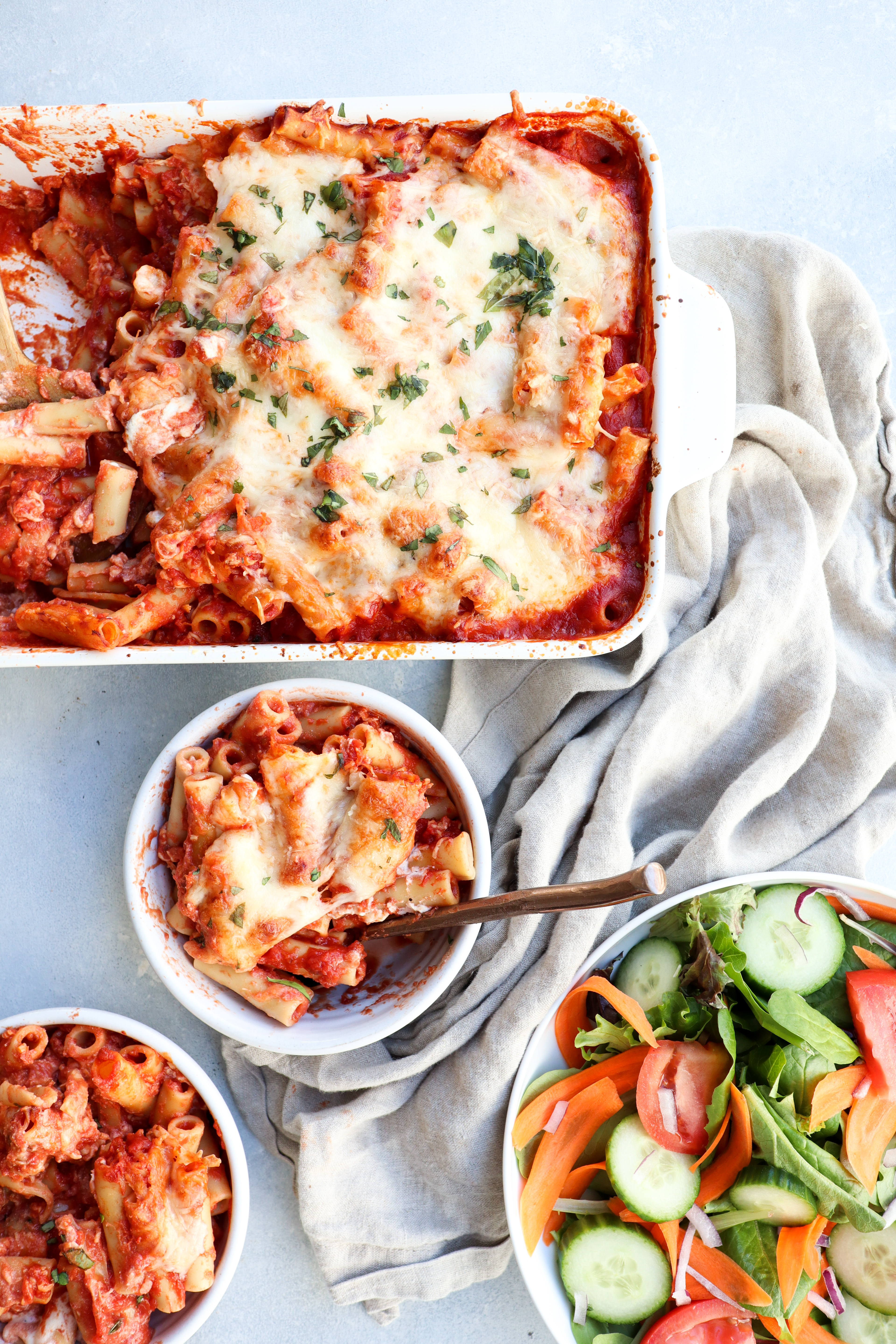 this easy, budget-friendly vegetarian baked ziti comes together quickly and is sure to please a crowd. serve up with a big salad, steamed veggies or some crusty bread to round it all out!
Serves: 4-6
Done in: 35 minutes
Tips: Whip this up over the weekend and eat it all week! You can serve it as is, or add side salads for a varying temperature/texture. Or toss some veggies right into the mix! No matter what you do, I promise it will be a hit!
10