this recipe is brought to you in partnership with scharffen berger
It's Friday!  We made it through another week!  And what better way to celebrate the beginning of the weekend than with a double chocolate recipe!?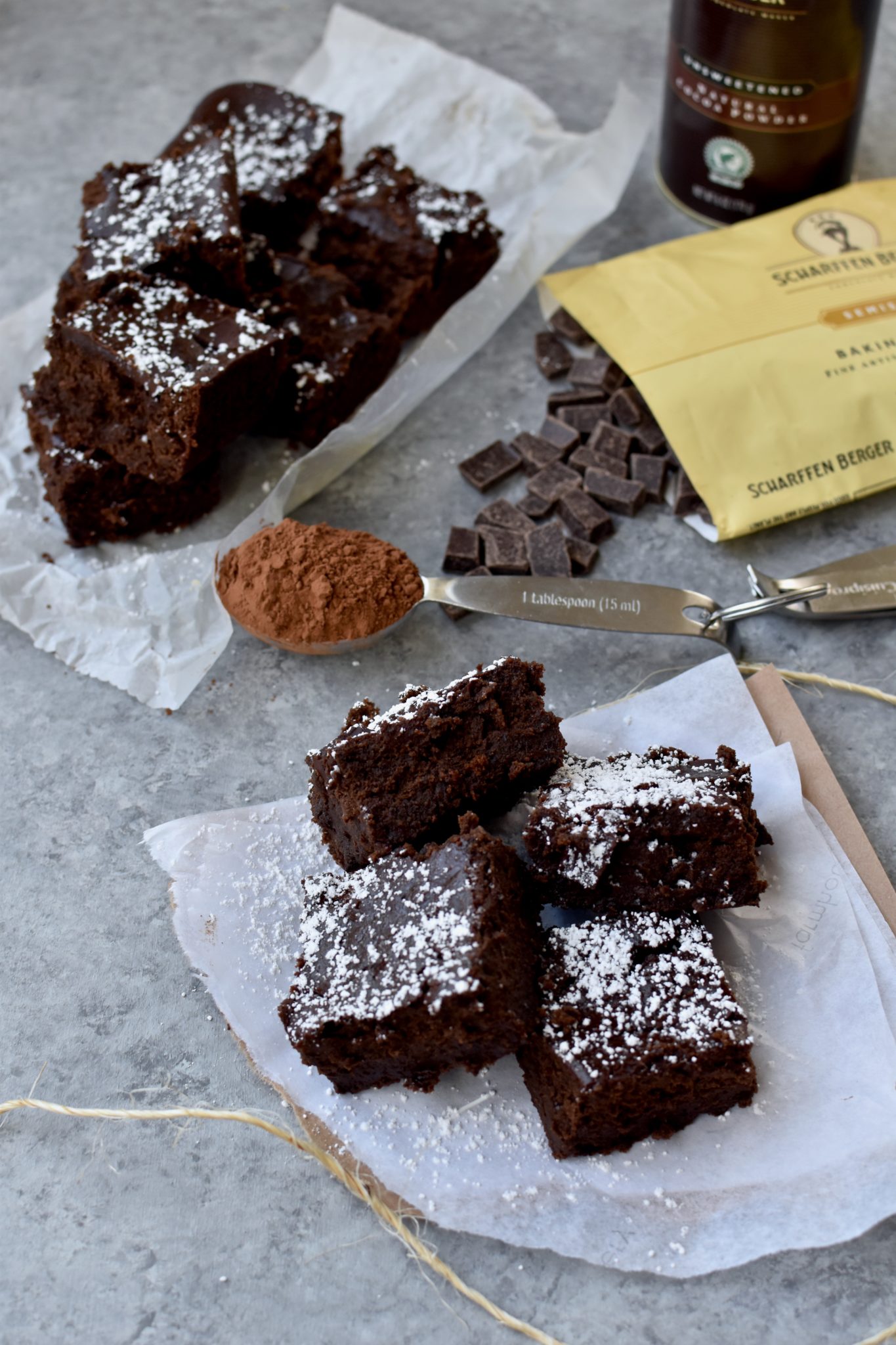 You guys know that when I bake I love to experiment with adding in as many nutrients as possible.  While usually my go-to is to sub all-purpose flour in with white whole wheat sneaking in a little more fiber, today I went completely rogue and swapped all the flour out for black beans.
And the best part about it is not even the added protein and fiber (something I always love getting in a dessert because it not only squashes my sweet tooth but also actually fills me up!), it's that you absolutely cannot taste the black beans AT ALL.
Just ask my husband who has been gobbling this up all week with no idea that they're not regular old flour-filled, non-black bean containing brownies 😉 (I may have just blown my cover, but at least half the pan is already gone!).
The key is not only the use of double chocolate (cocoa powder AND baking chips) but also using really good chocolate – and let me tell you, Scharffen Berger does not mess around when it comes to chocolate.  It is some of the most rich and flavorful chocolate I've ever had.
These make a perfect lunch box or after-school treat for the kids.  You can slather them with peanut butter or top them with a roasted marshmallow to make them feel even more special!
super fudgy double chocolate gluten-free black bean brownies
Ingredients
1 15.5 oz black beans, drained and rinsed
3 large eggs
2 tablespoons earth balance
¾ cup granulated sugar
1 tsp vanilla extract
¾ tsp baking powder
Pinch of salt
Instructions
Preheat the oven to 350°F. Lightly oil or coat an 8 x 8-inch pan.
Place the black beans in the bowl of a food processor and process until
smooth. Add the eggs, earth balance, sugar, cocoa powder, vanilla, baking
Fold in chocolate baking chunks (reserving just a few to sprinkle over the top) stirring with a spatula until incorporated
Pour the brownie batter into the pan and spread it evenly, top with remaining baking chunks
Bake for 30 minutes or until edges are crisp and a toothpick stuck in the center comes out clean.
Optional: sprinkle with powdered sugar
http://caitsplate.com/super-fudgy-double-chocolate-gluten-free-black-bean-brownies/
0