You guys. First of all, I'm sorry if my pumpkin apple obsession is driving you insane. Second of all, I'm not that sorry because it brought these muffins into the world.
There's a local bakery that sells Pumpkin Apple muffins and I've been dying to create a whole grain version of them since I first laid eyes (and tastebuds) on them.
And I'm happy to say that muffins are everything I could ever hope for a muffin to be. They're huge, super soft, full of pumpkin-y apple flavor and finished off with a delicious oatmeal brown sugar streusel topping.
I wanted these to mimic a real bakery muffin so I used a jumbo muffin tin and in true bakery form, I knew they needed a delicious streusel topping.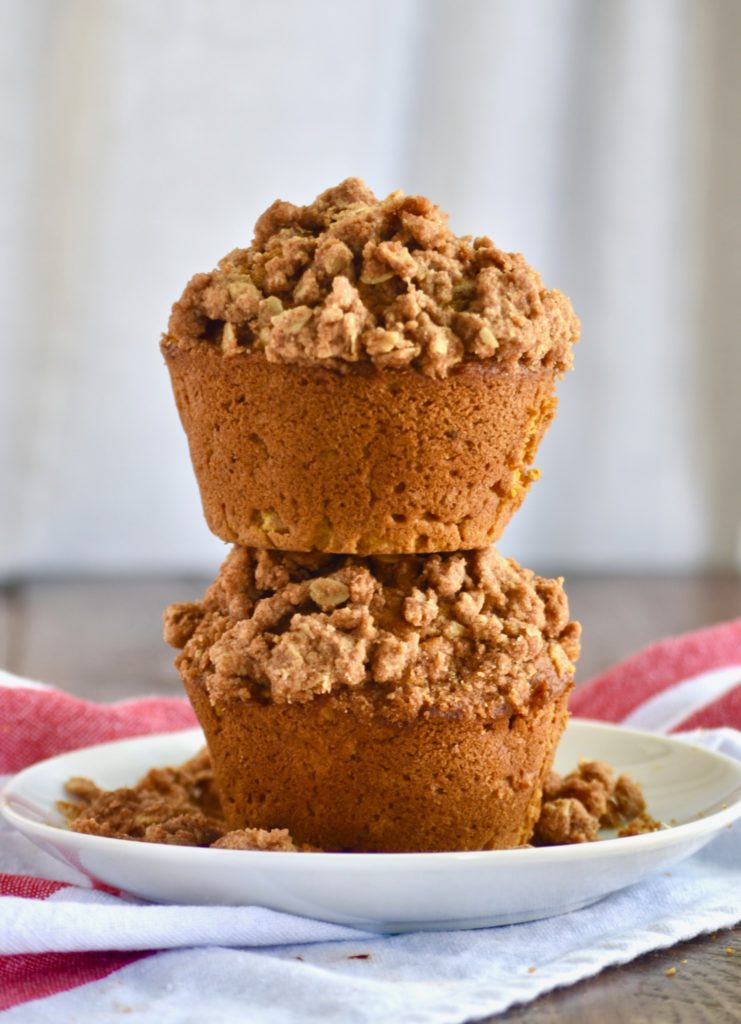 Every bite of these is just an explosion of fall flavor with the softest texture you could ever imagine.
You can eat these for breakfast or snack with a glass of milk, crumbled over a bowl of greek yogurt or smeared with some nut butter.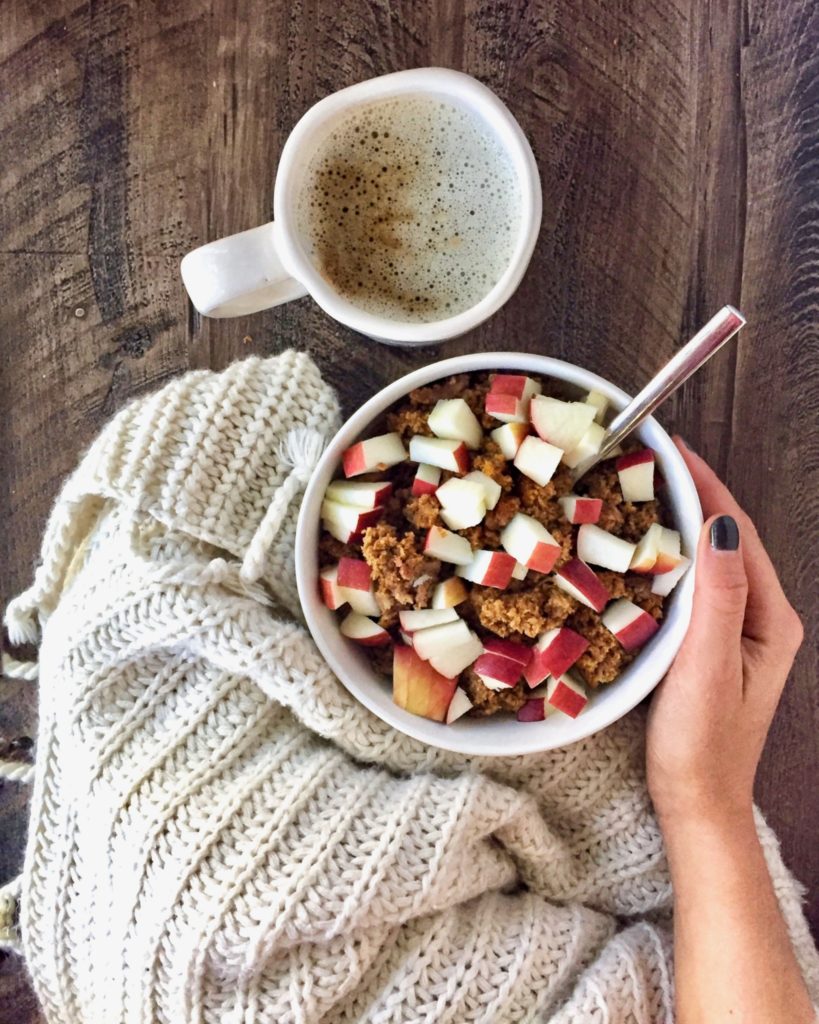 No matter how you choose to eat them, I can absolutely promise you that you'll enjoy them to the very last streusel crumb!
WHOLE GRAIN PUMPKIN APPLE MUFFINS WITH OATMEAL WALNUT STREUSEL TOPPING
Ingredients
1/2 cup white whole wheat flour
1/4 cup packed brown sugar
1/4 cup rolled oats
1/8 cup chopped walnuts
1/8 teaspoon salt
4 tablespoons earth balance, room temperature
1 and 3/4 cups white whole wheat flour (I love King Arthur)
1 teaspoon baking powder
1 teaspoon baking soda
1/4 teaspoon salt
1 teaspoon ground cinnamon
1 heaping teaspoon pumpkin pie spice
1/3 cup earth balance, softened
1/2 cup lightly packed brown sugar
2 eggs
1 cup canned pumpkin
1 teaspoon vanilla extract
1/3 cup soymilk (almond or regular milk also works)
1 medium apple, finely diced (I used jonamac that I pulsed in the food processor until it was finely diced)
Instructions
Combine flour, sugar, oats, and salt.
Work the earth balance in with your hands combining until a chunky crumb forms.
Preheat oven to 350 degrees
Grease or line a jumbo 6-muffin tin with paper liners
Combine dry ingredients (flour, baking powder, baking soda, salt and spices) then set aside.
In another bowl, cream earth balance and sugar. Add eggs one at a time.
Add pumpkin, vanilla extract and milk whipping until well combined.
Add dry to wet ingredients folding until just combined.
Gently fold diced apple pieces into the batter
Using an ice cream scoop, scoop even amounts of the batter into the muffin tins (filling about 3/4 of the way full)
Top with streusel topping
Bake for 25-30 minutes or until a toothpick poked into the center comes out clean
http://caitsplate.com/whole-grain-pumpkin-apple-muffins-with-oatmeal-walnut-streusel-topping/
7