20 packable lunches that are easy to pull together and satiating enough to carry you through the afternoon.
One of the things you guys asked for a couple weekends ago was easy/packable lunch ideas.
When I was in grad school I brought my lunch almost every single day and would have loved a resource I could go to for ideas for those times when I felt like I was in a lunch rut. If you like packable lunch ideas, let me know and I'll try to update this semi-regularly with new content. For now I wanted to start you off with what are some of my go-tos!
I've shared many of these in various different posts on here and on Instagram before, but I figured putting them all into one central place would be most helpful. And remember, these are just ideas – not any sort of a prescriptive plan, so feel free to mix things up in a way that will suit your preferences & needs (i.e. swap out items you don't like for those you do, increase or decrease portion sizes based on your needs, etc.). Take the ones that work for you, ditch the ones that don't!
Okay, without further ado, here we go:
Option 1: Whole wheat grilled cheese with side salad & grapes
Option 2: Falafel served with tzatziki sauce, cucumbers, tomatoes and hummus. You can also pack a whole wheat wrap to go with it!
Option 3: Mixed greens salad (mixed greens, cucumbers, tomatoes, onion, carrots topped with balsamic vinaigrette) with a cheese quesadilla and strawberries

Option 4: Mixed greens whole wheat salad wrap (mixed greens, cucumbers, tomatoes, avocado, chickpeas, cheddar cheese, onion and carrots with balsamic vinaigrette) with grapes
Option 5: black bean and cheese quesadilla with plain greek yogurt and salsa for dipping, mini sweet baby bell peppers and blackberries
Option 6: Brown rice veggie sushi, edamame and an orange
Option 7: Greek salad (mixed greens, cucumbers, tomatoes, chickpeas, feta cheese topped with olive oil and vinegar) with whole grain crackers and an apple
Option 8: Tuna with whole grain crackers, a cheese stick and a side salad
Option 9: Make Your Own Lunchable! Lower sodium turkey roll ups, cheese sticks, sugar snap peas, triscuits, an apple & chocolate covered almonds
Option 10: Whole wheat mac and cheese, roasted sweet potatoes, a mixed greens salad and grapes
Option 11: Chicken taco lettuce cups (recipe here) with salsa, yogurt & blue corn chips (packed in their own separate baggie)
Option 12: 2 lower sodium turkey, hummus & cheese mini sandwiches on whole wheat buns with broccoli florets and strawberries
Option 13: Broccoli, pepper and feta cheese egg bake (recipe here!) and paired it with grapes and triscuits
Option 14: chickpea, avocado, tomato, cucumber, red onion & feta salad topped with salt & pepper and a drizzle of lemon juice (you can also dress with a little olive oil and red wine vinegar) served with whole wheat pita and a blood orange
Option 15: Chopped veggies, a cheese stick, hummus & fruit with nut butter
Option 16: Veggies, woven wheat crackers, hummus, hard boiled eggs, cheese stick and grapes
Option 17: Pan fried tofu, cinnamon sweet potato wedges and a side salad
Option 18: Whole wheat hot dog buns with hummus then loaded up with lettuce, tomato, onion, peeled carrot and feta cheese served with dressing to drizzle on when you're ready to eat & strawberries
Option 19: Bagel sandwich (make it whatever you want – pb&j, hummus & veggie, turkey, tuna!) with hummus, veggie sticks & grapes
Option 20: Cheesy veggie scrambled eggs with roasted sweet potato, slice of whole wheat bread & an apple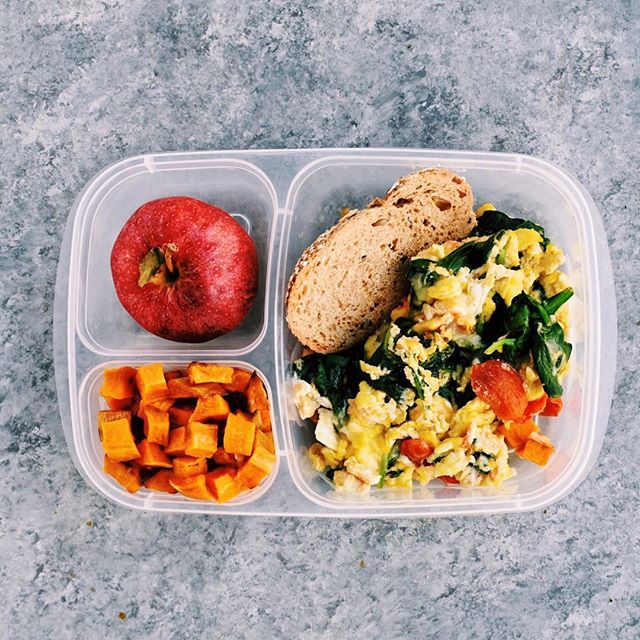 The lunchboxes I used in this post most frequently were: amazon basics bento box containers and the sistema to go collection lunch container (which I got at Marshall's). I've been on the search for a good glass container that's also oven safe but haven't found on that's the right size yet. When I do, I'll link it (or if you have a good one, please share!).
60