Are you guys ready for Fall cooking and baking yet?  I hope so because I definitely am!  Regardless of what the weather is doing, September 1 and back to school always signifies Fall for me (as I'm sure was evident by last Friday's post where I shared 25 recipes perfect for Fall).
Last year in October I made apple pumpkin pecan baked oatmeal so this year I decided to create an apple cinnamon walnut baked oatmeal for September!
I love baked oatmeal because it makes for such a simple grab and go breakfast.  When you add in fruit and nuts, you're getting whole grains, a little protein, heart healthy fat and fruit all in one little convenient square.
I like to pair mine with a little nut butter, plain greek yogurt, even more diced apple and a drizzle of maple syrup for a super filling and delicious weekday breakfast.  It makes it feel that much more decadent which on a weekday, is just perfect 🙂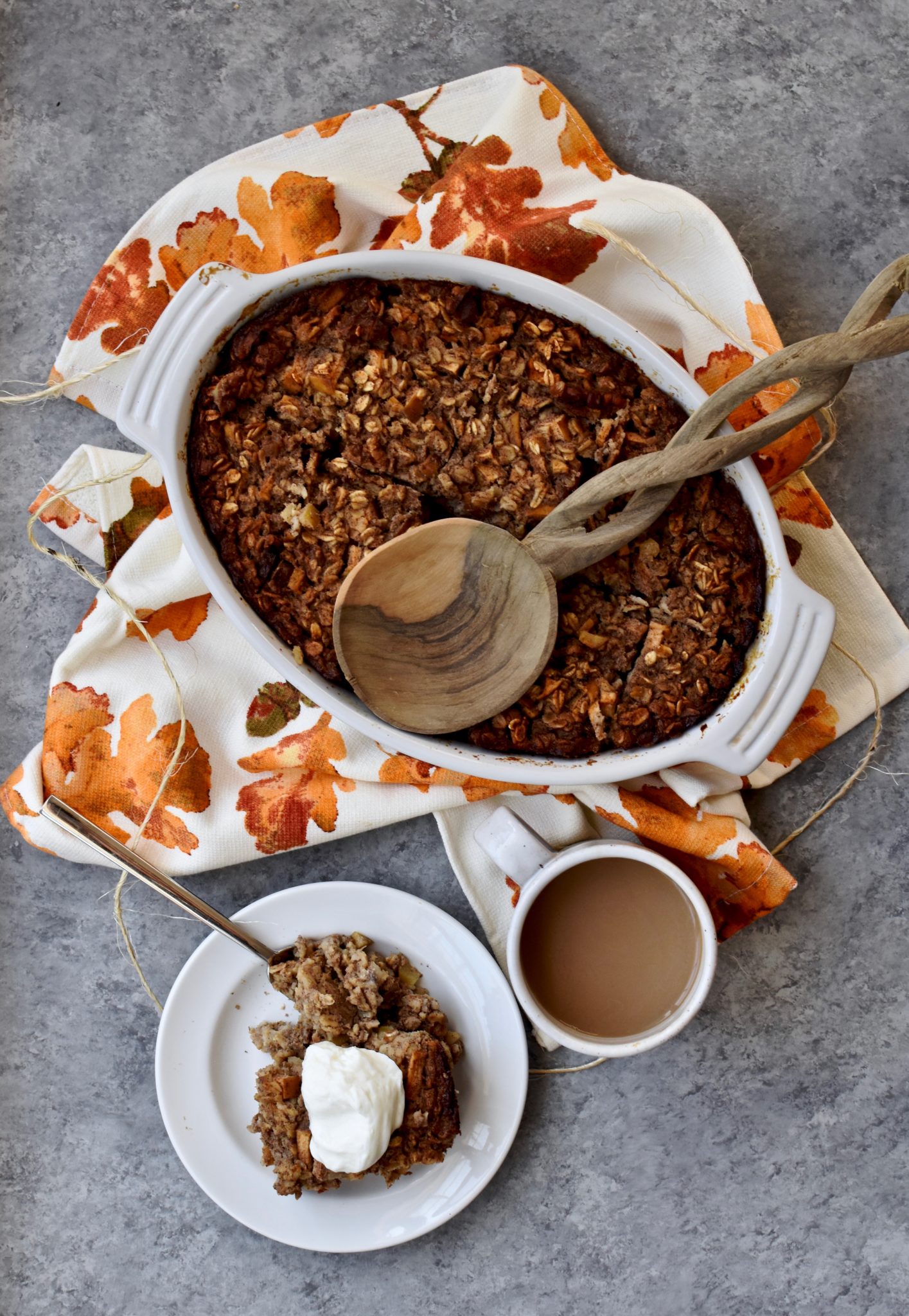 apple cinnamon walnut baked oatmeal
Ingredients
2 cups rolled oats
1/2 cup walnuts, roughly chopped
1 teaspoon baking powder
2 teaspoons ground cinnamon (I LOVE cinnamon so I always add a lot, feel free to adjust based on your taste, you can also use apple pie spice)
1/2 teaspoon salt
1/3 cup maple syrup
2 cups milk
1 large egg
2 tablespoons earth balance or butter, softened
2 teaspoons vanilla extract
1 cup unsweetened apple sauce
2 small apples (such as macintosh or jonamac), finely diced
Optional toppings: plain greek yogurt, maple syrup, chopped pecans, diced apples
Instructions
Preheat oven to 375'F
Grease a baking dish (I recommend a 2 or 3 qt. baking dish, using a smaller dish will mean increasing baking time so that it cooks in the center)
Combine oats, walnuts, baking powder, cinnamon and salt in a medium mixing bowl
Combine maple syrup, milk, egg, butter and vanilla in a separate mixing bowl
Add wet to dry mixture, folding gently to combine
Fold in apple sauce followed by apples making sure both are well incorporated
Pour into greased baking dish using a spatula to spread the mixture evenly throughout the dish
Bake for 40-50 minutes until golden brown (because every oven is different, I recommend plunging a knife or cake tester into the center of the dish to test if it's done, if it comes out clean or just a bit wet, it's done).
https://caitsplate.com/apple-cinnamon-walnut-baked-oatmeal/
30