these easy blueberry breakfast parfaits come together in just about 5 minutes and provide nutritious steady morning energy for a perfect weekday morning meal!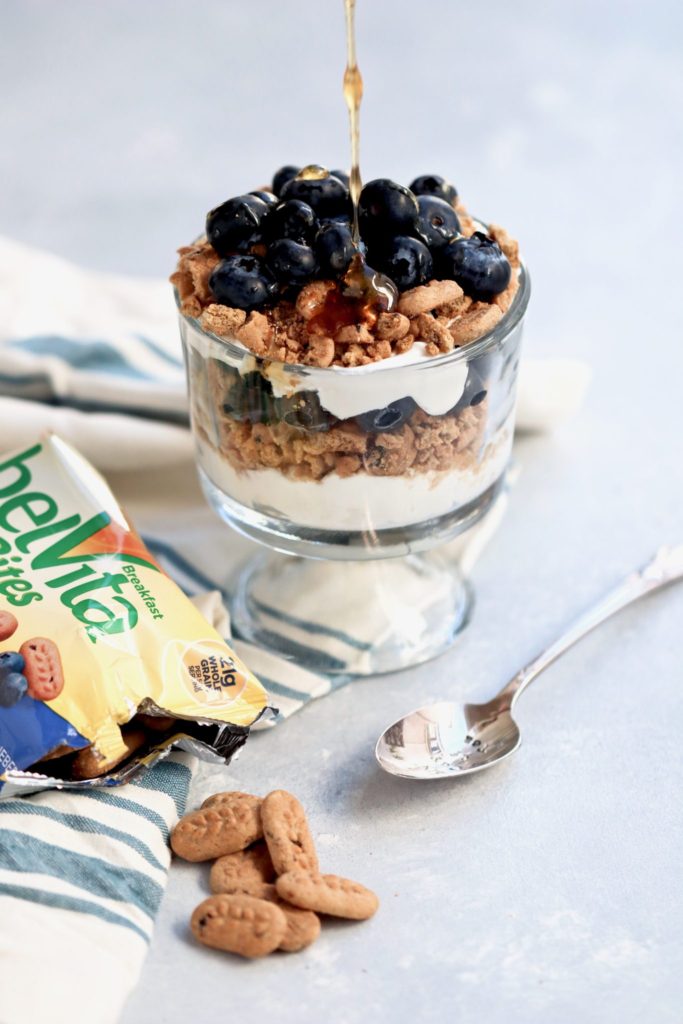 This post is sponsored by belVita. All opinions contained within are my own. As always, thank you for supporting brands that allow me to bring you recipes and content I'm passionate about!
Being a mom can make life a little crazy, there's no denying it. But in our household, there's a special kind of chaos that ensues in the morning.
What used to be a beautifully peaceful time for me to sit and sip my coffee while leisurely eating breakfast is now replaced with something quite different.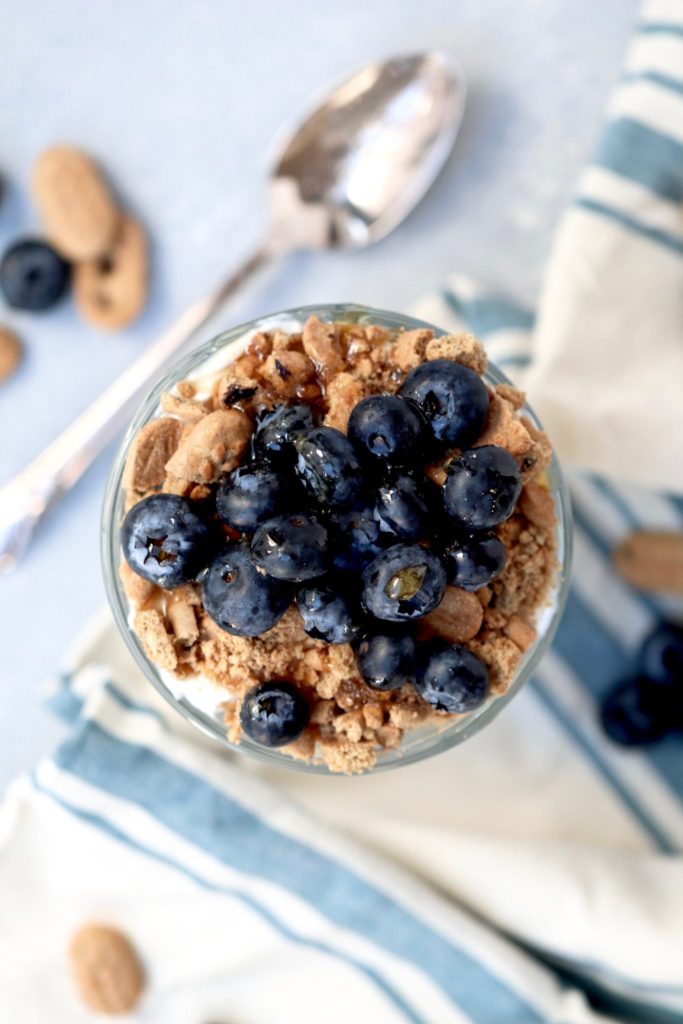 Here's how my morning usually goes: Ollie (he's my dog!) wakes me up before 6, asking for belly rubs. Once he's gotten enough, he jumps off the bed and runs downstairs to be let out and given breakfast. By the time I get him squared away, I'll hear baby Owen on the monitor. I'll quickly set my coffee to "brew" then run back up the stairs to get him up out of the crib, changed and dressed. Then we're back downstairs getting him breakfast and before I know it it's nearly 8:30am and I still haven't gotten a meal for myself!
Based on how many of you have requested quick and easy morning meal ideas, I know you feel the morning rush right along with me. And let's be honest, you don't have to have kids to feel frantic during the first few hours of the day. Whether you're rushing out the door for an early meeting, getting kids off to school or trying to catch your train, there's a lot going on.
That said, just because my morning routine has gotten a little crazier doesn't mean I throw my self-care out the window! I don't know about you, but if I don't eat a balanced breakfast in the morning, there's no chance I'm going to be fueled and focused enough to get work done! Now, I opt for meals that are convenient and quick such as combining whole grains, dairy (or protein), and fruit (or veggies!).
You all know by now how much I love my belVita Breakfast Biscuits. They were the one choice I had handy at all times for breakfast while nursing Owen because they're convenient and they helped by giving me nutritious steady energy for my morning after many a sleepless night. Now even Owen and my husband love them so I've had to start buying double (and hiding my stash!) so there's enough for everyone!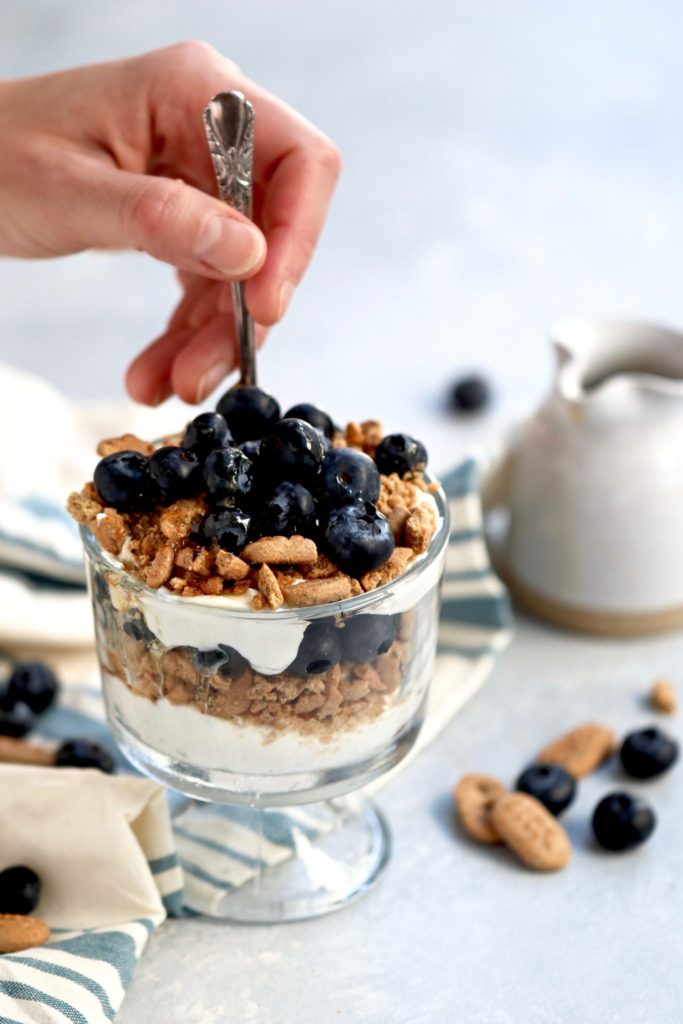 But whether you go for the belVita Crunchy Breakfast Biscuits or the belVita Bites Breakfast Biscuits, you're getting wholesome grains carefully baked to release nutritious steady energy regularly and continuously throughout the morning to fuel your body. You're also getting a good source of B-vitamins and iron, without any high fructose corn syrup, artificial colors or flavors. Pairing belVita Breakfast Biscuits with a serving of low-fat dairy and fruit as part of a balanced breakfast is easy and I like to get creative with flavor combinations.
As soon as I tried these belVita Bites Blueberry Breakfast Biscuits, I knew I had to throw them in with some yogurt and fresh berries to make an easy, balanced breakfast. This dish comes together in all of 5 minutes and provides 21g whole grains per 50g serving, a good source of fiber and nutritious steady energy through the morning for fuel. I promise you, the minute you taste this simple dish, it's going to become a new go-to easy morning meal.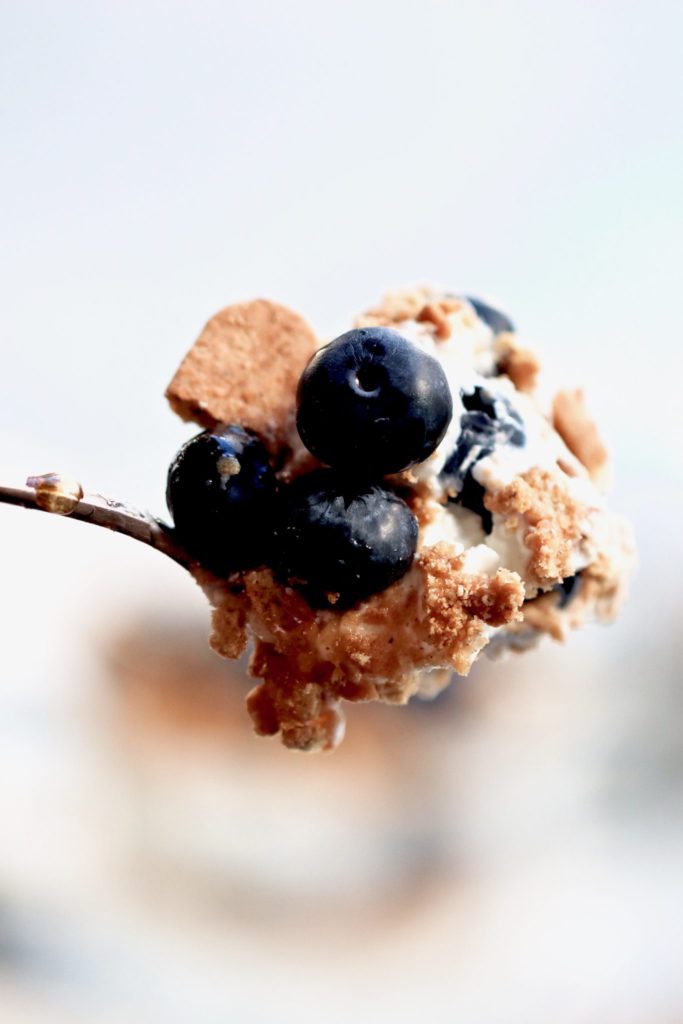 Print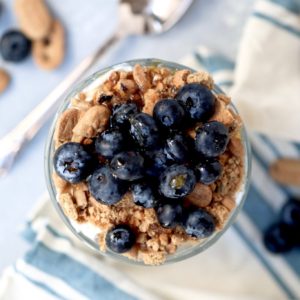 easy blueberry breakfast parfaits
Author:

Prep Time:

5 minutes

Total Time:

5 minutes

Yield:

1

parfait

1

x

Category:

breakfast
---
Description
these easy blueberry breakfast parfaits come together in just about 5 minutes and provide nutritious steady morning energy for a perfect weekday morning meal!
---
---
Instructions
Layer ½ cup of the yogurt in the bottom of a bowl or glass jar followed by ½ the packet of crumbled belVita Bites Blueberry Breakfast Biscuits and ¼ cup of fresh blueberries.  Repeat with remaining ingredients then finish with a drizzle of honey.
---
Keywords: breakfast, parfait, blueberry, quick, easy
Recipe Card powered by
3