Raise your hand if you love the idea of getting your veggies in first thing in the morning 

I thought so.
And luckily for you, I created this carrot cake overnight oatmeal so you can easily do it WITHOUT needing a blender for a kale smoothie. (though those are also pretty delicious!)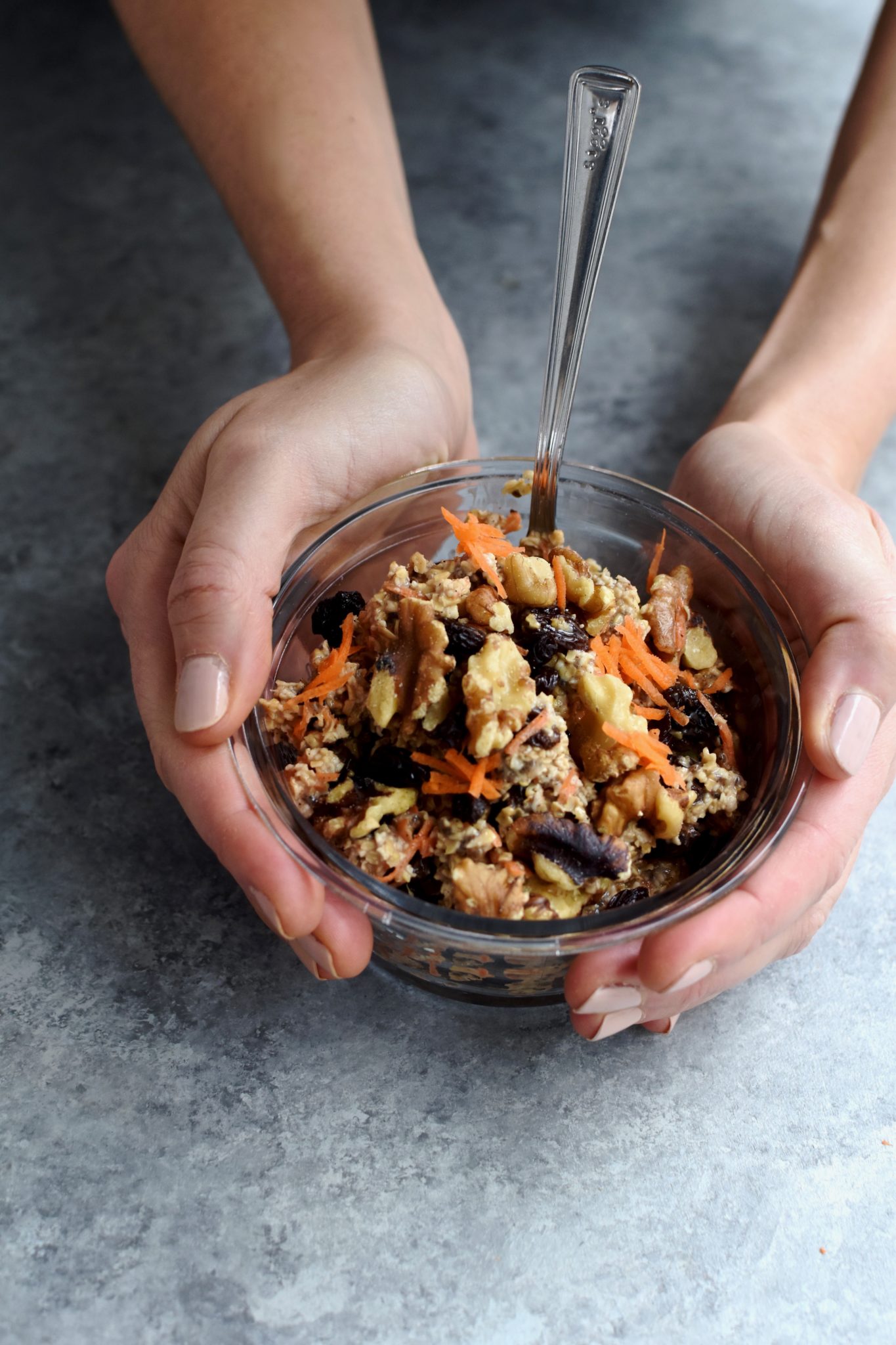 But, good as they are, kale smoothies don't really taste like eating cake for breakfast.  This oatmeal does.
It's got SO much carrot cake flavor that I swear to you if you could serve it with a cream cheese frosting you would swear you're eating cake.
The best part is that it has less sugar than carrot cake and so unbelievably simple to pull together.  Seriously, 5 minutes spent prepping the night before and you get to wake up to this.  Best 5 minutes you've ever spent?  I think so 🙂
There's nothing better than waking up to a breakfast that provides you protein, fiber and heart-healthy fats all while managing to taste like cake!
carrot cake overnight oatmeal
Ingredients
1 cup steel cut oats (I used Quaker)
1 cup unsweetened soy or almond milk
2 tablespoons chia seeds
1 teaspoon vanilla
1/4 cup maple syrup
1/4 teaspoon ground ginger (less if you don't love ginger flavor because this packs a pretty good ginger punch)
1/4 teaspoon nutmeg
1/2 teaspoon cinnamon
1/2 cup peeled, grated carrot
1/3 cup raisins
1/4 cup walnuts
Instructions
Combine all ingredients EXCEPT the walnuts into a bowl and stir to combine
Cover bowl with plastic wrap (or store in an airtight container) and refrigerate overnight
Remove from the fridge in the morning and mix in walnuts
Notes
If you're not a big fan of cold oats, you can also pop it in the microwave in the morning to take the chill out.
https://caitsplate.com/carrot-cake-overnight-oatmeal/
17