It's official.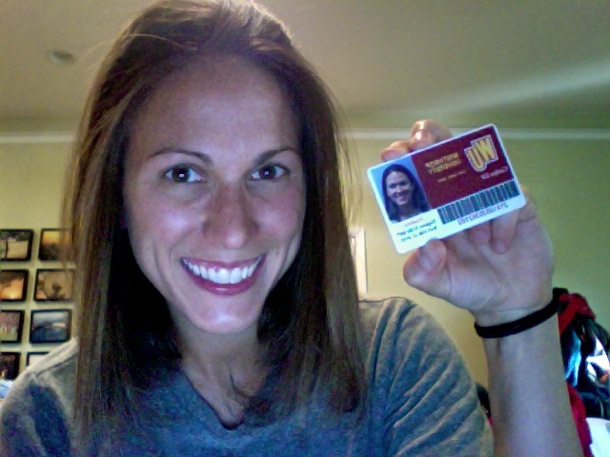 I had my first day of classes today and it felt both weird and exhilarating being back on campus.
There are definite perks – like having access to the gym and just being back in an educational atmosphere.  But there are definite drawbacks as well – like taking out more student loans and being really careful about finances.
I'm excited to not only show you, but also challenge myself to get creative with my food while being on such a strict budget and I also think it will be fun to share the information I'm learning with you all as I go through the program!
And don't worry, I'll still throw in some recipes every chance I get 🙂
This morning I was up early and out the door but not without a good breakfast to kick off my first day!
I combined 1/3 cup TJ's rolled oats w. 1 tbsp. chia seeds, a diced peach and 1/3 cup water then finished it off with a big dollop of peanut butter.  On the side I had my usual coffee + soymilk.
Then it was time to get to campus and tackle my crazy schedule!
Truth be told today was actually a lighter day.  Monday and Wednesday are going to be the two days that are super busy.
First was my Food Composition class and thoroughly enjoyed it!  This is definitely one of the courses I'm looking more forward to as of right now.
After that class I headed to the student union where I was able to pick up a couple things at the bookstore and enjoy a somewhat-early lunch while getting a head-start on some of the Food Comp. reading.
Next came Chemistry.  And that's where things got not-so fun.
The last time I took Chem was 8 years ago with my sister (who's getting her PhD in Molecular Biology…so needless to say I didn't have to do much of the work).  This class is definitely going to be one I struggle with most because I don't recall nearly as much material as I should.
Hopefully putting in a little more time and effort with that course will result in at least a passing grade!
After Chem I headed straight to the gym and got in a nice 30 minutes on the elliptical.  It felt SO good.
Then I headed home, refueled with an energy bar + some (unpictured) homemade trail mix and tackled a couple of computer tasks.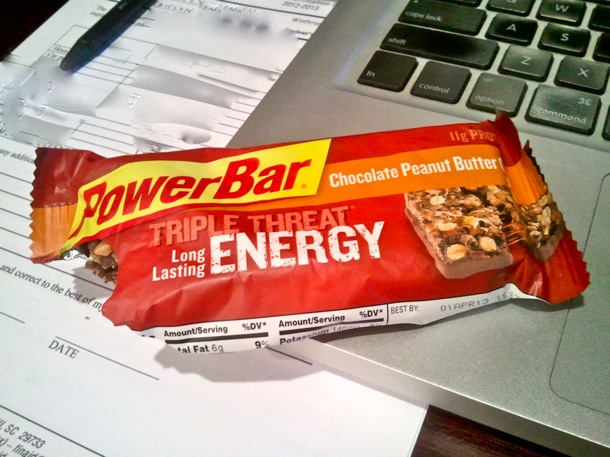 Chad got home not long after and headed out for a run.  While he ran, I whipped up some dinner and got started on my studying!
We had some easy turkey meatballs, recipe courtesy of my brother-in-law.
Easy Turkey Meatballs
Makes 18 meatballs depending on the size you roll them
Ingredients:
1 pound ground turkey
2-3 tablespoons olive oil
1 egg
1 cup bread crumbs
A dollop of pasta sauce
Salt and pepper to taste
Oregano to taste
2-3 cloves crushed garlic
Directions:
Combine thoroughly by hand in a large mixing bowl
In a large pan: Roll meatballs adding them to the pan, leaving little space in between each.
Fill the pan with warm water until meatballs are 2/3-3/4 submerged.
Put over burner on high until water starts to boil.
Lower heat and keep gentle boil. Turn meatballs over every few minutes until cooked through.
I love these not only because they're so super easy but because they're so delicious!  We served the meatballs over whole wheat bowties and added side salads to round it all out.
And with that, I'm off to read a bit more then get to bed.  8am Statistics awaits me tomorrow
0