a new spin on one of my favorite soups, this comes together quickly and is even better reheated making it an easy, comforting make ahead meal for the week ahead!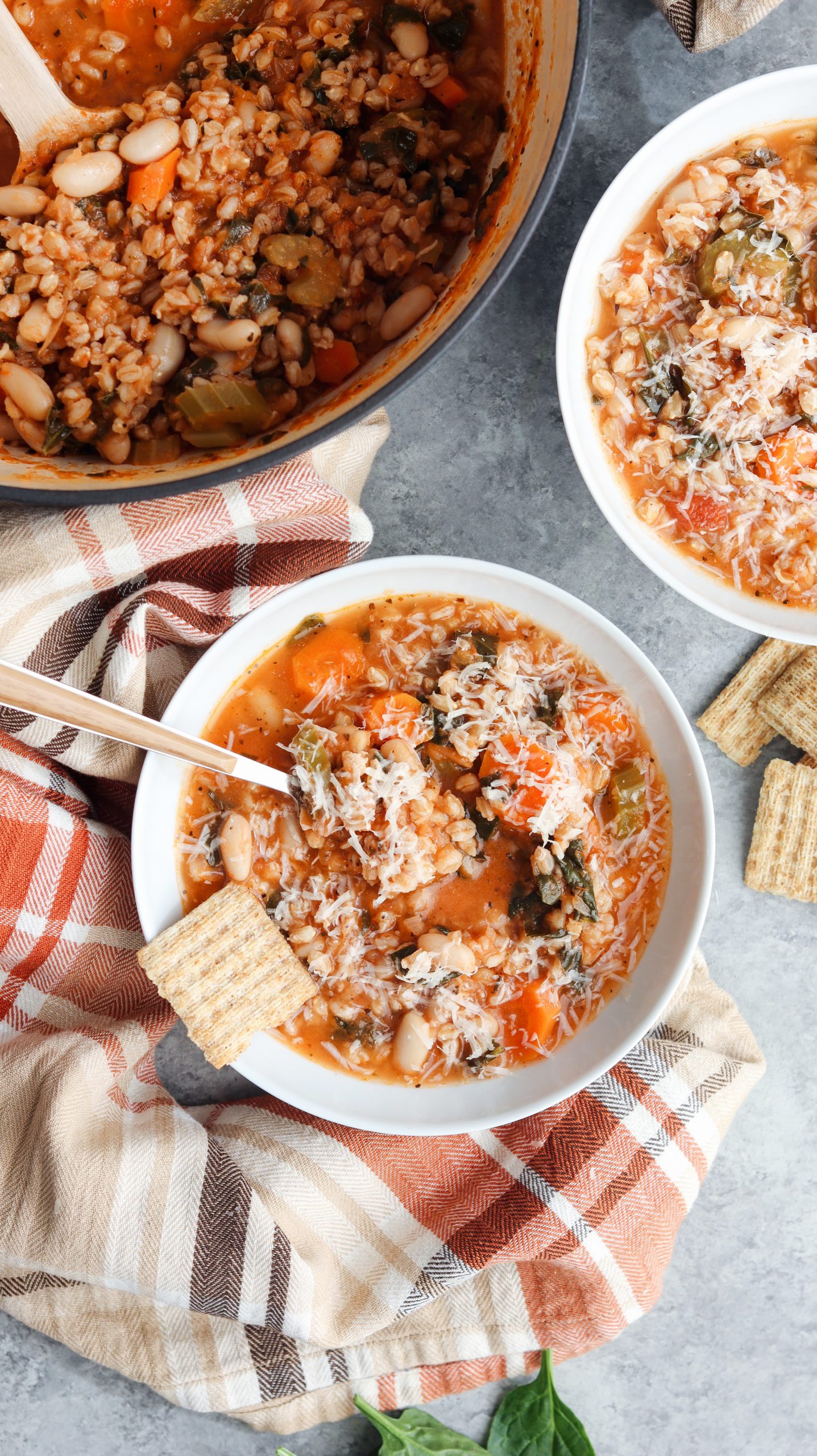 Prep Time: 10ish minutes Cook Time: 20ish minutes Total Time: 30-40 minutes Yield: 4–6 servings Category: soup
Ingredients:
1 cup uncooked farro, rinsed
1–2 tablespoons olive oil
2–3 cloves garlic, minced
1/2 medium yellow onion, peeled & diced small
2 teaspoons Italian seasoning
4 cups vegetable stock
1 cup tomato or marinara sauce
2 large handfuls baby spinach, stems removed, roughly chopped
2 medium celery stalks, chopped (~1 cup)
1 medium carrot, chopped (~1/2 cup)
1 15-oz. can cannellini beans, drained & rinsed
1/3 cup whole milk or heavy cream (can also sub non-dairy)
Salt and pepper, to taste
For topping: freshly shredded parmesan cheese, chopped fresh basil, crusty bread
Directions:
Cook farro according to package directions, drain and set aside
While farro is cooking, heat olive oil in a large pot or Dutch oven over medium heat. Add garlic and cook for 30 seconds – 1 minute (until just fragrant).
Add onion, carrots & celery followed by Italian seasoning, salt & pepper. Cover, lower heat to medium-low and cook for ~10 minutes until veggies are fork tender (or tender to your liking).
Add vegetable stock and tomato sauce then bring to a boil.  Once boiling, lower heat and simmer for ~10 minutes, stirring occasionally.
Add in farro, then cover and simmer for ~5-7 minutes to allow farro to absorb some flavor.
Add in spinach, stirring gently until it begins to wilt (~1-2 minutes) then add in white beans and whole milk (a non-dairy option will also work). Stir to combine. Allow to simmer another minute or two.
Taste, and season once more with salt and pepper, as needed.
Ladle into bowls, then top with freshly shredded parmesan and basil.  Serve with a slice of crusty bread.
13