There's something so refreshing about a huge pile of bright green kale to me.
Whether I'm baking it, using it in soup, throwing it into a smoothie or making it the base of my salad, it just makes me feel good.  I'm sure that feeling is due in large part to the numerous nutrients it provides (like calcium, vitamins A, C and K to name a few).
It's also such a versatile vegetable which I love about it.  Like I said above, you can bake it into chips, use it as a vegetable in soup, make 5-minute pesto out of it, use it in your smoothie…the list goes on and on.  Meaning that when you buy a big bag of it, you have plenty of different things you can do with it!
But of all of those things I mentioned above, this salad might take the top spot for me.
The kale lends a nice hearty nature to it but it's balanced out perfectly with the apples and pears thrown in.  It's got a little texture (and heart healthy fat!) from the walnuts, whole grains from the quinoa, a sweet chewiness from the dried cranberries which is offset beautifully by the salty feta.
It's truly a flavor explosion in your mouth (in the best possible way).
It also keeps pretty well since it's such a hearty green so you can feel free to whip this up ahead of time (without the dressing) and have it on hand for easy lunches!
I don't know about you but having a meal on hand that you can easily take with you to work and makes you feel SO GOOD is a win-win in my book!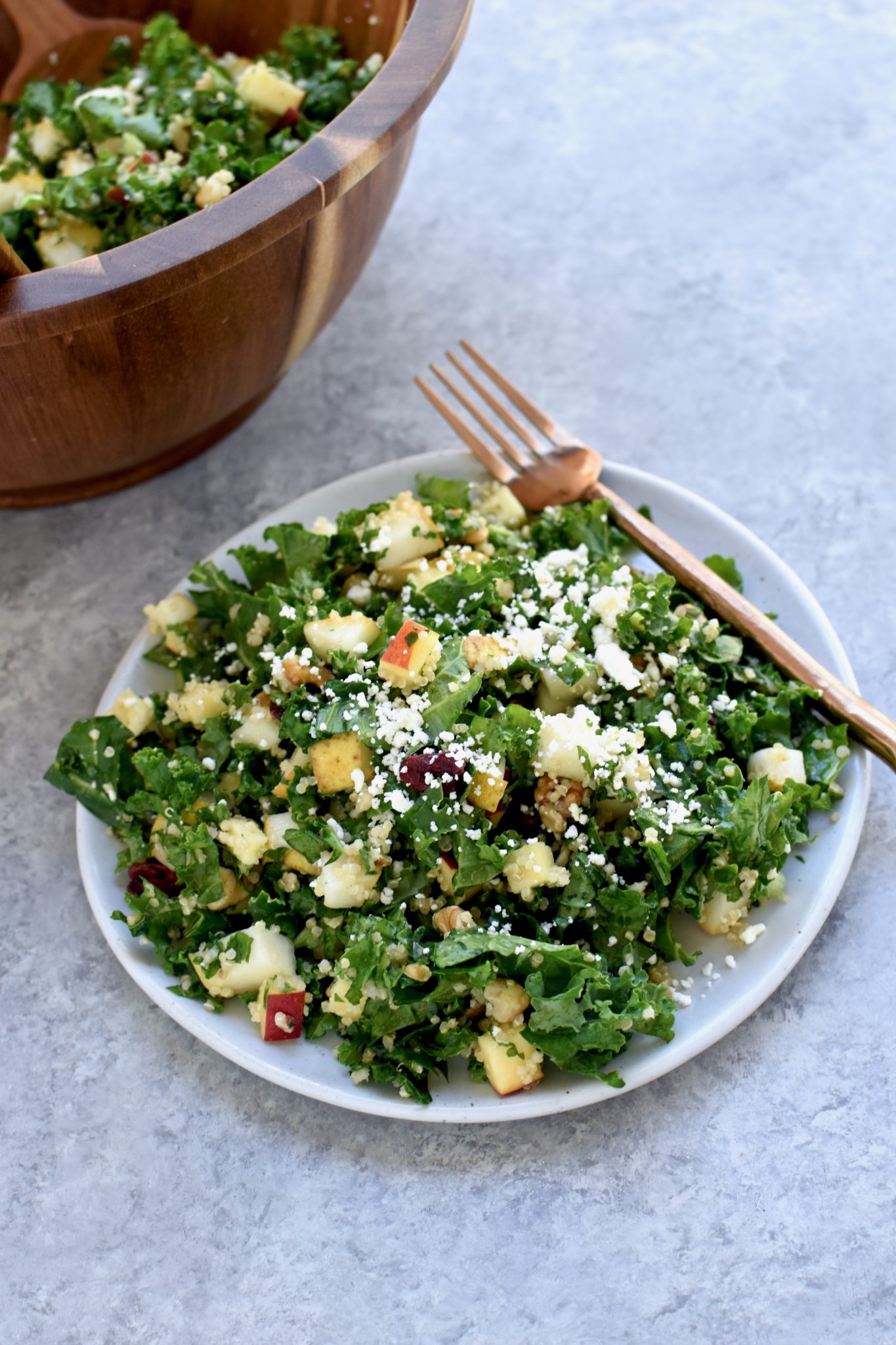 winter kale, quinoa, fruit & nut salad
Ingredients
2 heaping handfuls of kale, roughly chopped (I just used kitchen scissors)*
1 cup cooked quinoa
1 apple, diced (I used Gala)
1 pear, diced (I used Bartlett)
2 tablespoons scallions, chopped
1/4 cup chopped walnuts
1/4 cup dried cranberries
1/4 cup feta cheese
1/4 cup balsamic vinaigrette dressing
Instructions
Combine all the ingredients in a bowl and toss well
Notes
*Note: Pick through the kale and remove any ribs or stems - you want mostly leaves
https://caitsplate.com/winter-kale-quinoa-fruit-nut-salad/
7