5 quick and easy, balanced dinner ideas to get you (or your whole family!) through the work week!
Five more days of easy dinner ideas to inspire your eats this week!
If you want even more dinner inspiration – find all my Work Week Dinner Game Plans here!
MONDAY: Easy Spinach & Cheese Ravioli Bake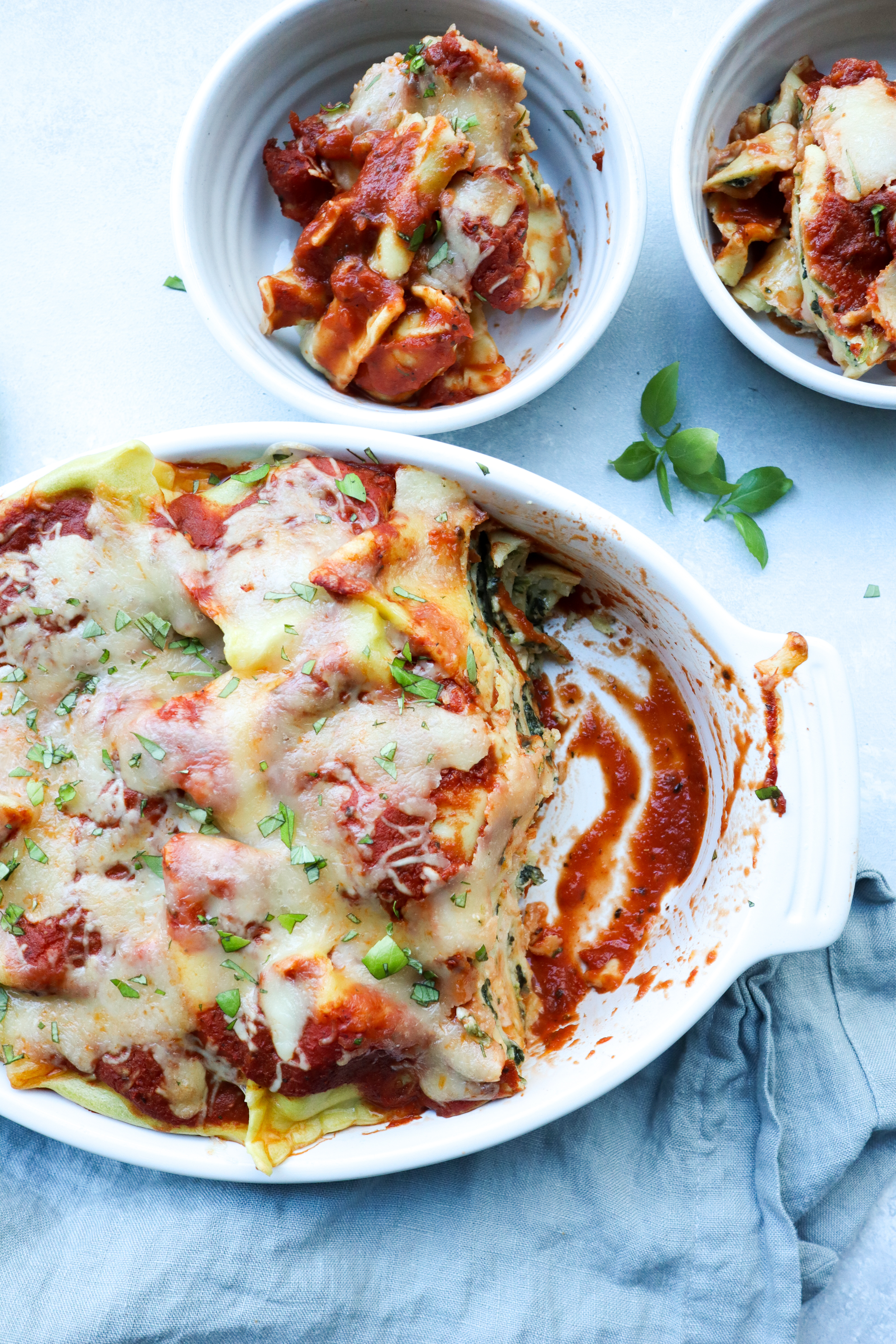 this easy dish comes together quickly and is both kid & adult friendly making it a perfect weeknight meal. customize it in any way you see fit to work for the preferences in your household!
Serves: 6-8 servings
Done in: 55 minutes
Tips: You can serve this up as is for a perfectly balanced meal or with a side salad if you'd like varying textures/temperatures. If #meatlessmonday is not your thing, choose a meat-based ravioli or add some ground meat to the layers before baking.
TUESDAY: Veggie-loaded Baked Chicken Meatballs
these meatballs are loaded with 3 different kinds of veggies and are baked, not fried. they're quick to pull together, can be used in everything from pastas to soups or even on top of pizza – plus they freeze well!
Serves: 6-8 servings
Done in: 45 minutes
Tips: Prep these over the weekend then eat them all week! You can serve over pasta with sauce & steamed broccoli, as part of a meatball sub, use them to top your pizza or throw them into a minestrone soup to add some protein.
WEDNESDAY: Confetti Veggie Mexican Quinoa Bowl
this easy veggie-filled bowl comes together in all of 15 minutes, pairing a few fresh veggies with pantry items for a weeknight meal the whole family can get behind!
Serves: 1 (but can easily be adjusted to serve more)
Done in: 15 minutes
Tips: Serve this up with corn chips and extra guac for a hearty, filling & easy weeknight meal. If serving to kids who don't like mixed dishes, serve elements separately to increase acceptance. If you've got a house full of meat eaters – add your in your favorite to enhance enjoyment.
THURSDAY: Chicken Tenders with French Fries & Broccoli
this is one of my favorite quick and easy meals for busy weeknights. everyone in the household enjoys it and it takes very little effort on my part!
FRIDAY: Veggie-loaded Yogurt Frittata
this easy frittata takes less than 30 minutes to make and what's better than breakfast for dinner after a busy week? pair this with some whole grain toast and orange juice and your week is done!
Serves: 6
Done in: 22 minutes
Tips: Pair this with some whole grain toast and fruit or orange juice and your week is done!
5