5 quick and easy, balanced dinner ideas to get you (or your whole family!) through the work week!
Sunday again! Is it just me or is summer absolutely flying by? If you need a little dinner inspiration for the week, here you go!
If you want even more dinner inspiration – find all my Work Week Dinner Game Plans here!
MONDAY: Pesto tortellini with roasted vegetables
This simple dish comes together quickly and is loaded with flavor, heart-healthy fats and fiber making it a perfect weeknight dish, especially for #meatlessmonday!
Serves: 2-4
Done in: 35 minutes
Tips: Serve up just as is or with a a side salad to round it out! Want some more protein? Throw in some chickpeas or sliced chicken sausage.
TUESDAY: Chickpea mediterranean gyros
These gyros put a vegetarian spin on a classic. they're also no-cook which is perfect as we head into the heat of august!
Serves: 2-4
Done in: 10 minutes
Tips: If serving to a toddler, serve ingredients separately to make it easier for them to eat. Can't do a dinner without meat? These would also be great with some shredded chicken!
WEDNESDAY: Easy skillet chicken parm with zucchini noodles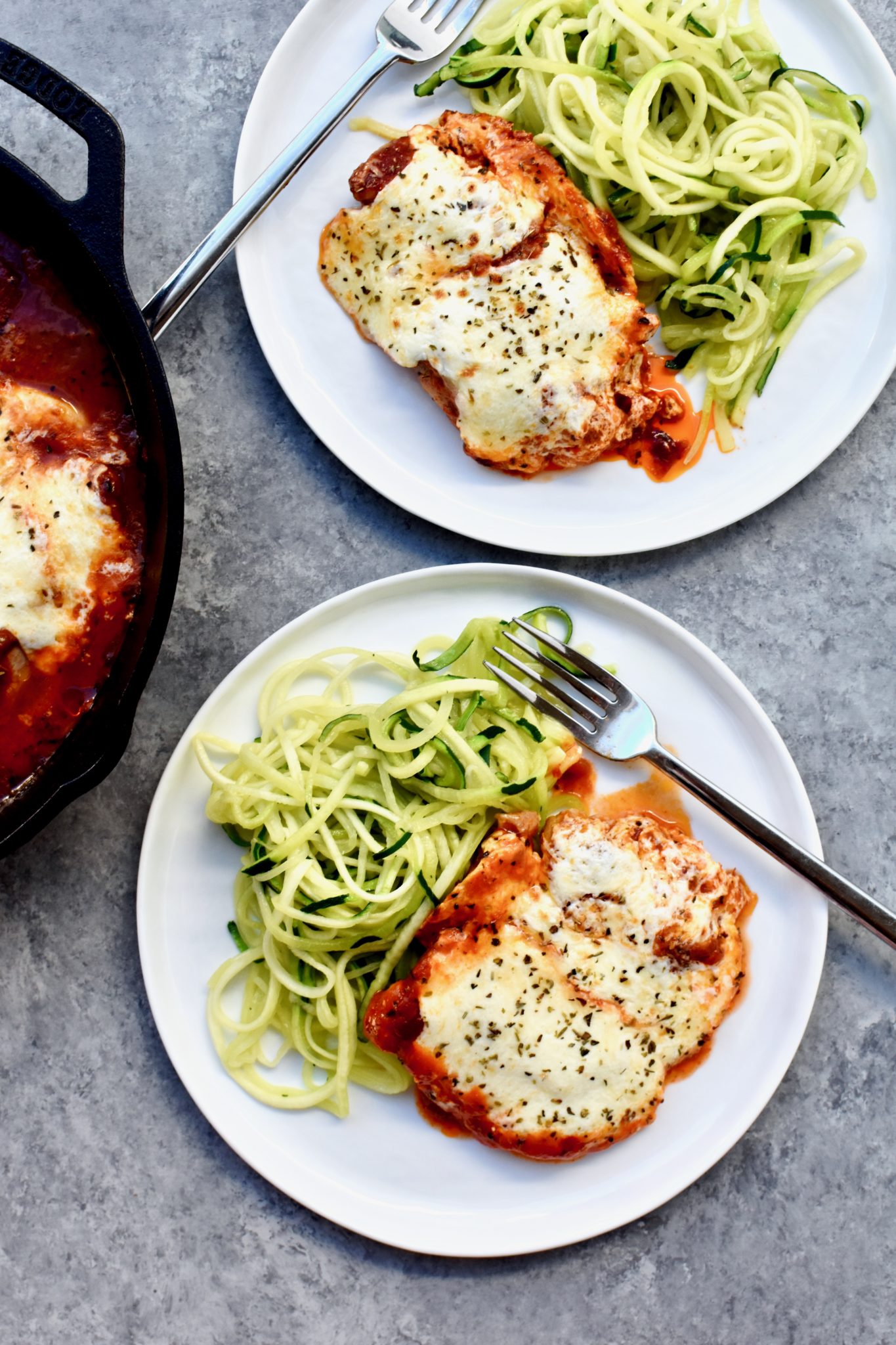 This skillet chicken parm comes together in less than 30 minutes but it tastes as if you spent all day in the kitchen. It's also gluten-free thanks to the fact that the chicken isn't breaded and zucchini noodles are used in place of what would traditionally be wheat noodles.
Serves: 4-6
Done in: 25 minutes
Tips: If serving to a toddler, you can saute some zucchini in half moons to make it easier for them to eat.
THURSDAY: Power plate's sweet potato bowls with cilantro lime rice and black beans
The ever-amazing gena from the full helping has packed this dish is full of flavor! the black beans and sweet potatoes are so hearty that even the biggest meat eaters will be wholly satisfied with this dish.
Serves: 2-4
Done in: 50 minutes
Tips: Serve with some chips and salsa or guacamole to round out the dish!
FRIDAY: Crockpot salsa chicken
It's Friday. Time to let the crockpot do the cooking while you just sit back and relax! This chicken is loaded with protein & flavor plus, it can be used in just about anything from tacos to burritos and grain bowls!
Serves: 2-4
Done in: 3-4 hours in the crockpot to cook; 10 minutes to pull together a dish
Tips: Serve as tacos, burritos or grain bowls for a quick and easy Friday night meal!
4