a registered dietitian's take on everything from how much to what kind and how often you should be feeding your toddler.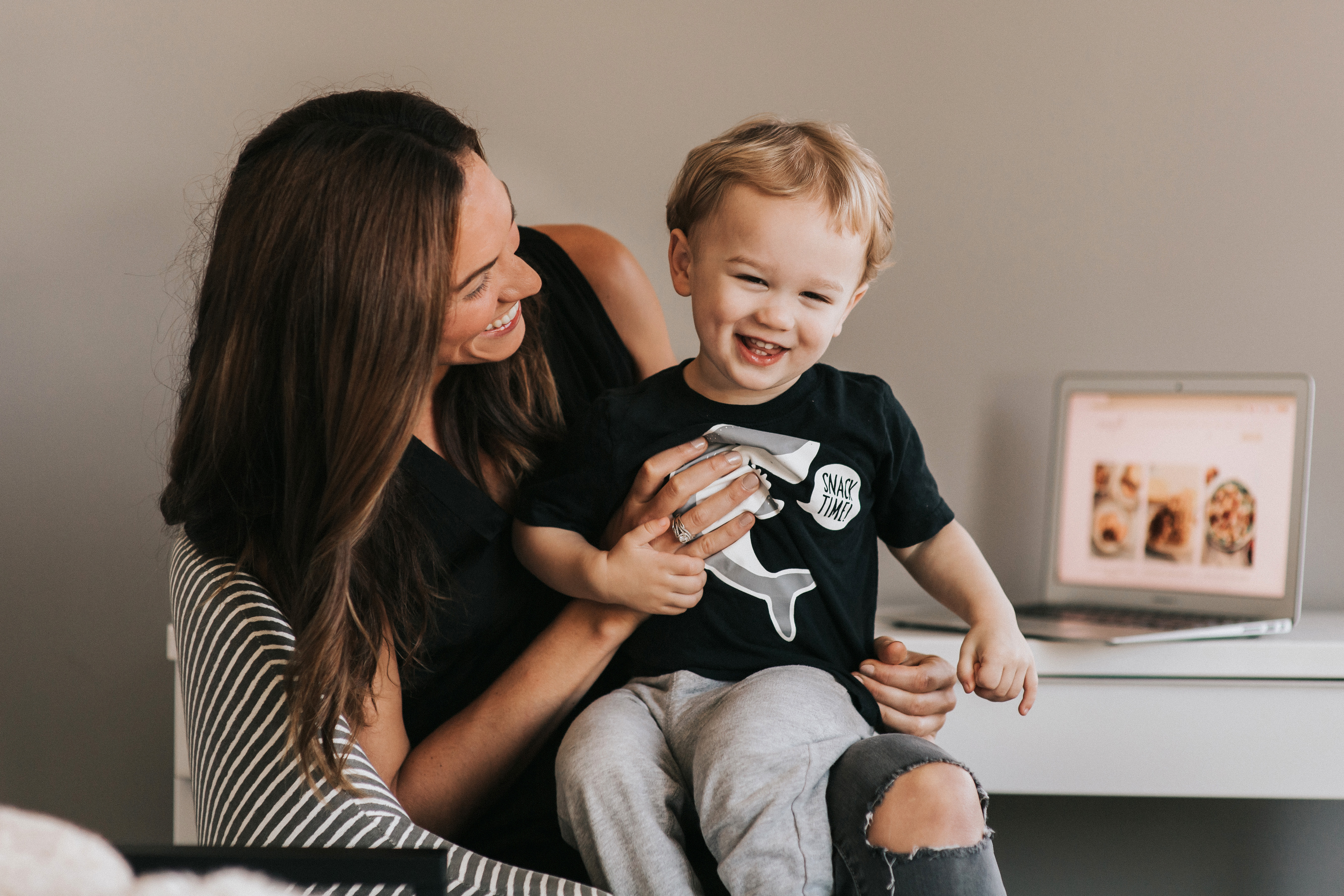 I got a request to write a post on why I feed Owen what I do and what my thought process is when putting together his meals. Since I've gotten questions surrounding this topic pretty much since Owen was born (hence my "all about Owen's eating" post!), I figured it could be helpful for others if I wrote out a post on toddler needs and nutrition.
I want to first preface this by saying that every single child is different. There are picky eaters, enthusiastic eaters, kids who do better with 3 bigger meals and 2-3 snacks and those that do better with 6-7 smaller meals throughout the day. Some kids do great with veggies and others won't even tolerate them being on their plate. Straying from the "norm" (which doesn't really exist when it comes to toddler eating!) doesn't make your child wrong or bad, it just makes them an individual. Just as we all have our own eating styles and patterns, so too do our children.
It's also completely normal for your toddler to be a great eater one day (or week) and extremely picky the next.
CALORIES
After age 1, growth slows down by about 30% for your toddler, and so too may their appetite.
As infants, your child required around 35-50 calories per pound of bodyweight but upon entering toddlerhood (ages 1-3), that requirement drops to only about 35-40 calories per pound.
This means, if your toddler weighs 25 pounds, they will need somewhere between 875 and 1,000 calories each day.
NUTRIENT BREAKDOWN
So now that you know generally how much your child should be consuming, let's talk about what they should be having.
Similar to adults, it's recommended that toddlers consumer a varied diet of grains, fruits, vegetables, protein (including whole milk dairy) and heart-healthy fats.
The easiest way to think about it is as a "6-5-4-3-2-1 diet"
6 SERVINGS OF GRAINS PER DAY
Examples of a grain serving for a toddler:
1/4 – 1/2 slice of bread
1/4 – 1/2 bagel, full-sized muffin or bun
1/4 – 1/3 cup cooked pasta, warm cereal (such as oatmeal), rice or farro
2-3 crackers (or ~1/4 cup)
Aim for a mix of whole grains and enriched grains. While enriched white grains are often painted as a villain in our society, many contain added nutrients that you won't get from their whole grain counterparts (such as certain B vitamins, Iron and Folate).
AT LEAST 5 SERVINGS OF FRUIT & VEGETABLES PER DAY
Examples of a fruit or vegetable serving for a toddler:
1/4 – 1/2 small fruit/vegetable
1/4 – 1/3 cup cooked, canned, or chopped raw
1/4 – 1/3 cup juice (limit fruit juice intake to no more than 4 ounces per day)
Certain fruit and vegetable textures can be hard to handle for your child when raw. For instance, raw apples and carrots are a choking hazard for kids until age 4, so if serving them raw, shred using a cheese grater, otherwise it's best to serve them cooked. Cut grapes, cherries, and cherry tomatoes into quarters.
[3]-4 SERVINGS OF HEART-HEALTHY FATS PER DAY
Examples of a fat serving for a toddler:
1 teaspoon butter or oil (such as olive oil, canola, safflower or sunflower)
2 tbsp. avocado
1.5 tsp natural nut or seed butter (such as peanut, almond or sunflower seed butter)
1 1/2 – 2 tbsp. whipped cream cheese
Fat is essential for your toddler's growth and development – do not opt for low-fat products, unless otherwise specified by your child's pediatrician. Nuts and seeds are choking hazards for children under the age of 4 so choose nut and seed butters instead.
3 SERVINGS OF DAIRY PER DAY
Examples of a dairy serving for a toddler:
1/2 cup whole milk or whole milk yogurt
1/2 – 1 ounce of cheese
Again, unless otherwise specified by your child's pediatrician, always opt for whole milk versions as these provide essential nutrients for your toddler's growth and development.
2 SERVINGS OF PROTEIN PER DAY
Examples of a dairy serving for a toddler:
1-2 ounces lean meat, chicken, fish
2-4 tablespoons dry beans and peas
1/2 – 1 egg
1/4 cup (about 2 ounces) of tofu
1 oz. tempeh, cooked
1/4 cup soybeans or 1 falafel patty (2 ¼", 4 oz)
2 Tablespoons hummus
Toddlers only need about 2 ounces of protein per day (or about 15% of their daily needs; so if their calorie goal is around 1,000 calories per day, aim for 150 calories from protein – about the equivalent of 2 large eggs). Shoot for a mix of both meat and plant-based sources of protein to exposure your child to different sources and nutrient profiles.
1 BOTTLE OF WATER PER DAY
Have 8oz. of fresh water available for your toddler to drink throughout the day as needed
MEAL TIMING
A good rule of thumb when it comes to timing of your toddler's meals is to provide them a meal or snack every 3 hours. This ensures that they're not eating so often that they never have an appetite, but that even if they didn't eat much at their last meal, they won't be overly hungry. Other experts recommend 3 meals and a snack 2-3 hours after each meal.
SAMPLE DAILY MENU FOR TODDLERS:
Breakfast: 1/2 whole grain bagel with 1 teaspoon natural nut butter and a sprinkle of cinnamon served with 1/2 cup sliced strawberries and 4-6 ounces whole milk
Snack: 2 whole grain crackers with 1/4 cup peaches
Lunch: Bean, cheese & veggie whole grain or whole grain corn quesadilla served with 1 tablespoon avocado, 1-2 teaspoon plain whole milk yogurt and 1/4 cup cooked carrots with 1 teaspoon butter
Snack: 1/4 cup cherries with 1 ounce whole milk yogurt
Dinner: 1 ounce grilled or slow-cooked chicken with 1/2 cup steamed broccoli topped with butter & parmesan plus 1/3 cup brown rice with butter and 4-6 ounces whole milk
HOW I FEED OWEN
When I feed Owen, just like when I feed myself, I have a general idea in my mind of the breakdown of nutrients he needs for the day. I do not count his calories and I am not a slave to the above recommendations.
I aim for a general mix of whole grains, fruits and/or veggies, heart-healthy fats and protein (I also include dairy and nut/seed butters here) for the meals that I put together for him. Sometimes it happens, sometimes it doesn't.
With his snacks, I usually look to fill in nutrient gaps for the day. For example, if he ate all his fruit but none of his waffle for breakfast, I'll include a grain and a protein or heart-healthy fat for snack. If he ate his whole grilled cheese but wouldn't touch his veggie at lunch, I'll make him a green smoothie or serve up a spinach & banana muffin for his afternoon snack.
I also pay attention to his temperament before a meal, how much time we have and the energy I have to make a meal! If you're just completely exhausted and feel like all you can muster is a peanut butter sandwich and some fruit, I promise you one (or even several!) meals like this throughout the week are not going to harm your child's nutrition.
I also like to get Owen involved in meal time so I'll let him choose from a few options of fruits and/or veggies
THOUGHTS & RECOMMENDATIONS
On Eating Patterns:
Obviously every child is different, so don't freak out if you feel like your kid is above or below that range. If you find your child eats significantly more or less than what you would expect each day, talk to your doctor about it – they may just be more or less active or have a higher or lower metabolism for their age.
On Intake:
I do not recommend counting your child's calories. As I mentioned before, there are any number of reasons that your little one may eat more or less on any given day (teething, tired, sick, entering a new stage of development, etc.). It can be helpful to have a general idea, but ultimately it's important to trust your toddler's instincts when it comes to feeding. They are incredibly in-tune with their internal hunger and fullness cues and fostering that is best for their long-term health and well-being.
In general I feel that it's a parent's job to decide what foods to offer, where your child eats them and when (obviously using cues from your toddler). From there I feel that it's up to your toddler to decide how much to eat. Again, day-to-day and meal-to-meal appetite changes are completely normal for this age. There's no need to feel like your child needs to clean their plate every time they sit down to eat. Just as we have days when we feel more hungry and days when we feel less hungry, so do our toddlers.
On Meal Timing:
The schedule that Owen does best on is the following:
6:30-7:30am (anywhere in this range): Breakfast
9:30am: Snack
11:30am -12:30pm (anywhere in this range): Lunch
3 – 4pm (anywhere in this range): Snack
6pm: Dinner
But again, I keep it pretty loose and try to work off him and his cues. Some days he sleeps until 6:30 so we're not eating breakfast until around 7 or 8am, which pushes everything else back. He's pretty good about asking for food when he feels hungry, so I do my best to go off that as much as possible (obviously it's not always realistic to let him dictate the schedule, but when it is, I do it).
Try out a couple different things if you haven't found your groove to see what works best for you and your little one. Again, these are not hard and fast rules, just guidelines to help if you feel like you're struggling.
On Foods:
Variety: Offer your child a variety of tastes, textures and colors at each meal. A good rule of thumb when introducing a new food is to serve it with other foods they're familiar with. Don't stress if they refuse to touch the new item – it takes some children 20-30 exposures to a food before they'll even try it! Continue to offer it in different meals, even if they refuse it. They may never warm to it, and that's completely fine as well. The important part is that you provided them with the exposure to decide.
Choking Hazards: I think it's up to the parent whether they offer these, but either way, it's good to be aware of foods you should pay close attention to when eating or ways to serve these foods that can limit risk of choking.
The following foods are known choking hazards for toddlers:
Slippery foods such as whole grapes, cherries & grape tomatoes; large pieces of meats, poultry, and hot dogs; candy and cough drops.

Make it safer: Cut grapes, cherries and grape tomatoes into quarters (or smaller) as well as meats (and ensure there is no skin or bone). Avoid chewy candies or cough drops.

Small, hard foods such as nuts, seeds, popcorn, chips, pretzels, raw apples and carrots.

Make It Safer: Serve nut & seed butters in place of their whole counterparts. Try Annie's bunny tails, bunnies or whole grain goldfish in place of popcorn, chips and pretzels and shred raw apples & carrots in a cheese grater

Sticky foods such as gummy candy and marshmallows.

Make It Safer: It's tough to! It's best to avoid these types of foods right now. Not only do they offer no nutritional value but they're potentially dangerous.
Good Practices:
You are the example for your child. The more variety they see you eating, the more likely they are to try things themselves. I'll often put something in front of Owen that is new to him and he won't touch it until he sees me sit down and eat it from my plate. It's just important to be aware that they're always watching and observing.
Don't be a part of the clean plate club. I mentioned this earlier, but your child doesn't (and most likely won't) clean his or her plate every time they sit down. This is completely normal behavior and should not be punished or discouraged. Allowing your child to stay in touch with their internal hunger and fullness cues may be one of the best gifts you can give them!
Get them involved. At this age it's hard to do too much with them (they're not going to be putting veggies in the oven!) but I always have Owen in the kitchen with me. The more exposure he has even to my cooking and baking different foods, the better! I let him touch, taste and smell as much as possible and tell him the names of each thing I'm working with. This type of exposure and involvement is hugely important in helping to get him comfortable with new foods. When it shows up on his plate at dinnertime, he's much more apt to try it if he was involved.
Thoughts? Questions? Topics I didn't cover? Check out my guide below for even more on this!
References:
4