Can't believe it's already Sunday night!
Where do the weekends go?
Before we headed out to meet my sister I grabbed a veggie delight sub at subway that I paired with an apple:
Inside mine I put:
Lettuce
Peppers (banana and green)
Pickles
Onions
Cucumbers
Spinach
Olive oil + vinegar
Avocado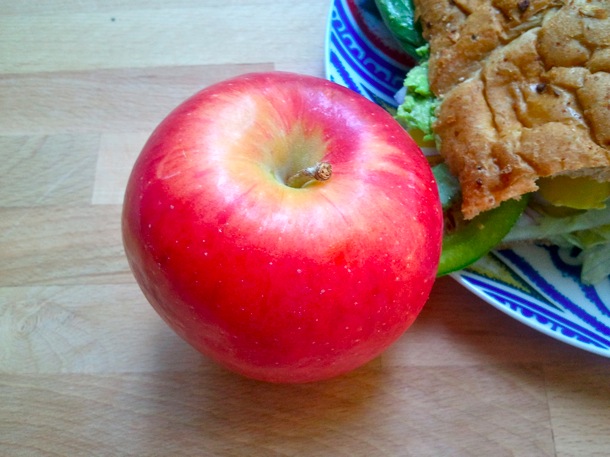 Then we hit the road!
We successfully picked up Clara and headed back home grabbing some dinner at Chipotle on the way…
It's been so long since I've been to a Chipotle I totally forgot how oversized their burritos are!
The sign in the parking lot actually said "Our burritos are huge, our parking lot is small."  Haha.  That should've tipped me off but for whatever reason I was still shocked when I unwrapped it:
I went with chicken, black beans, brown rice, lettuce, pico de gallo and guacamole: 
Delicious but SO filling.
Chad got a burrito bowl and was lucky enough to have a constant companion throughout every bite:
I think Chad is over the moon about his new visitor already 😉
She's happily settled in and we're off to watch a movie!
Night everyone!
0