We made it back to Charlotte!
But before we headed back from our Chapel Hill trip we headed over to Fearrington Village
I instantly fell deeply in love with this place!
It was just so breathtakingly beautiful and just such a nice treat after being in the city for so long.
While there were SO many delicious looking options, we chose to eat at The Fearrington Granary
And boy oh boy was it a good choice.
As we sat down we were served homemade biscuits with butter and strawberry jam –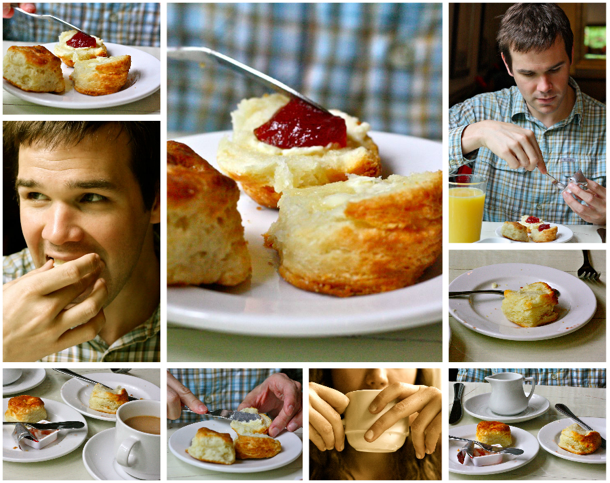 Plus COFFEE!
I was in 7th heaven with just the coffee and the biscuits and then?
Our food came:
Chad ordered The Granary Breakfast which had: Two Eggs, Sausage, Bacon, and Cheese Grits or Roasted Potatoes
The bites of potato and eggs I picked off his plate were incredible.  We both agreed that the potatoes were pretty much out of this world.  In fact, we bought baby new potatoes to roast on our own this week!
I ordered the Vanilla French Toast: Challah Bread, Blueberry Compote and Vanilla Anglaise
This.
Was.
Phenomenal!
I only got through about 1.5 pieces of it, but man were they a good 1.5 pieces!
I'm not even a huge blueberry fan but I had no problem gobbling them up with this dish!
On the side I got some bacon for a little protein (otherwise I would've been keeled over on the floor from sugar overload within 10 seconds of finishing)
Overall a really darn good way to spend a morning meal!  We both left pretty darn happy campers!
After breakfast we spent a little time exploring the rest of Fearrington Village and then began our 2.5+ hour trip back to Charlotte.
Around 3:30 I was ready for a little something (despite that huge breakfast!) so we stopped at Subway.
I got a 6-inch turkey on 9-grain honey oat with lettuce, mustard, pickles, cucumbers, onions…
…and a side of apples.  LOVE that they have apple slices now 🙂
When we got home, we were tired and ready to eat so we pulled together a quick Mexican meal:
Make Your Own Chicken Taco Night!
With all the fixin's 😉
And now we're off to bed!
Happy Sunday everyone – hope you enjoyed your weekends!
0