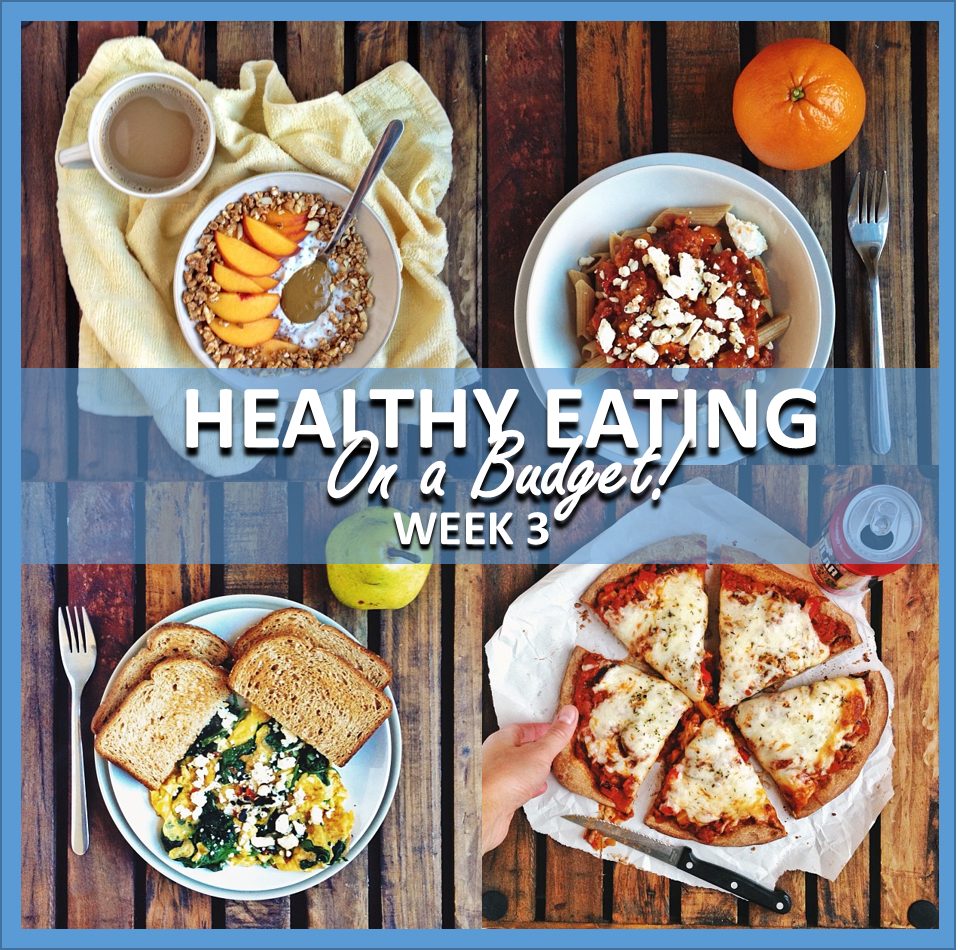 So after my encouraging week last week – I went up again!
I definitely attribute it to lack of planning.  I was running low on time and had to get my groceries so I just kind of ran in with a semi-baked plan in my head.  I also wanted to bake something to have a little different for snacks and breakfast which I think drove the price up a bit as well.
Overall, despite being up from last week, it's still within a decent realm and it lets me know that shopping without a plan just doesn't work!
Previous Weeks:
Healthy Eating on a Budget Week 1
Healthy Eating on a Budget Week 2
Healthy Eating on a Budget Week 3:
Money Spent: $47.42
Groceries Bought:
Produce: 2 peaches, 2 pears, 2 apples, 2 oranges, pint of strawberries, bag of apples, bag of spinach, bag of avocados, bag of carrots
Protein: Package of deli turkey, package of beefless ground beef, carton of 12 eggs
Pantry Items: Loaf of whole wheat bread, bag of penne pasta, 2 cans of pumpkin
Dairy Items: 32 oz. container of greek yogurt, bag of shredded reduced-fat mozzarella, unsalted butter (for baking), container of feta cheese
Day One
Breakfast #1: A little less than 1/2 cup oatmeal with 1 tbsp. chia seeds, diced peach, sunflower seed butter and granola
Lunch #1: Turkey, hummus and spinach on whole wheat bread with carrot sticks (left over from week 1) and a pear
Dinner #1: Individual vegetarian baked pasta bowl – whole wheat pasta, spicy arrabbiata pasta sauce simmered with sautéed tricolor peppers, zucchini and trader joe's beefless ground beef crumbles all topped with reduced-fat mozzarella and baked.
Day Two:
Breakfast #2: 2 homemade whole wheat belgian waffles topped with peanut butter, greek yogurt mixed with chia seeds and diced apple
Lunch #2: Leftover whole wheat pasta and arrabbiata sauce with sautéed veggies from last night topped with feta plus an orange on the side.
Dinner #2: Used my arrabiata sauce with sautéed veggies and @traderjoeslist beefless ground beef as a base for my whole wheat pizza dough – topped with mozzarella and oregano!
Day Three
Breakfast #3: Quaker oatmeal squares with soymilk, an apple and coffee
Lunch #3: 2 egg scramble with spinach and mediterranean herb-spiced feta cheese. whole wheat toast and a pear on the side.
Dinner #3: Roasted corn and beefless ground beef burrito bowl over brown rice topped with plain greek yogurt, salsa and homemade guac
Day Four
Breakfast #4: Peanut butter apple oats with chia seeds and coffee
Lunch #4: Turkey and feta with spinach on whole wheat with an apple
Dinner #4: 2 slices of leftover whole wheat pizza with spicy vegetarian meat & vegetable sauce and a side salad
Day Five:
Breakfast #5: Greek yogurt mixed with chia seeds and topped with fresh peach slices, granola and sunflower seed butter.
Lunch #5: Avocado & feta whole wheat toasts with carrot sticks and an apple
Dinner #5: big salad topped with last slice of my leftover pizza chopped up into 'croutons'
Post-Week Takeaways:
Not that I don't already know this – but ALWAYS have a plan!  This week ended up working out okay in the end but I felt low on fruit towards the end and veggies for most of the week (despite my sauce having 4 different vegetables in it)
Next week I might try to buy something for a main dish (i.e. boneless, skinless chicken breasts) that I can cook in a variety of different ways.  While having one main dish is amazing in terms of time, I get pretty sick of whatever that thing is by the end of the week!
I need more fruits and vegetable variety for next week (same thing I said last week – you think I would have learned!)
disclaimer: i share these meals for inspiration and because i'm often asked for the recipes on instagram.  please note that i do not share these meals with the intention of them being prescriptive or because you should eat exactly what i eat.  everyone is different and requires different calories and nutrition.  if you're seeking an individualized plan for you, consult a dietitian in your area.
3