trying on and sharing my thoughts on my #nsale 2019 purchases so far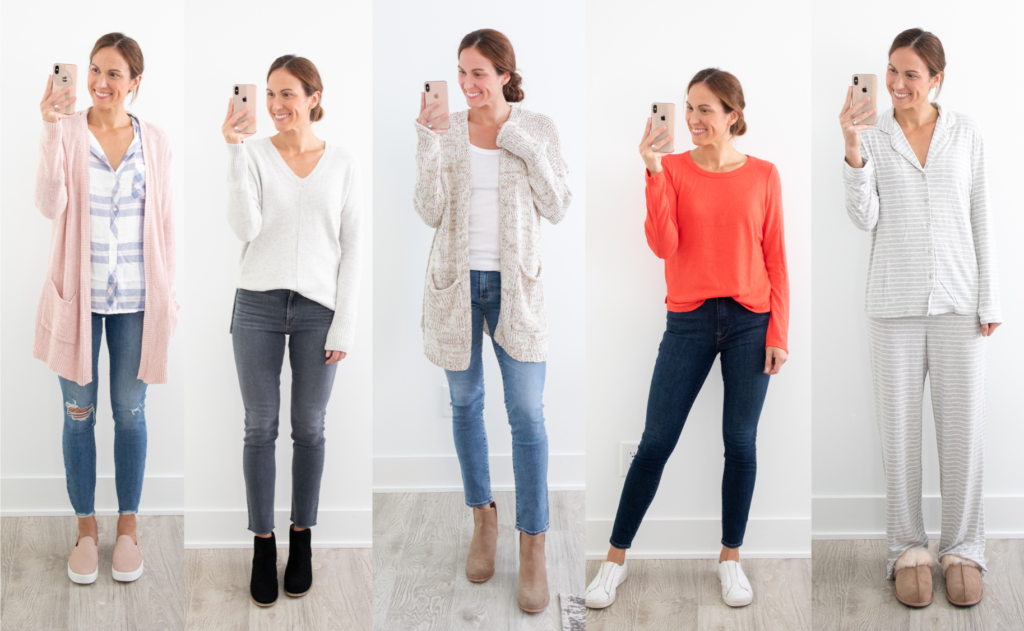 So, some of my orders still haven't arrived and others got cancelled, but I wanted to try on what I've gotten so far since the sale opens to the public today! See my thoughts on everything below and let me know if you have any questions!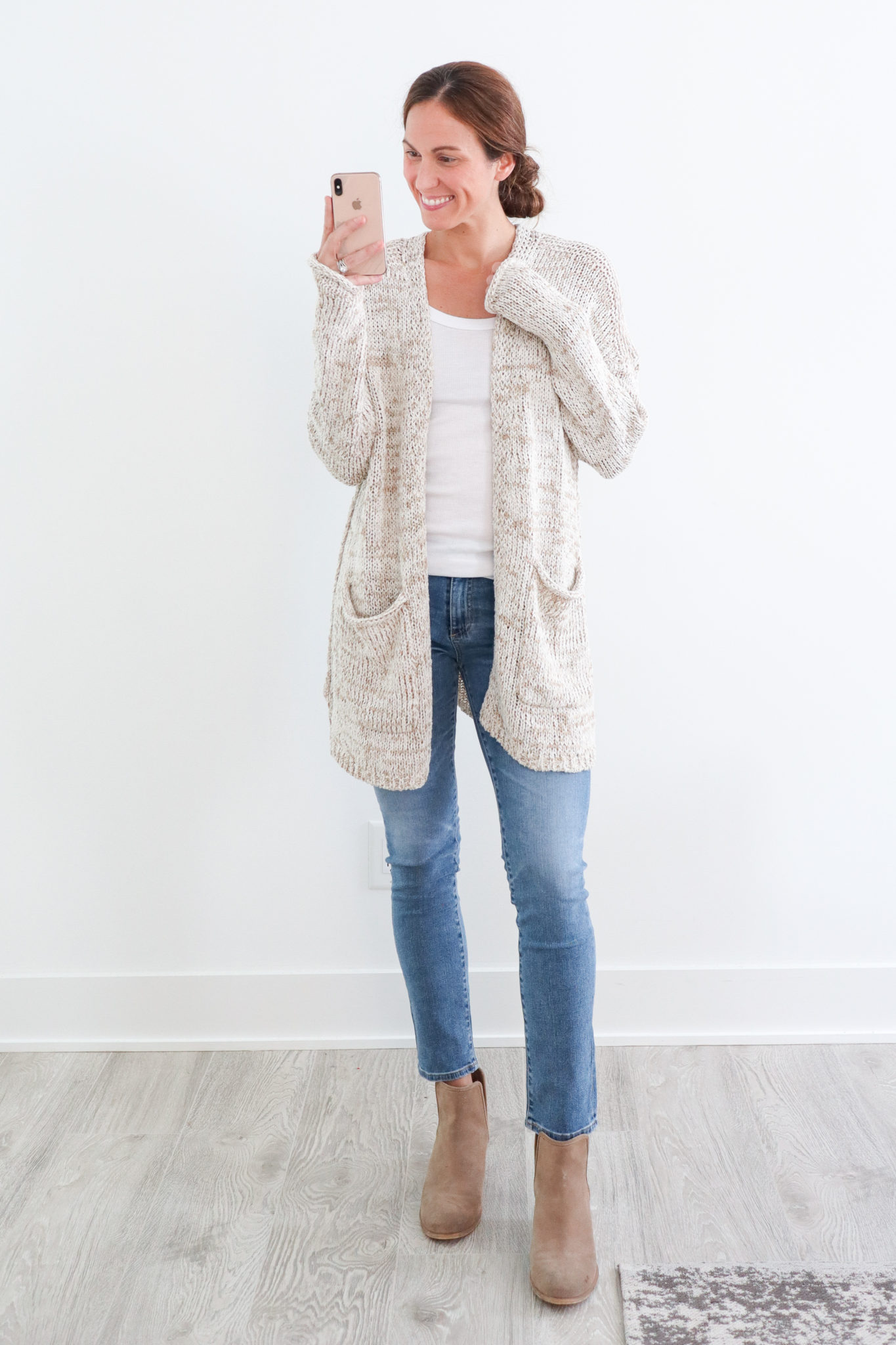 THESE JEANS. They're the only ones I think I'll keep from the sale (still waiting on a few others to arrive) and I have a feeling I will wear them most days this fall! Fit TTS.
I really wanted to love this cardigan. It's big & cozy and exactly what I love in a sweater but it has a little gold-tinged fabric running throughout it that I didn't love. Otherwise though, it was probably favorite cardigan of the whole sale! Fits TTS (I'm wearing a small).
I didn't love these Paige jeans as much as I was hoping I would. They're super comfortable (definitely don't feel like you're wearing jeans, more like a legging) but I think I prefer a little more structure to my jeans. I also have a couple pairs that look more or less much exactly like this, so I couldn't justify keeping them when I didn't absolutely love them. Fit TTS.
No surprise, this Rails shirt was soft & comfortable, just as expected! I sized up to medium so it could be a little oversized, but rather than it being longer, it was just boxier, so I would recommend getting your normal size.
These Cole Haan shoes were super cute and will be a great slip-on sneaker for the fall! I'm waiting on a cream colored pair and then will decide which ones I keep.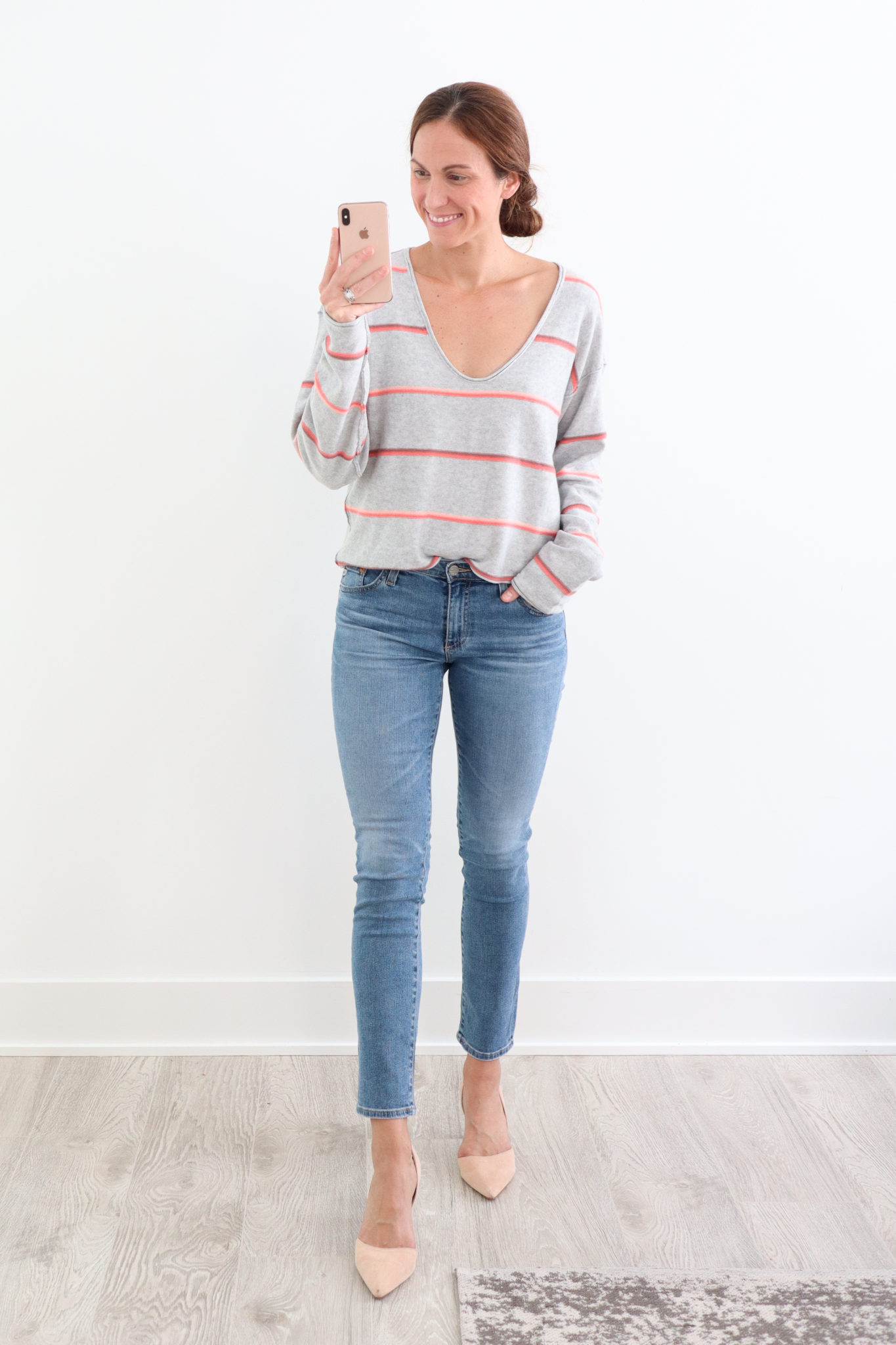 I liked this Free People sweater. It was super soft and comfortable, but it's definitely short. I'm just not sure how practical it is for me considering I spend so much of my day chasing a toddler around. It's not quite a crop top but I could only just tuck it in. I think if I were moving around it would fall out over and over again. I'm 5'9″ though, so if you're shorter, it might be just the right length for you. Fits TTS (I'm wearing a small).
This Chelsea28 sweater is ridiculously comfortable. It's super soft and a good long length, which I love in sweaters because then I can wear them with leggings too. It was a little boxy for my taste, but overall I really liked it. Fits TTS (I'm wearing a small).
These Rag & Bone jeans were so comfortable but they definitely ran large for me. I would recommend sizing down one size if you go for them.
This Socialite top was really comfortable (which I knew it would be – I have a couple other tops of theirs and they're alway so soft). It's a great loungewear or casual office wear pick. Fits TTS (I'm wearing a small).
These were the first pair of Good American jeans I've ever tried. They were comfortable but I didn't love them. Nothing was really wrong with them, they just didn't wow me enough to justify keeping them. Fit TTS.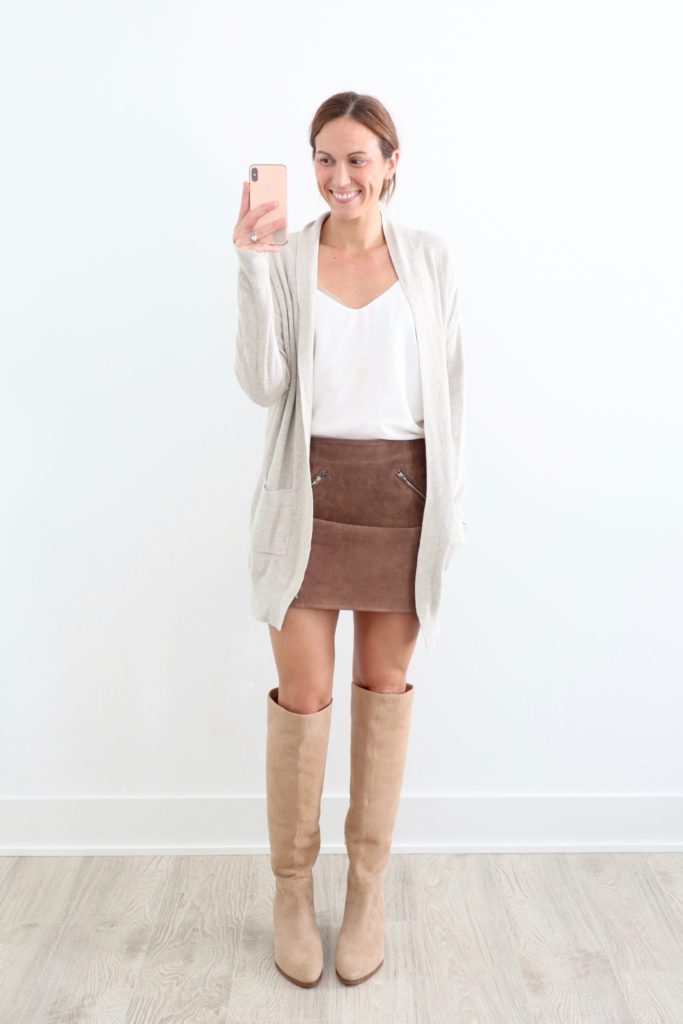 This suede mini from BlankNYC is super cute and fits well, but likely not the most practical for me. I love the idea of a suede mini skirt, but again, not sure where it makes sense for my wardrobe right now. Fits TTS.
This BP. cardigan that I'm wearing is from last year's sale. I've linked this year's. They're comfortable, fit well and are great as you transition into Fall. Fits TTS (I'm wearing a small).
I really love these high knee boots. They fit well, are comfortable and the heel is just the right size (I can't walk in heels that are too tall, but I like a little something!). Finally, a pair of knee highs I can get behind! Fit TTS.
The most comfortable PJs! I love these. Soft, cozy and work year round. Fit TTS (I'm wearing a small)
Not part of the sale, but these UGG slippers are incredibly soft and comfortable. If you're in the market for slippers, I highly recommend these!
3